MOSCOW -- The massive war games in southern Russia that ended last week are casting a dark shadow over the ongoing political crisis in Belarus, as Moscow appears intent on flexing its military muscles amid heightened domestic and international pressure.
While the international community continues to urge Moscow not to interfere in the domestic affairs of neighboring countries, authoritarian regimes like China and Iran are joining Russia to undermine democratic aspirations around the world.
Kavkaz (Caucasus)-2020, which ran from September 21 to 26, involved a total of 80,000 participants from Russia, China, Iran, Myanmar, Armenia and Belarus.
"These exercises are the main annual test of the Russian armed forces' readiness to engage in a large-scale conflict," Vasily Kashin, a Moscow-based military analyst, told AFP.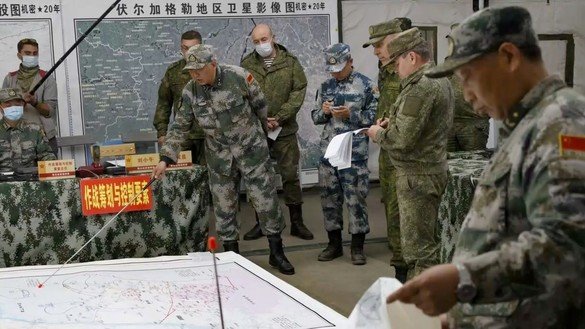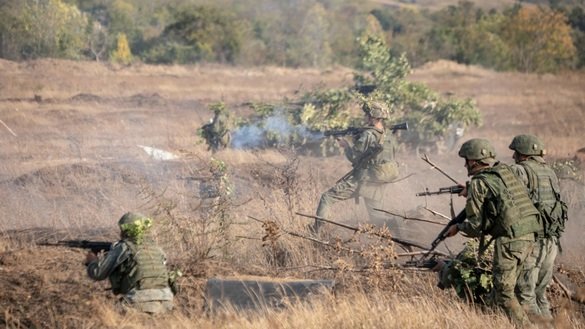 The drills featured naval deployments on the Black Sea and the Caspian Sea, he said.
Ground forces trained in southern Russia and in South Ossetia, a breakaway region of Georgia that Russian forces have occupied since 2008.
Belarusian and Russian forces jointly trained in Astrakhan, Russia, which might have been meant to "prepare for a deployment of elements of Russia's Voronezh-based 20th Combined Arms Army (CAA) to Belarus", the Washington-based Institute for the Study of War wrote September 26.
As many as 250 tanks and about 450 infantry combat vehicles and armoured personnel carriers took part along with artillery systems and rocket launchers, said the Russian Defence Ministry.
Russian President Vladimir Putin has made reviving the army one of the top priorities of his 20-year rule and has staged frequent large-scale military exercises in the Caucasus, the Baltic and the Arctic in recent years.
Inviting fellow dictatorships and dependent ex-Soviet states to his various war games, even as the coronavirus ravages his country, constitutes a strand in Putin's long-term strategy: weaving an anti-West, anti-democracy alliance.
In search of Chinese assistance for Russia's crippled economy (smaller than Italy's), Putin has offered up his country's relative strengths, namely, military training and abundant natural gas through the Power of Siberia pipeline.
At the same time, he has punished pro-Western ex-Soviet states like Georgia and Ukraine by literally waging war on them, kept Russian troops in Moldova to prop up the breakaway Transnistria "state", and supported Belarus's dictator.
Putin and Lukashenka: in the same sinking ship
The massive military drills are being viewed by many as a show of support for the Belarusian dictator Alexander Lukashenka, who has faced unprecedented protests against his disputed re-election in August and was sworn in during a secret ceremony September 23.
The drills also reflect the shared opposition that both leaders face, as they are attempting to cement ties to fend off the growing domestic resistance to their authoritarian rule in both countries.
Running parallel to the Kavkaz-2020 games, joint Russian-Belarusian drills dubbed Slavic Brotherhood took place September 14-25 in Belarus and involved more than 900 Russian troops.
The war games occurred near Brest, Belarus, which sits on the Polish border. As part of the games, two Russian supersonic heavy strategic Tu-160 bombers flew over Belarus's border with the European Union (EU) last week.
Lukashenka has accused Poland and the Baltic states of co-ordinating with the opposition and has claimed Western countries see Belarus as a "springboard" to attack Russia.
"Putin and I are of the same opinion," he said in August.
Belarus in October will host drills by the six member states of a Russia-led security bloc, the Collective Security Treaty Organization (CSTO).
Ukraine, whose army is fighting Moscow-backed separatists in the east of the country and launched its own exercises with NATO, has said the Kavkaz-2020 games constitute a serious threat.
"Military units participating in the manoeuvres could be used to provoke escalations and threaten the stability of the Black Sea," the Ukrainian Defence Ministry said last week.
NATO patrols the Black Sea, where Ukrainian and Russian gunboats have clashed in waters near Crimea after Russia illegally annexed the territory in 2014.
Fraying ties
Several countries have pulled out of military exercises with Russia this year, with India citing the coronavirus pandemic but observers pointing to its frayed ties with China. The two Asian giants, which fought a border war in 1962, both suffered military casualties in additional border clashes this year.
Serbia, a Russian ally, dropped out of drills in Belarus after what Belgrade called "great and undeserved pressure" from the EU, which Serbia seeks to join someday.
The Kremlin's relationship with Europe has worsened since Russian forces annexed Crimea in 2014, and tensions are exacerbated by allegations of election meddling and spying.
The poisoning of leading Kremlin critic Alexei Navalny in Siberia in August recently spurred sharp condemnations from European leaders who have said they could respond with further sanctions on Moscow.
In Central Asia, many viewed the recent exercises as a sign of Putin's militaristic policies.
The Kremlin has been trying to drag Kazakhstan into its geopolitical games, said political analyst Urazgali Selteyev of Nur-Sultan.
"Our country must maintain its neutral position on principle and not get mixed up in a confrontation with the West," he said earlier in September. "The citizens of Kazakhstan should not be affected by the consequences that Russia and its military partners are begging for."
The Kremlin is creating tension in Central Asia with provocative military exercises as well as through other means, said former Kyrgyz diplomat Murat Konokbayev from Bishkek, also in September.
"Recently, they planted fake news in our information space pushing the idea that the Kyrgyz are allegedly discussing the question of Kyrgyzstan joining Russia," he said.
"This is a gross provocation from Moscow, which agitated the public in Kyrgyzstan. The reaction in the Central Asian republic showed that such statements have nothing to do with reality."