BISHKEK -- Hundreds of Kyrgyz gathered in Bishkek last weekend to defend their country's sovereignty and denounce statements made by some politicians urging a merger of Kyrgyzstan with Russia.
The idea was upsetting to Kyrgyz who cherish their country's post-Soviet independence and were shocked to watch Russian troops illegally annex Crimea in 2014.
It would be equally unwelcome to resource-rich Kazakhstan, which would find itself sandwiched between parts of Russia if somehow the idea ever came to fruition. Kyrgyzstan has no border with Russia.
Users of social media networks organised the peaceful demonstration on September 27 ahead of parliamentary elections on Sunday (October 4), 24.kg reported.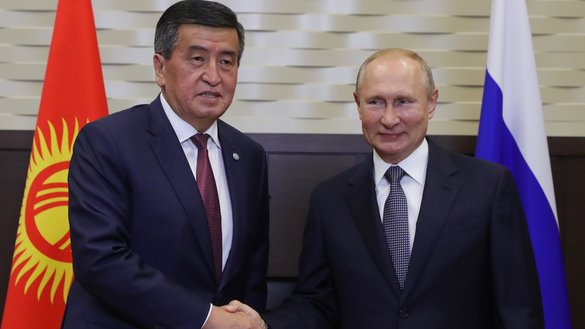 The protest comes after the recent posting on Facebook of a videotaped 2019 speech in Moscow by Kyrgyz member of parliament Marat Amankulov. In the video, he states that after almost 30 years of independence, Kyrgyzstan should integrate with Russia.
Amankulov is chairman of the Birimdik (Unity) party, which is viewed as loyal to President Sooronbay Jeenbekov and includes the president's brother and former parliamentary speaker, Asylbek Jeenbekov, among its candidates for parliament, AFP reported.
The mission of his party is to return the country to "Eurasianism", said Amankulov in the video, using a term popularised by Russian President Vladimir Putin and his circle.
"Thirty years of independence have shown us that it's time to come to our senses and go back," said Amankulov. "We have the same roots. Only a state that is united on the entire territory encompassing Eurasianism may be sovereign."
"We need to come together and be integrated. A life of freedom is good, but it's time to go home."
'Keep your hands off Kyrgyzstan'
Amankulov on September 26 denied the accusations against him, claiming he was speaking at a non-political event in Moscow.
However, Putin earlier this year spelled out the Kremlin's vision for a regathering of the former Soviet states under Moscow's control.
Putin on April 19 touted the "advantages" of restoring the Soviet Union.
"By conquering a phobia of the past and fears of a revival of the Soviet Union and of the Soviet empire ... the understanding that unification benefits everyone is inevitably prevailing," he said on state-owned television channel Russia-1.
Such statements by Putin and Amankulov are stirring anger among Kyrgyz citizens, many of whom see Amankulov as a puppet of the Kremlin and accused him of treason.
At the Bishkek protest, demonstrators held signs that said "For a free Kyrgyzstan", "Traitors, get out", "Kyrgyzstan will stay independent" and "Keep your hands off Kyrgyzstan".
Independence and freedom of speech in Kyrgyzstan are priceless and citizens need to fight for them, the leader of the demonstration in Bishkek's central square told protesters.
"In the 30 years since our country became independent from the Soviet Union, new, free Kyrgyz have been born. We will no longer get down on our knees," he said.
Politicians who support Kyrgyzstan joining Russia are sycophants, Kunduz Akmatova of Bishkek, a member of a Facebook group known as Independent Kyrgyzstan, posted on Facebook, referring to Amankulov.
"They dance to Putin's flute. We already sank in that swamp known as the Soviet Union for more than 70 years [1917-1991]. How many more can we take? Our country doesn't need sycophants but real reformers," Akmatova wrote.
The demonstration defending Kyrgyzstan's sovereignty reflects current trends in the country's political life, said analysts.
"The demonstration was emblematic in that the idea of national sovereignty, of its indisputable value and of its importance as a foundation of statehood and political self-determination are more actively spreading and taking root ... especially among the new generation of Kyrgyz politicians," said Askat Dukenbayev, a political analyst from Bishkek.
Dukenbayev expressed hope that the recent demonstration would become a "turning point in Kyrgyzstan's political life".
"Statements like these by prominent political figures in the country are unfortunate -- first and foremost for the politicians themselves -- because after they make such statements they look like lackeys of Putin's influence in Kyrgyzstan," he added.
Russian interference
Other Kyrgyz politicians have echoed Amankulov's provocative statements on a Kyrgyz-Russian merger.
The unification of Kyrgyzstan and Russia is a subject of discussion in both Kyrgyzstan and in the Kyrgyz diaspora in Russia, Raimkul Attokurov, a former Kyrgyz ambassador to Russia, told the online newspaper Pravda.ru September 12.
"History has preordained us to be together. And considering what is happening with our friends the Belarusians, international strategic objectivity compels it," Attokurov said.
Abdygany Shakirov, the chairman of Kyrgyz Birimdigi (Kyrgyz Unity), the Kyrgyz diaspora organisation in Moscow, was quick to refute Attokurov's statement.
"We are authorised to state that in Kyrgyz Birimdigi, there has not been and there could not be discussion of our homeland becoming part of another country. We consider Raimkul Attokurov has no right to speak about this topic on behalf of the Kyrgyz living in Russia," Shakirov told 24.kg September 14.
"He needs to put more value on Kyrgyzstan's sovereignty," said Shakirov.
A few days later, Attokurov told Radio Free Europe/Radio Liberty (RFE/RL)'s Kyrgyz service that the Russian publication had distorted his words in the interview.
"Maybe [the Russian journalists] have their own agenda and interests," Attokurov suggested.
The two statements floating a possible Kyrgyz-Russian merger are connected, say some politicians.
Esen Momunkulov, a member of the Bir Bol (Stay Together) party and former director of the Investment Promotion and Protection Agency of the Kyrgyz Republic, said he was sure that the recent provocative statements by the Kyrgyz politicians were the result of efforts by Russian intelligence agencies.
"The independence of our country belongs to the people, not to politicians," he said.