BISHKEK -- Kyrgyzstan's electoral body on Tuesday (October 6) said it was cancelling the results of a disputed parliamentary vote that plunged the Central Asian nation into violence and political chaos for the third time since 2005.
The country's Central Election Commission said in a statement that it had "invalidated the election results" that saw parties close to pro-Russian President Sooronbay Jeenbekov score big wins amid accusations of mass vote-buying campaigns.
The results sparked protests and clashes in Bishkek overnight, with demonstrators seizing government buildings and freeing imprisoned politicians, including former president Almazbek Atambayev.
The clashes left dozens injured, with more than 100 people seeking care in hospitals.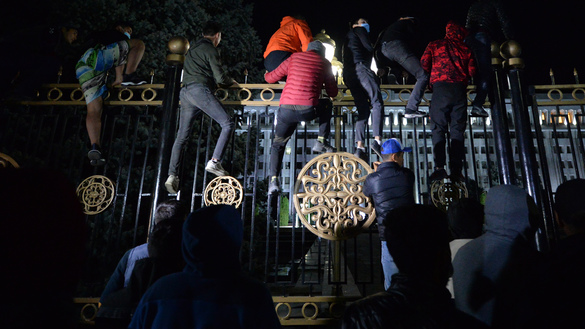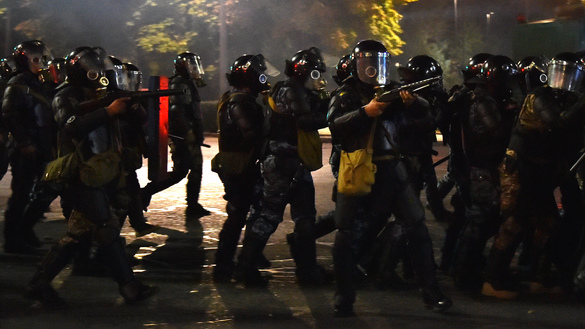 A Health Ministry spokeswoman on Tuesday said that an injured man had died. The ministry had not yet identified the victim, she told AFP by telephone.
Opposition politicians including a former prime minister and several party leaders said they had formed a "co-ordination council" to restore stability and "return to the rule of law".
The council issued a statement criticising Jeenbekov for failing to provide equal conditions for the parties competing in the vote.
Jeenbekov's office has insisted the situation in the country is under his control, while the president accused "several political forces" of attempting to seize power.
Along with Atambayev -- a bitter rival of Jeenbekov -- two former prime ministers and two former lawmakers were released from jail, media reported.
Poll results denounced
A number of pro-reform and nationalist parties denounced the results as fraud, and opposition supporters poured onto Bishkek's streets the evening of Monday (October 5) to demand a rerun of the election.
Demonstrations in Bishkek turned violent after a column of protesters marched on the White House, home to parliament and the presidential administration.
Police used water cannons, stun grenades and tear gas to disperse protesters.
Demonstrators later returned and surrounded the building, eventually breaking in and later marching to the State National Security Committee (GKNB) building, where former president Atambayev was jailed.
Footage posted on social media showed the freed Atambayev greeting supporters. He had been serving an 11-year sentence for his role in the illegal release from jail of a mob boss.
Russia, China watching
The crisis -- reminiscent of the 2005 and 2010 revolutions -- will be closely watched by Russia, which maintains a military base in Kyrgyzstan, and neighbouring China.
In June, the Kremlin sparked widespread discontent among locals and politicians when it declared a runway that sits at its air base to be part of Russian territory, and in March Kyrgyz analysts questioned the intent of Russia's deployment of air and missile defence systems inside Kyrgyzstan.
Kyrgyzstan's dependence on China also appears likely to grow, with Jeenbekov recently asking Beijing to extend repayment periods for $1.8 billion owed to China's Exim bank -- over 40 percent of the country's total external debt -- to offset the economic pain of the coronavirus pandemic.
Many observers say Beijing is actively taking advantage of Central Asia's struggles to deal with the coronavirus fallout to advance its geopolitical and economic goals.
Hundreds of Kyrgyz gathered in Bishkek a week before the elections to defend their country's sovereignty and denounce statements made by a pro-Russian party leader urging a merger of Kyrgyzstan with Russia.
Users of social media networks organised the peaceful demonstration on September 27 ahead of parliamentary elections on Sunday (October 4).
The protest came after the recent posting on Facebook of a videotaped 2019 speech in Moscow by Kyrgyz member of parliament Marat Amankulov. In the video, he states that after almost 30 years of independence, Kyrgyzstan should integrate with Russia.
Amankulov is chairman of the pro-Russian Birimdik (Unity) party, which is viewed as loyal to Jeenbekov and includes the president's brother and former parliamentary speaker, Asylbek Jeenbekov, among its candidates for parliament.
The mission of his party is to return the country to "Eurasianism", said Amankulov in the video, using a term popularised by Russian President Vladimir Putin and his circle.
"Thirty years of independence have shown us that it's time to come to our senses and go back," said Amankulov. "We have the same roots. Only a state that is united on the entire territory encompassing Eurasianism may be sovereign."
"We need to come together and be integrated. A life of freedom is good, but it's time to go home."
The official election results -- sweeping victories by Birimdik and the equally pro-Russian Mekenim Kyrgyzstan party -- provoked the mass protests.