Almost 30 years after the collapse of the Soviet Union in 1991, Moscow has cemented its role as a player on the international stage, but closer to home, countries formally in its fold are in turmoil with long-simmering conflicts reigniting and historic protest movements threatening Soviet-style strongmen.
Authoritiarian leaders who struggle to keep power are defending unpopular systems that bear the influence of post-Soviet Russia -- alignment with the Kremlin, the use of "administrative resources" to steer election results toward pro-government parties, and corruption that touches every part of life.
When they come knocking for help, Russian President Vladimir Putin confronts an unpalatable choice "between intervening to prop up allies at the risk of provoking public backlash, and leaving neighbouring regimes to their fates, risking possible regional contagion and the suggestion of its [Russia's] own weakness", as the Financial Times wrote this week.
Those post-Soviet countries that have tried to steer a path independent from Moscow have battled subversion and even outright invasion by Russian forces.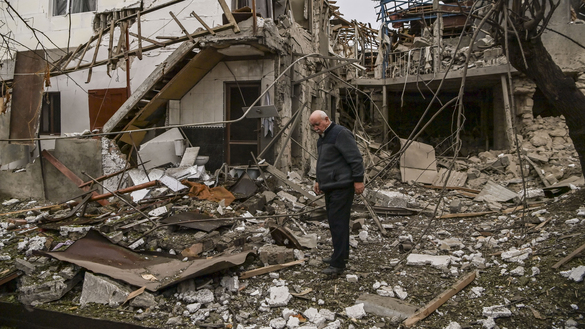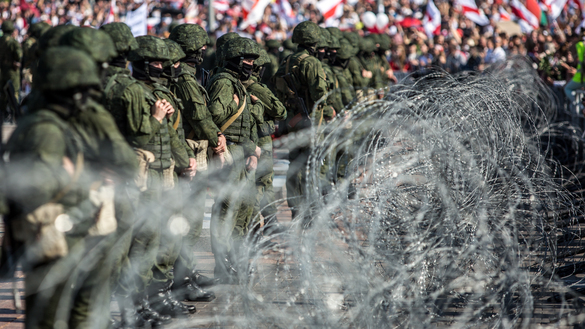 Belarus: peaceful protests and police crackdown
Belarusian President Alexander Lukashenka has ruled over his country with an iron fist and Soviet-style authoritarianism since 1994.
Lukashenka's claim to victory in the August 9 presidential election with 80% of the vote sparked historic protests against his rule, with demonstrators flooding the streets every weekend since the vote to demand his departure.
The protests have persisted months after the ballot despite a brutal police crackdown and the detention or exile of the opposition's most prominent and outspoken figures.
For Moscow, Lukashenka is an essential -- if unpredictable -- ally, and Putin views Belarus as a buffer between Russia and NATO.
The two leaders held one-on-one talks in Sochi, Russia, on September 14.
Putin backed the embattled Belarusian strongman and promised a $1.5 billion loan as Lukashenka vowed to strengthen ties with Moscow.
Lukashenka thanked Putin for behaving "very decently" and said Belarus needs "to stick closer to our older brother and co-operate on all issues".
But Putin's support for Lukashenka has self-serving undertones.
If the Belarusian regime topples as a result of large-scale protests, "Russia will be next," Lukashenka warned in an interview with Russian TV September 8.
The meeting came on the heels of regional elections in Russia that opposition leaders claimed as a symbolic win following the poisoning of Russian opposition leader Alexei Navalny in late August.
Nagorno-Karabakh: a conflict with Soviet roots
The Soviet regime designated the majority Armenian province of Nagorno-Karabakh part of Azerbaijan in the 1920s.
The move was part of its much-used "divide and conquer" strategy of keeping the Soviet nationalities off balance, in which it placed territorial enclaves of some ethnic groups within Soviet republics dominated by other ethnic groups.
Border disputes between Kyrgyzstan and Uzbekistan, Kyrgyzstan and Tajikistan, and Tajikistan and Uzbekistan all flared up after the Soviet collapse in 1991 because of the time bombs that the USSR left in the form of territorial enclaves.
After the collapse of the Soviet Union, a conflict erupted between Azerbaijan and Armenian-backed separatists in Karabakh that claimed some 30,000 lives.
A ceasefire brokered in 1994 resulted in the de facto creation of the self-proclaimed republic backed by Armenia.
The Russian regime maintains good relations with both Armenia and Azerbaijan but has failed to oversee a lasting political resolution. Some observers suggest it wants the conflict to simmer so that it can project its influence over both sides.
Fighting erupted again late last month following decades of failed negotiations, and Azerbaijan -- with Turkey's support -- has said it is determined to capture Karabakh.
Kyrgyzstan: revolutions on repeat
Kyrgyzstan is the most democratic of all the Central Asian states but also its most unstable.
It witnessed revolutions in 2005 and 2010 that toppled two presidents as the country grappled with authoritarianism, corruption and electoral fraud.
In 2010, the ethnic Uzbek minority in southern Kyrgyzstan suffered violent pogroms.
Former president Almazbek Atambayev oversaw several years of relative stability and was replaced by his pro-Russian ally Sooronbay Jeenbekov in 2017.
Their relationship soured after Jeenbekov worked to break away from his predecessor's influence and had his former ally jailed following police raids on his home in 2019.
Putin's efforts to reconcile the two leaders during meetings in 2019 failed.
This month, widespread allegations of vote-buying in parliamentary elections sparked violent clashes and demonstrators occupied government buildings and freed Atambayev before the country's Central Election Commission annulled the results Tuesday (October 6).
The crisis will be closely watched by Russia, which maintains a military base in Kyrgyzstan, and neighbouring China.
In June, the Kremlin sparked widespread discontent among locals and politicians when it declared a runway that sits at its air base to be part of Russian territory. In March, Kyrgyz analysts questioned the intent of Russia's deployment of air and missile defence systems inside Kyrgyzstan.
Kyrgyzstan's dependence on China appears likely to grow, with Jeenbekov recently asking Beijing to extend repayment periods for $1.8 billion owed to China's Exim bank -- over 40% of the country's total external debt -- to offset the economic pain of the coronavirus pandemic.
Beijing is exploiting Central Asia's struggles to deal with the coronavirus fallout to advance its own geopolitical and economic goals, say many observers.
Ukraine: Moscow faces down the West
In 2014, a pro-Western popular uprising in Ukraine triggered Russian annexation of the Crimean peninsula and sparked an ongoing war between Kyiv's forces and Moscow-backed separatists in the east.
Putin's deployment of Russian troops (the "little green men") in Ukraine made his message clear: NATO and the European Union should end their courtship of former Soviet countries.
Peace talks led by France and Germany have mostly stalled, but the election of Ukrainian President Volodymyr Zelenskyy in 2019 injected some urgency into negotiations to end the conflict that has claimed 13,000 lives.
Relations between Russia and Georgia are also strained following a brief war in 2008 that ended with Moscow recognising two self-proclaimed republics inside Georgia. Russian troops occupy 20% of the country's territory.
Moldovan leaders also are unable to exert authority over part of their country because of Russian interference. Moscow has deployed peacekeepers to majority Russian-speaking Transnistria, a narrow breakaway state that formed after a 1990s war. The Kremlin supports Transnistria's separatist officials.