NUR-SULTAN -- A new initiative, backed by the European Union (EU) and the United Nations Development Programme (UNDP), is working to make Kazakh youth more resistant to the calls of radicalism.
More than 100 Kazakh youth from Karaganda and Aktobe provinces this month took part in the first round of the Strengthening Resilience against Violent Extremism in Asia (STRIVE Asia) initiative, the UNDP said in a statement October 7.
The participants included high-school students, vocational school students, the self-employed and the unemployed from socially vulnerable groups of the population as well as young leaders who can deliver positive narratives.
As part of the initiative, they took part in a series of counselling and mentoring sessions from October 1-5 that explained the risks of violent extremism and taught how to achieve family and professional balance and other useful skills.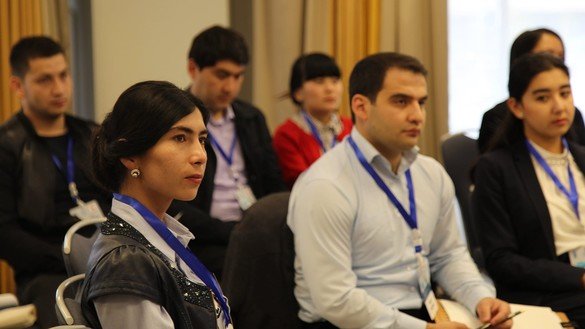 The programme aims to respond to early signs of radicalisation and violent extremism, said the UNDP, adding that psychological rehabilitation and counseling play a particularly important role because "radicalisation is often associated with personal, psychological and emotional factors".
"The spread of violent extremism over years poses a significant threat to the international community's efforts to promote peace and security," UNDP Resident Representative in Kazakhstan Yakup Beris said in the statement.
"It also undermines progress made towards fostering sustainable development and upholding human rights," he said. "We greatly welcome this partnership and support by the European Union in advancing our efforts to address radicalisation among vulnerable youth in Kazakhstan."
"The European Union is unwaveringly committed to prevent and counter terrorism and violent extremism in all their forms and irrespective of their origin. Recognising that terrorism is a global phenomenon, the European Union prioritises this field of co-operation with our partners around the world," EU Ambassador to Kazakhstan Sven-Olov Carlsson said in the statement.
"Thanks to this partnership with the United Nations, we continue to prevent and counter violent extremism and will also respond to and mitigate the social and economic impacts caused by the COVID-19 pandemic, which can exacerbate the conditions conducive to terrorism," Carlsson said.
Young Kazakhs learn to reject extremism
"The STRIVE Asia programme aims to prevent early signs of extremism in Central, South and Southeast Asia. Training for young people from Kazakhstan was held October 1-5. Psychologists then held individual consultations with each participant," said Yernar Beisaliyev, a Nur-Sultan political scientist.
The EU and UNDP in recent years "have made a great contribution to countering violent extremism by conducting training and implementing various programmes aimed at raising awareness and reducing poverty", he said.
"Education, work, life experience, decent living conditions -- they all contribute to the more sensible perspective of a person who is no longer so easy to deceive with extremist ideology," Beisaliyev said.
"In this regard, young people are more vulnerable. Young people are ambitious. They are looking for their own path in life, but they do not yet have well-developed critical-thinking skills," he added.
This year, Kazakhstan and the EU expanded co-operation in various areas, including in the fight against terrorism.
Additionally, in July the EU allocated €3 million (1.5 billion KZT) to combat COVID-19 in Central Asia.