ALMATY -- Recent peace-keeping drills of the Russia-led Collective Security Treaty Organisation (CSTO) saw two members refuse to participate.
The Indestructible Brotherhood-2020 military exercises ran from October 12-16 in Vitebsk Region, Belarus.
"The issues of organising, preparing and conducting a peace-keeping operation in one of the collective security regions will be worked out" by troops of the member states, said Maj. Gen. Alexander Volfovich, chief of the Belarusian military general staff, said at the event.
"The training will become a strategic deterrent within the difficult situation that is developing in the world and, in particular, in the post-Soviet countries," said Volfovich.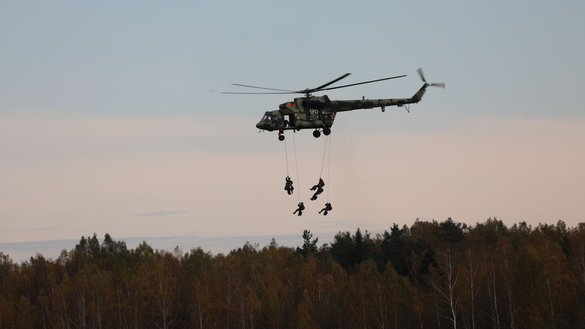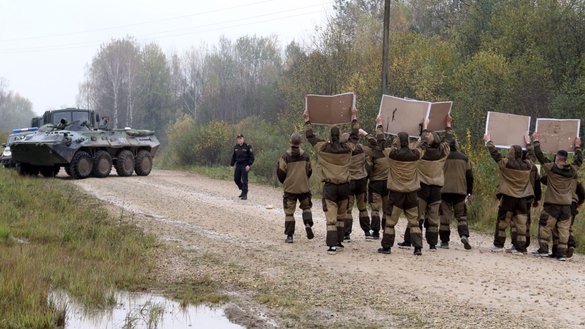 The exercises involved "units of the CSTO member states", including a total of "over 900 people and over 120 pieces of military and special equipment, including helicopters and drones", said the CSTO.
However, the full membership of the CSTO was not represented at the exercises, the press release failed to note.
The CSTO consists of six member states: Armenia, Belarus, Kazakhstan, Kyrgyzstan, Russia and Tajikistan.
Despite attending last year's drills, Armenia and Kazakhstan declined to join the "Indestructible Brotherhood".
Disenchantment in Armenia
For its part, Armenia has been embroiled in a conflict with Azerbaijan since fighting broke out on September 27 over Karabakh, a region of Azerbaijan long controlled by Armenian separatists. Hundreds have been killed so far.
Armenia has a number of reasons for being disillusioned with the CSTO and especially with its co-ordinator, Russia.
Armenian Prime Minister Nikol Pashinyan "has been stymieing the activity" of the CSTO "for a year and a half", reported the Azerbaijani news site Media.az.
Pashinyan "has said that he doesn't need the CSTO, that his friends are in Washington, Berlin and Paris", Alexey Fenenko, a professor at the Faculty of World Politics at Moscow State University, was quoted as saying by Media.az.
"Look at Moscow's measured reaction to Baku's strike on Armenia's missile systems. That says a lot," he said, referring to Azerbajiani strikes on October 13 and 14.
Russian Defence Minister Sergei Shoigu appealed for both sides to "fully meet the commitments" of a humanitarian ceasefire brokered by Russia just days before.
Moscow has a history of providing weapons to both sides of the conflict, a possible point of contention, Deutsche Welle reported.
"In providing equal supplies of weapons to both sides ... Moscow is trying both to gain and maintain influence in the region," Boris Navasardyan, chairman of the Yerevan Press Club, said in the report.
In a potential show of force, Moscow on October 16 said its navy had begun military exercises in the Caspian Sea north of Baku.
The war games are taking place north of the Absheron peninsula, where Baku is situated, and will include artillery and rocket fire, the Russian Defence Ministry said in a statement.
Questions in Kazakhstan
Kazakhstan sent only seven officers to Belarus as observers, without weapons or equipment, because of the coronavirus pandemic, Nurlan Kashaganov, chief of combat training at the Kazakh Ministry of Defence, told Interfax.
However, the CSTO's potential role in conflicts may have played a role.
In particular, Kazakhstan did not support Moscow's position on possibly using the CSTO to help quash the mass protests in Minsk against the official results of the August 9 presidential election.
In an August 16 phone conversation, Russian President Vladimir Putin promised his Belarusian counterpart, Alexander Lukashenka, that he would "help him through the CSTO" to resolve the political crisis in Belarus.
The Kazakh government did not confirm its participation in any effort to put down demonstrations in Belarus. Kazakhstan is not yet ready to say whether the situation in Belarus constitutes a threat to the CSTO, Yerzhan Ashikbayev, deputy foreign minister of Kazakhstan, said August 19.
"We will make the decision that serves Kazakhstan's national interests," said Ashikbayev.
Nur-Sultan's involvement in any CSTO intervention in Belarus is unlikely, say Kazakh observers.
For the most part, the local community has a negative view of the participation of Kazakh soldiers in operations abroad, including as part of the CSTO, said Aidos Sarym, an Almaty political analyst.
The events in Belarus in no way pertain to the CSTO's missions, he argued.
"If we're talking about helping allied states overcome disasters or ... acts of God, that's one thing, but a violent dispersal of peaceful demonstrators is ... out of the question," Sarym said.
In the past, Kazakh troops scrupulously participated in military exercises organised by the CSTO, and Nur-Sultan's refusal to join this one "is most likely due to more substantial reasons than the pandemic", said Dauren Ospanov of Almaty, a former Kazakh army major.
"The CSTO is now in a tricky situation, which is disappointing some of the members who counted on it," Ospanov said.