NUR-SULTAN -- Kazakhstan has launched a new preventive policing operation that encourages district police officers to visit apartment buildings and houses, get acquainted with residents and check in on members of high-risk groups.
The three-month-long nationwide Operation District started on September 7 and will run through December 10, the Interior Ministry (MVD) said in a statement on its website.
The initiative aims to help prevent crime, improve the image and influence of district police inspectors and establish trusting relationships with citizens, the ministry added.
The move comes as Kazakh law enforcement agencies have ramped up the fight against drug crime after detecting a marked increase in the amateur production and sale of synthetic drugs in recent months.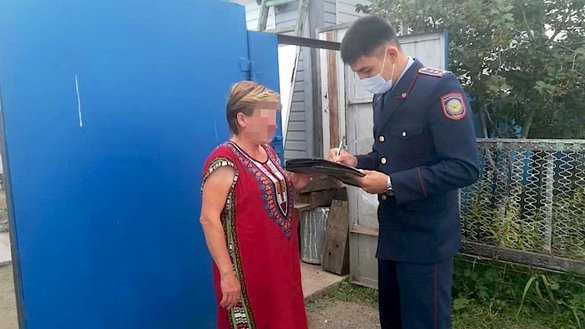 Authorities recorded 320 crimes related to synthetic drugs in the first seven months of this year -- three times higher than in the same period last year, the MVD said last month.
In addition, Kazakh police are shifting to a service-oriented model based on providing high-quality services to the public and co-operation between the police and the community, the ministry said in September.
Weapons seized
In Kyzylorda Province, as part of Operation District, district inspectors already have visited more than 45,000 apartments and houses, including rented dwellings, and have identified about 5,000 various offences.
The inspectors follow up with those who have been convicted of crimes but are serving sentences -- like probation -- outside prison.
In North Kazakhstan Province, police checked on 938 convicts and discovered 68 violations of sentence. They asked a local court to send 16 of those convicts to prison.
Owners of weapons are undergoing checks. In Aktobe Province, during the first 10 days of the preventive operation, the authorities seized seven weapons from residents for violations related to their storage and registration with police.
"We conduct these measures to prevent, warn against and suppress the commission of new crimes by those sentenced to punishment that does not involve imprisonment," Almat Ismagulov, a senior probation officer in Rudny, told Polisia.kz, the official website of Kazakhstan's police.
"The main objective is to curb recidivism and to establish the whereabouts of convicted persons on wanted lists," he added.
"We know our district police officer. We know his cell phone number, and if necessary, we can contact him," said Bibigul Ulybekova, a 62-year-old resident of Taraz.
"Now, people trust the police more. Citizens are gradually becoming intolerant of even minor offences, and it is considered good form to report suspicious items or hoodlums to the police."