NUR-SULTAN -- Kazakh National Security Committee (KNB) special forces held counter-terrorism drills last week in Almaty city and Almaty Province as part of ongoing efforts to remain prepared for potential emergencies.
The one-day exercise on October 22, dubbed "Octopus 2020", was aimed at allowing special forces to interact more effeciently during potential counter-terrorism operations and in the containment of emergencies, the KNB said in a press release.
The exercise was the next step in establishing "active opposition to the danger posed by international terrorism and other manifestations of extremism", said the KNB.
During the exercise, KNB units worked out uniform approaches to assessing situations and to improving joint operations, it added.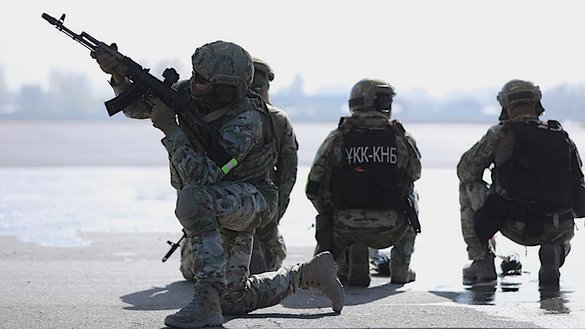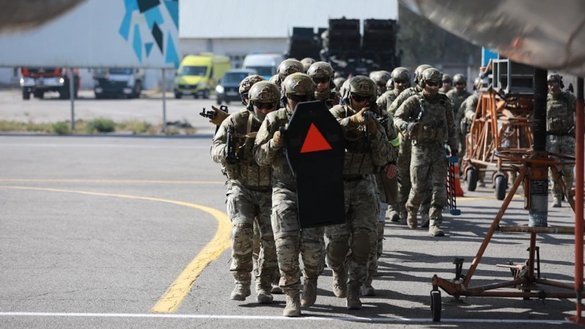 While Kazakhstan has not recorded any terrorist attacks in recent years, authorities continue to identify extremists and followers of terrorist organisations in different provinces.
Those potential threats have spurred the KNB to continue preparing its special forces for any potential attack.
In March this year, Tajik-Uzbek joint counter-terrorism drills occurred in Dushanbe. The last major counter-terrorism drills in Kazakhstan took place in 2019 and were aimed at ensuring railway security.
A persistent threat
In September in Atyrau, an adherent of the terrorist organisation "Islamic State" (IS), who had participated in extremist propaganda and drug sales, received a six-year prison sentence.
Also in September, authorities in Karaganda Province arrested a woman accused of posting publicly viewable extremist materials online.
In addition, over the past month authorities encountered incidents of distribution of prohibited literature in Turkistan, Atyrau and North Kazakhstan provinces.
While KNB units train and combat terror on the ground, the country now is engaged in online education against the threat of extremism because COVID-19 quarantine restrictions make in-person instruction impossible.
For example, on September 29, university students in Taraz attended an online lecture entitled "Psychological Aspects of Adherents of Destructive Religious Movements" that was organised by the local police.
"The topics of ... extremism and terrorism are not losing their relevance today," said one of the presenters, Dinmukhamed Sauirbai, a counter-terrorism officer in the Zhambyl Provincial Police Department.
"Therefore, it is very important to conduct informational and advocacy work among young people, who must have a basic understanding of these complex realities in order not to become victims," Sauirbai told Polisia.kz in an interview.
Kazakh authorities have made successful efforts to quash terrorism, said Nariman Baytenov, a theologian from Karaganda Province.
"In terms of the terrorist threat, the situation in the country can be called stable. It is under the control of the relevant authorities," Baytenov said. "There is no fear of terrorism in society, but it rejects any form of extremism or violent radicalism."
"We see this from the actions of Kazakhs, who are actively reporting illegal content to hotlines and to the police," said Baytenov.