BISHKEK -- Moscow's conditional financial support to Bishkek is part of its plan to shore up influence in Kyrgyzstan and broaden its control of strategic areas of the economy amid the nation's political crisis, say observers.
Mass protests and clashes erupted in Bishkek on October 5 after Kyrgyzstan's October 4 parliamentary elections, in which parties close to then-President Sooronbay Jeenbekov prevailed amid accusations of widespread vote-buying. The Central Election Commission October 6 threw out the controversial results.
Jeenbekov stepped down on October 15, saying he did so to help end the crisis.
Demonstrators October 6 released former member of parliament Sadyr Japarov from prison. He was convicted in 2017 of kidnapping.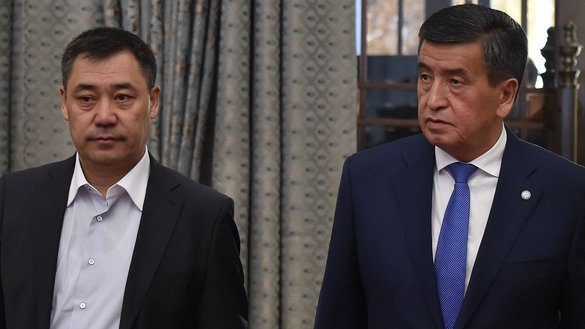 On October 19, the Supreme Court acquitted him and members of parliament named him prime minister.
Amid the crisis, on October 14, Russian news site RBC, citing its own sources in the Russian government, reported that Moscow would not provide Bishkek financial support until the "political situation stabilises" in Kyrgyzstan.
In 2019, Russia gave $30 million (2.5 billion KGS) to Kyrgyzstan, and since 2012 it has provided grants worth more than $250 million (20.4 billion KGS), the report noted.
In addition, Russia is the main shareholder of the Eurasian Fund for Stabilisation and Development (EFSD), which in August 2020 decided to lend Kyrgyzstan $100 million (8.2 billion KGS).
It is not yet clear whether the EFSD loan has been suspended, but Moscow controls 88% of the fund's charter capital.
Kremlin's interests
The decision to halt aid in the middle of the crisis suggests that the Kremlin wanted Jeenbekov out, according to some analysts.
Jeenbekov had been ramping up co-operation with the United States and the West since 2018.
In September 2018, Jeenbekov and his wife travelled to New York, where they attended a reception hosted by US President Donald Trump. Jeenbekov conferred with United Nations (UN) Secretary-General António Guterres and spoke at the UN General Assembly.
Jeenbekov was planning to visit Washington to discuss and sign an inter-governmental agreement meant to bolster the partnership between the United States and Kyrgyzstan on a number of strategic issues, reported Kyrgyz media in October 2019, citing sources in Jeenbekov's administration.
However, the trip never occurred, with some reports suggesting that Jeenbekov cancelled it after talks in September 2019 with Russian President Vladimir Putin.
Jeenbekov asked Putin ahead of Kyrgyzstan's parliamentary elections for assistance at a meeting on September 28 in Sochi, Russia, according to Musurkul Kabylbekov, a Bishkek journalist and civic leader who writes about political issues.
"As you know, especially on the eve of the parliamentary elections, various forces that oppose the stability and development of our country have become more active," Jeenbekov said to Putin during their meeting, according to a statement posted on the Kremlin's website.
"They even try [to encroach] on Kyrgyz sovereignty, and they are driving a wedge into our alliance and strategic partnership," the former Kyrgyz president continued. "Of course we won't let them; they will not succeed, because Russia's support for us is the main thing ... and I thank you for it."
"Jeenbekov humiliated himself before Putin, but Putin didn't help him," Kabylbekov said.
Pressure on Bishkek
Moscow's refusal to give additional financial support is a reliable mechanism to pressure Bishkek so the Kremlin can shore up its influence in Kyrgyzstan and broaden its control of strategic areas of the economy, such as taxes and customs, according to Kabylbekov.
Still, subsequent events did not go according to the Russian plan, said Kairat Osmonaliyev of Bishkek, a professor and scholar of international law.
The Kremlin dispatched Dmitry Kozak, Putin's deputy chief of staff, to Bishkek to urge a transfer of power from Jeenbekov to Japarov in accordance with the Kyrgyz rules, Osmonaliyev said.
"Moscow wanted Jeenbekov to step down after finishing his presidential term, which on the surface would look like a natural political process, but Jeenbekov resigned unexpectedly," he said.
That desire could have been "related to the suspension of financial aid from Russia", observed Osmonaliyev.
Other subsequent decisions have suggested that Moscow is dangling Kyrgyzstan's financial aid to achieve its aims.
On October 21, Japarov conferred with Nikolay Udovichenko, the Russian ambassador to Kyrgyzstan, and during the meeting said that Russian would remain an official language of Kyrgyzstan.
That statement came amid moves by Uzbekistan and other Central Asian nations to shift to Latin script as part of efforts to shed Russian influence and develop stronger national identities.
For his part, Udovichenko announced that Russia was "willing to provide assistance in modernising the tax system and introducing a product traceability labelling system".
Meanwhile, Kyrgyz Foreign Minister Ruslan Kazakbayev on October 23 held talks with Moscow with his counterpart, Sergey Lavrov, to discuss the unfreezing of Russian financial aid, but Lavrov refused to budge.
The next day in an interview with RIA Novosti, a Russian state news agency, Kazakbayev said that Bishkek was willing to consider expanding Kant, the Russian air base in Kyrgyzstan.
For years the Kant air base has been a political lightening rod in Kyrgyzstan, as many Kyrgyz see the continued, heavy presence of the Russian military in the country as undermining national sovereignty.