BISHKEK -- Moscow appears to be taking advantage of the political situation in Kyrgyzstan to pressure the country's leaders to bend to its will or lose promised military and financial aid.
After weeks of protests and political uncertainty following Kyrgyzstan's October 4 parliamentary elections, Sooronbay Jeenbekov stepped down as president on October 15, saying he did so to help end the crisis.
On October 19, the Supreme Court threw out former member of parliament Sadyr Japarov's 2017 kidnapping conviction and named him prime minister and acting president. Demonstrators freed him from prison October 6 in the unrest that followed the disputed election.
If the new Kyrgyz leadership was hoping the Kremlin would warm up to its new leaders and deliver on promised financial aid, Moscow appears to be throwing cold water on those ambitions.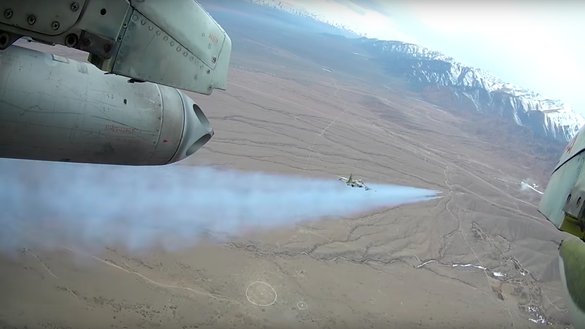 Amid the crisis, on October 14, Russian news site RBC, citing its own sources in the Russian government, reported that Moscow would not provide Bishkek financial support until the "political situation stabilises" in Kyrgyzstan.
Japarov has pledged to oversee fresh parliamentary elections that are expected to take place in December. He also plans to step down in "early December" in order to run for president.
Despite signs that Kyrgyzstan's political situation is stabilising, Moscow still has not rolled out the welcome mat for the new administration.
Apparently rattled by Moscow's cold shoulder, Japarov at the end of October sent an unannounced envoy to Russia for talks with its Foreign Ministry, Radio Free Europe/Radio Liberty (RFE/RL) reported Tuesday (November 3).
Chingiz Aidarbekov, a former Kyrgyz foreign minister who is now Japarov's foreign affairs adviser, arrived in Moscow for talks, but no one seemed to be expecting him, according to reports October 29.
Aidarbekov "wanted meetings in the Kremlin" with Foreign Minister Sergey Lavrov, members of the Russian government and State Duma leaders but was "rejected by absolutely everyone", Asel Otorbayeva, editor in chief of Kyrgyzstan's 24.kg information website, wrote that day on Facebook.
Kyrgyz state information agency Kabar offered a kinder version of the events, reporting later in the day that Aidarbekov "held talks with the leadership of Russia's Foreign Ministry and Finance Ministry", without naming any specific Russian official.
$100 million at stake
The cool relations between the two countries come even as Moscow steps up efforts to expand its military presence in Kyrgyzstan.
The Kremlin said in February it would deploy air and missile defence systems at a Russian air base near Kant.
For years the Kant air base has been a political lightening rod in Kyrgyzstan, as many Kyrgyz see the continued, heavy presence of the Russian military in the country as undermining national sovereignty.
Russian President Vladimir Putin during a visit to Bishkek in March 2019 convinced Kyrgyz authorities to expand the Russian base in Kant by 60 hectares, and the topic of opening up a second Russian military base in southern Kyrgyzstan continues to come up.
Demonstrators gathered outside the Russian embassy in Bishkek a day before Putin arrived, holding posters calling him a "killer" and an "occupier" and called for the Russian military to leave Kant.
For Kyrgyzstan, the benefit of Japarov's efforts to bolster relations with the Kremlin may be linked to financial aid of $100 million (8.4 billion KGS) that Moscow previously promised to Jeenbekov's government.
Moscow had given conditional financial support to Bishkek as part of its plan to shore up influence in Kyrgyzstan and broaden its control of strategic areas of the economy amid the nation's political crisis, observers said.
Kyrgyz Foreign Minister Ruslan Kazakbayev on October 23 held talks in Moscow with Lavrov, his Russian counterpart, to discuss the unfreezing of Russian financial aid, but Lavrov refused to budge.
The day before Kazakbayev met with Lavrov, Putin called the situation in Kyrgyzstan a "calamity" and said Russia had been watching with "pity and concern", according to RFE/RL.
Adding a chill to the already frosty meeting between the two, Lavrov took offence when Kazakbayev answered questions from a Kyrgyz journalist in Kyrgyz at a news conference after their talks.
"When the journalist turned to clarifying a fifth question in Kyrgyz, the Russian minister's patience ran out," Kommersant.ru reported.
"Excuse me," Lavrov said indignantly, according to the website. "You still have to respect the host, OK? In every sense."
The moment appeared to reflect Lavrov's insulting use of a pun. The word for "host" can also mean "boss".
Turning towards the West
Moscow may be "punishing" Kyrgyzstan for its increasing co-operation with the United States and closer ties to the West, which Jeenbekov had been developing since 2018.
In September 2018, Jeenbekov and his wife travelled to New York, where they attended a reception hosted by US President Donald Trump. Jeenbekov conferred with United Nations (UN) Secretary-General António Guterres and spoke at the UN General Assembly.
Jeenbekov was planning to visit Washington to discuss and sign a bilateral agreement meant to bolster the partnership between the United States and Kyrgyzstan on a number of strategic issues, Kyrgyz media reported in October 2019, citing sources in Jeenbekov's administration.
However, the trip never occurred, with some reports suggesting that Jeenbekov cancelled it after talks with Putin in September 2019.
In addition, Putin mistakenly called him "Shariman" when the two met in Sochi on September 28, even though Jeenbekov had been Kyrgyzstan's president since 2017 and met with Putin several times, RFE/RL reported.
During that meeting, Jeenbekov asked Putin for assistance, according to Musurkul Kabylbekov, a Bishkek journalist and civic leader who writes about political issues.
"As you know, especially on the eve of the parliamentary elections, various forces that oppose the stability and development of our country have become more active," Jeenbekov said to Putin, according to a statement posted on the Kremlin's website.
"They even try [to encroach] on Kyrgyz sovereignty, and they are driving a wedge into our alliance and strategic partnership," the former Kyrgyz president continued. "Of course we won't let them; they will not succeed, because Russia's support for us is the main thing ... and I thank you for it."
"Jeenbekov humiliated himself before Putin, but Putin didn't help him," Kabylbekov said.