BISHKEK -- Kyrgyzstan is preparing for a difficult winter amid rising coronavirus cases and a refusal by Russia to provide promised aid.
The total number of coronavirus cases in Kyrgyzstan reached 61,309 on Thursday (November 5).
At least 495 new cases of community-acquired pneumonia and COVID-19 were registered Wednesday (November 4), 24.kg reported, citing the Republican Emergency Response Centre.
The situation is expected to worsen following large public gatherings that occurred during a political crisis last month that saw President Sooronbay Jeenbekov resign.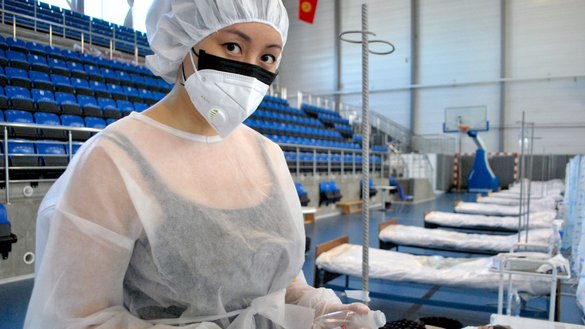 "Considering the elections, demonstrations and celebrations [of the year so far] ... the number of cases will surge among residents of the provinces because in the summer they were working in the fields and pastures," said Aibar Sultangaziyev, a medical analyst and director of the Partnership Network, an NGO, in Bishkek.
"Also, they came to the city for demonstrations, and after returning home they'll infect everyone," he said.
Sultangaziyev expressed doubt that the government has enough money for drugs to treat COVID-19 patients because the Mandatory Health Insurance Fund is broke.
The Fund is supposed to reimburse hospitals 300 million KGS ($3.5 million) for anti-COVID-19 medicines they purchased in the past, he said.
However, only parliament may release that sum to the Fund. It has not acted, preoccupied by the country's political crisis.
"Another 170 million KGS ($2 million) was supposed to be used to compensate doctors working in the red zone, but now a revolution has broken out and all work has come to a standstill," he said.
The situation may worsen in winter because citizens will gather even more in limited spaces, Nurbolot Usenbayev, the deputy health minister, said at a news conference November 4.
The government has prepared 8,168 beds in health facilities in Bishkek for coronavirus patients, according to Usenbayev, and currently 2,317 of those beds are occupied.
It is important to prevent seasonal respiratory infections and the flu can make things worse during the pandemic, he noted.
The Ministry of Health is not widely sharing information on available beds, said Bermet Barktabasova, an independent analyst of evidence-based medicine.
"Right now, two hospitals designated for coronavirus patients are already overcrowded, and people don't know where to go," she said.
Moscow's refuses aid
Moscow is taking advantage of the political and economic crisis in Kyrgyzstan to expand its control in a range of strategic areas, say observers.
On October 14, Russian news site RBC, citing its own sources in the Russian government, reported that Moscow would not provide Bishkek financial support until the "political situation stabilises" in Kyrgyzstan.
In 2019, Russia gave $30 million (2.5 billion KGS) to Kyrgyzstan, and since 2012 it has provided grants worth more than $250 million (20.4 billion KGS), the report noted.
In addition, Russia is the main shareholder of the Eurasian Fund for Stabilisation and Development (EFSD), which in August 2020 decided to lend Kyrgyzstan $100 million (8.2 billion KGS).
It is not yet clear whether the EFSD loan has been suspended, but Moscow controls 88% of the fund's charter capital.
Jeenbekov asked Russian President Vladimir Putin ahead of Kyrgyzstan's parliamentary elections for assistance at a meeting on September 28 in Sochi, Russia, according to Musurkul Kabylbekov, a Bishkek journalist and civic leader who writes about political issues.
"As you know, especially on the eve of the parliamentary elections, various forces that oppose the stability and development of our country have become more active," Jeenbekov said to Putin during their meeting, according to a statement posted on the Kremlin's website.
"They even try [to encroach] on Kyrgyz sovereignty, and they are driving a wedge into our alliance and strategic partnership," the former Kyrgyz president continued. "Of course we won't let them; they will not succeed, because Russia's support for us is the main thing ... and I thank you for it."
"Jeenbekov humiliated himself before Putin, but Putin didn't help him," Kabylbekov said.
The withholding of additional financial support is a reliable mechanism to pressure Bishkek so the Kremlin can shore up its influence in Kyrgyzstan and broaden its control of strategic areas of the economy, such as taxes and customs, according to Kabylbekov.
While the new Kyrgyz leadership is hoping the Kremlin will deliver on promised financial aid, the international community has continued to help fight the pandemic.
As of late October, Kyrgyzstan had received more than $343 million (28.7 billion KGS) in financial aid from international organisations for its COVID-19 response, according to a government report cited by AKIpress on November 4.
The total amount of expected foreign aid this year for fighting COVID-19 is more than $431 million (36.1 billion KGS), according to AKIpress.