BEIJING -- The Chinese regime is taking its information war to new levels, borrowing tried and true tactics used by the Kremlin and adding its own twists to spread conspiracy theories and deflect blame on a number of controversial topics.
On one front, Beijing has been increasing its diplomatic presence on social media platforms -- including those banned inside China -- and taking a more confrontational approach to shape how China is perceived online.
About a year and a half ago, Chinese diplomats had very little presence on Twitter, which -- along with YouTube, Google and Facebook -- is banned in China.
Now, there are more than 170 Chinese embassies or consulates using the social media platform, the Brookings Institution, a US think-tank, said in a statement October 28.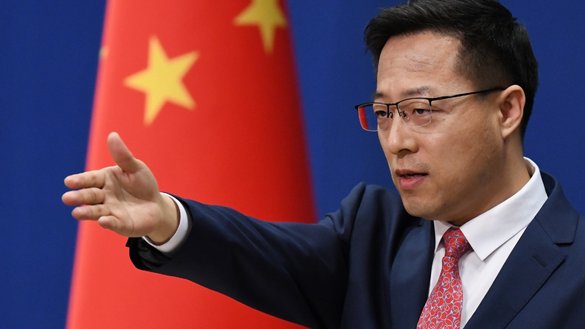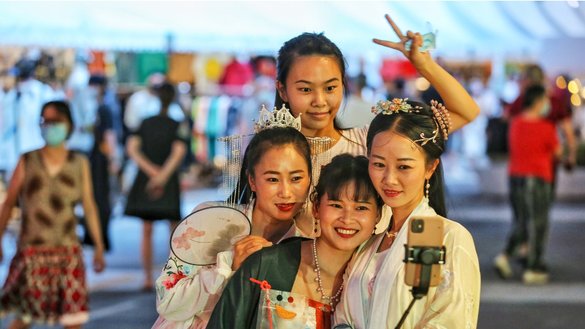 These so-called "wolf warrior" diplomats -- a name derived from a jingoistic Chinese film franchise -- propagate conflicting conspiracy theories that are designed to sow chaos and deflect blame on both internal and international issues.
Beijing's efforts began as anti-China protests swelled in Hong Kong in March 2019, increased ahead of Taiwan's presidential elections in January 2020 and shifted into high gear in the following months when it became clear the COVID-19 coronavirus epidemic was sweeping the world.
"China has, especially over the last year and a half in response to Taiwan's elections and the Hong Kong protests, shown an increasing willingness to be aggressive with its online influence operations," Graham Brookie, the director of the Atlantic Council's Digital Forensic Research Lab, told The New York Times in June. The Atlantic Council is a think-tank based in Washington.
Beijing leaning on Kremlin, Tehran
Followers of Chinese diplomatic accounts increased from 1,555,668 this past March to a peak of 3,025,283 in September, according to Hamilton 2.0, which provides an analysis of the narratives promoted by Russian, Chinese and Iranian government officials on social media and state-run news and in official statements.
While Beijing's "wolf warriors" primarily promote content from regime-backed websites and news outlets, they also use Iranian and Russian state media, as well as Western "influencers", as external or "independent" validators, Brookings said.
These so-called influencers include "the same disparate constellation of alt-media outlets, journalists, pseudo-academics, activists and conspiracy theorists that have long been featured in anti-American propaganda originating in Moscow and other adversary capitals", it said.
"In the absence of its own established network of proxy influencers, China has piggybacked off the state media outlets and official government accounts of Russia, Venezuela and Iran in order to push anti-Western messaging that is broadly aligned with China's geopolitical interests while removing a layer of responsibility and adding a veneer of legitimacy," Brookings stated.
Since November 2019, three of the five news outlets most retweeted by Chinese diplomats -- other than Chinese state-backed media -- were funded by the Iranian or Russian government, according to the Alliance for Securing Democracy at the German Marshall Fund of the United States, which created Hamilton 2.0.
Iran's PressTV and Russia's RT and SputnikNews were the third, fourth and fifth most retweeted outlets, respectively, it said.
Over the past six months, RT and Venezuela's TeleSur were among the 10 media outlets most retweeted by Chinese diplomats, while Actualidad RT (RT's Spanish language outlet) and Sputnik International were among the top 20, according to Brookings.
Taking down COVID-19 disinformation
Although Beijing is becoming more aggressive and persistent in its use of social media to spread propaganda, social media companies are working to dismantle the campaigns, which they say often lack sophistication and are easy to spot.
In one of the most notable incidents, Chinese Foreign Ministry spokesperson Zhao Lijian on March 13 -- the day after the World Health Organisation (WHO) declared the outbreak a pandemic -- tweeted an unproven claim that the US military might have "brought the epidemic to Wuhan", the epicentre of the pandemic.
The tweet, which linked to the blog of a known pro-Kremlin outfit, Global Research Canada, was promptly retweeted by more than a dozen Chinese diplomats and embassies. Chinese state media followed up with multiple stories to amplify the claim.
Zhao, who now has over 774,000 followers on the platform, also tweeted articles from a conspiracy website suggesting that the coronavirus originated in the United States rather than in China.
Twitter has since identified those tweets, and their sources, as being potentially malicious, spammy, violent or misleading.
Twitter on June 11 said it had discovered and removed 23,750 accounts that were "highly engaged" in a co-ordinated effort to spread disinformation on the protests in Hong Kong and the Chinese Communist Party's response to the coronavirus.
It took down about 150,000 accounts that were dedicated to boosting Chinese messages by retweeting and liking the content.
"While the Chinese Communist Party won't allow the Chinese people to use Twitter, our analysis shows it is happy to use it to sow propaganda and disinformation internationally," wrote Fergus Hanson, director of the International Cyber Policy Centre at the Australian Strategic Policy Institute, who worked with Twitter to discover the accounts.
"Persistent, covert and deceptive influence operations like this one demonstrate the extent to which the party-state will target external threats to its political power," he told The New York Times.
Declining vs. rising powers
While the Chinese regime piggybacks on Russian and other state-sponsored disinformation campaigns, Beijing's approach is slightly different.
The Russian information strategy is to discredit the West, often by sowing chaos and division.
The Kremlin has tried to do this by meddling in Western elections, weighing in on racial and social issues in the United States, and through repeated attempts to discredit Western scientists and medicine.
Beijing, by contrast, is more concerned with repairing its global image -- for example, by promoting the narrative of China as a hero in the global coronavirus response and antiquated propaganda campaigns to counter international condemnation of the regime's treatment of Muslim minorities in Xinjiang.
"Russia, a declining power by many measures, seeks to compensate for its relative weaknesses compared to the West by discrediting and destabilising it," the Alliance for Securing Democracy said March 30.
"China, a rising power, aims instead to reshape the international order in ways that are conducive to its interests," the report said.
For example, more than 50% of the video content published by Chinese media outlets CGTN and CCTV has focused on China, while only 4% of the video content published by RT America and RT UK has focused on Russia, the report said. Very little content focused on Russian domestic issues, culture or politics.
"Moscow's broad goal is to soften the appeal of democracies to would-be activists at home and to actually weaken them by making them harder to govern," the report said.
Beijing also seeks to "lessen the appeal of democratic systems as an attractive alternative to authoritarian rule", but it does so by "highlighting the strengths of its own governance model".