MOSCOW -- Scientists and observers around the world are shaking their heads over Russia's recent announcement regarding the efficacy of its COVID-19 coronavirus vaccine.
Russian authorities on Wednesday (November 11) said an interim analysis of a large-scale trial under way in Russia had found 92% efficacy for its "Sputnik V" vaccine.
The calculations were based on results from 16,000 individuals who received two doses of the vaccine, the Russian Health Ministry, the state-run Gamaleya National Centre of Epidemiology and Microbiology and the Russian Direct Investment Fund (RDIF) said in a statement.
"The Sputnik V vaccine had an efficacy rate of 92%," the statement said. The calculation resulted after 20 of the volunteers -- some of whom received a placebo -- tested positive for COVID-19.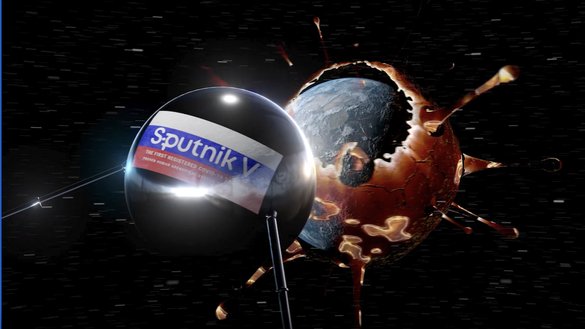 Russian Minister of Health Mikhail Murashko praised the clinical trial results, saying they show that Sputnik V "is an efficient solution to stop the spread of coronavirus infection".
The announcement came two days after American multinational pharmaceutical corporation Pfizer and BioNTech, a German biotechnology company, announced their vaccine had greater than 90% efficacy.
The Pfizer/BioNTech efficacy trial involves more than 44,000 people, and the two companies analysed 94 COVID-19 cases to make their efficacy claim, Science Magazine reported.
Quality and safety over speed
"It's very difficult to explain [the Russian] announcement," said Svetlana Zavidova, a Moscow-based lawyer who heads Russia's Association of Clinical Trials Organisations and closely follows COVID-19 vaccine research and development in the country.
"I'm afraid they looked at the results of Pfizer and added 2%," she said, according to Science Magazine.
The Russian claims do not pass "the smell test", said Wayne Koff, who heads the nonprofit Human Vaccines Project, which is attempting to improve the design of future vaccines.
John Moore, a vaccine researcher at Weill Cornell Medical College in New York City, called the announcement "Putinology", referring to Russian President Vladimir Putin.
"Why is Russia doing this?" Moore said. "It's the international vaccine race. They want to be seen to be keeping up with their competitors in other countries."
The Kremlin's "race" to be the first to develop a vaccine could impact efficacy and safety, worry many analysts.
Eleanor Riley, professor of immunology and infectious disease at the University of Edinburgh, urged all vaccine makers to put quality and safety over speed.
"I worry that these data have been rushed out on the back of the Pfizer/BioNtech announcement earlier in the week," she said according to CNN. "This is not a competition."
"We need all trials to be carried out to the highest possible standards, and it is particularly important that the pre-set criteria for unblinding the trial data are adhered to, to avoid cherry picking the data," she said. "Anything less than this risks a public loss of trust in all vaccines, which would be a disaster."
Twenty COVID-19 cases are not enough to give a solid view of Sputnik V's efficacy, said Dr. Peter Hotez, an infectious disease specialist at Baylor College of Medicine in Houston, Texas, who is also developing a coronavirus vaccine.
"Intuitively, it doesn't make sense to claim 92% protection just based on 20 events," he told CNN.
Kremlin on the offensive
Russia on August 11 announced it was the first country to register a potential coronavirus vaccine, but it did so ahead of the large-scale clinical trials that are still under way.
As doubts are increasing, it seems it is not enough to be the "first" to enter the race, and the Kremlin is amping up its rhetoric around Sputnik V.
Moscow's campaign to promote its vaccine has been heavy on patriotism and dismisses any criticism -- especially claims that the Kremlin is cutting corners on safety -- as anti-Russian smears.
It takes a page from Putin's disinformation playbook, attempting to cast doubt on other COVID-19 candidate vaccines with unsupported claims, such as that Western scientific approaches to finding a vaccine are less effective and riskier and that Western "research is lagging".
A promotional video that was part of the initial publicity for the vaccine shows Sputnik V as a luminous orb, wiping out the disease as it circles the coronavirus-infected Earth.
"It's part of the Russian mentality to save the world," Kirill Dmitriev, CEO of RDIF, which bankrolled the country's vaccination effort, said in an interview with the Guardian published September 30.
Forty thousand volunteers at 29 medical centres are taking part in the third and final phase of Sputnik V trials, according to the Gamaleya/RDIF statement.
Observation of trial participants will continue for six months, it said, after which the full clinical trial report will be presented.
Interim research data will be published in one of the world's "leading peer-reviewed medical academic journals", the statement said.
Serious doubts
Russian researchers published their Phase 1/2 trial findings September 4 in the Lancet medical journal, meaning their research had undergone peer review.
The vaccine had proven to be "safe and well-tolerated" among a few dozen volunteers, the article said.
However, members of the global medical and science community are still raising questions about the safety and efficacy of the Russian vaccine.
An open letter signed September 7 by more than 30 specialists from 12 countries casts doubt on the findings, pointing toward "potential data inconsistencies".
The researchers identified what they said appeared to be a number of duplications in figures presented. The data within the study are "highly unlikely" to be correct, they concluded.