BISHKEK -- Moscow is openly demonstrating its disdainful attitude towards Bishkek after Kyrgyzstan's change of power in October, which observers say is indicative of the waning influence of the Kremlin in the Central Asian republic.
After weeks of protests and political uncertainty following Kyrgyzstan's October 4 parliamentary elections, Sooronbay Jeenbekov stepped down as president on October 15, saying he did so to help end the crisis.
On October 19, the Supreme Court threw out former member of parliament Sadyr Japarov's 2017 kidnapping conviction and named him prime minister and acting president.
Russian Foreign Minister Sergey Lavrov, while speaking to the media, appeared irritated after talks with his Kyrgyz counterpart, Ruslan Kazakbayev, to restore Russian-Kyrgyz relations, Russian business newspaper Kommersant reported.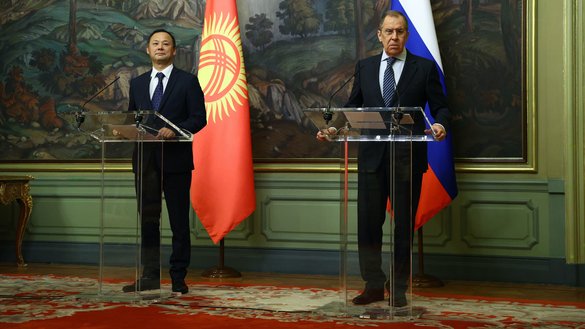 Lavrov responded rudely after several questions from Kyrgyz journalists at the press conference in Moscow on October 23.
When asked about whether a meeting of the two countries' presidents was being planned, Lavrov said, "it is first necessary that 'your friends' [the current authorities in Kyrgyzstan] determine their position on the processes that must be completed: the priority of elections... the priority of constitutional reform".
After several other questions asked in Kyrgyz, Lavrov lost his temper.
"You've still got to respect the hosts, okay? In every sense", he said, apparently using an insulting pun. The Russian word for "host" also means "boss".
Despite the talks, little progress occurred -- though Russia has continued to maintain that the two countries have a close partnership.
In addition to the lack of top-level talks, Lavrov informed Kazakbayev that financial assistance from Russia to Kyrgyzstan would continue to be suspended "until the political situation in Kyrgyzstan stabilises".
Moscow has since refused to work with Kyrgyz officials.
Acting Kyrgyz President Sadyr Japarov sent adviser Chingiz Aidarbekov to Moscow, who asked for a meeting of Russian officials, including Lavrov and members of the administration and Russian parliament, Asel Otorbayeva, editor-in-chief of Bishkek news website 24.kg, wrote on Facebook on October 29.
"However, [Aidarbekov] was rejected by everyone. Absolutely everyone," wrote Otorbayeva.
Unacceptable behaviour
Lavrov's behaviour at the international event was unacceptable and evidence of Russia's disrespectful attitude toward the Central Asian republic, say observers.
"Lavrov isn't even selective in his expressions and openly declares that Russia is the host... in every sense," said Mars Abayev, a Bishkek resident and correspondent for news website Orbita.kg.
"Aggressive rhetoric and undisguised irritation in public -- and this is Russia's main diplomat?" Abayev asked, adding that Lavrov would never allow himself to engage in such behaviour toward a country that Russia really respects.
"Moscow has always disdained Kyrgyzstan, as well as other poor Central Asian republics, where it is forced to provide aid of one kind or another in order to increase its influence in the region and keep them under control," Abayev said.
Kyrgyzstan annoys Russian President Vladimir Putin's regime most of all because things are much better in Kyrgyzstan with respect to citizens' rights and freedom of speech than in Russia, he noted.
The regular change of power that takes place in Kyrgyzstan is an undesirable example and even poses a threat to the Putin regime, he said.
Putin himself expressed his fears the day before the turbulent news conference in Moscow.
"What is happening there is a disaster for the Kyrgyz people," he said at a meeting of the Valdai Discussion Club in Moscow on October 22. "We cannot look upon what is happening there without pity and alarm."
The "disaster" that Putin is citing is that Kyrgyzstan has more democracy than does Russia, said Murat Konokbayev, a former Kyrgyz diplomat from Bishkek.
"Independent media, non-governmental organisations and activists in Kyrgyzstan feel freer. For example, they can actively criticise the authorities and the president and go to protests without fear of being imprisoned," Konokbayev said.
"These trends cause concern in the Kremlin, which every year only strengthens the authoritarian regime in Russia."
Seeking influence
Relations between Moscow and Bishkek are cooling because Kyrgyz authorities are refusing to listen to the Kremlin's instructions, say some observers.
The Russian regime even wanted the departure of Jeenbekov, who in recent years began to actively improve relations with the United States, according to some observers.
Still, subsequent events did not go according to the Russian plan, said Kairat Osmonaliyev of Bishkek, a professor and scholar of international law.
The Kremlin dispatched Dmitry Kozak, Putin's deputy chief of staff, to Bishkek to urge a transfer of power from Jeenbekov to Japarov in accordance with Kyrgyz rules, Osmonaliyev said.
"Moscow wanted Jeenbekov to step down after finishing his presidential term, which on the surface would look like a natural political process, but Jeenbekov resigned unexpectedly," he said.
That desire could have been "related to the suspension of financial aid from Russia", observed Osmonaliyev.
Moscow appears to be taking advantage of the political situation in Kyrgyzstan to pressure the country's leaders to bend to its will or lose promised military and financial aid.
Amid the crisis, on October 14, Russian news site RBC, citing its own sources in the Russian government, reported that Moscow would not provide Bishkek financial support until the "political situation stabilises" in Kyrgyzstan.
Following a number of "lessons" from the Kremlin, on Friday (November 13), Japarov spoke with Putin on the phone to discuss "current bilateral and multilateral cooperation", 24.kg reported.
For Kyrgyzstan, the benefit of Japarov's efforts to bolster relations with the Kremlin may be linked to financial aid of $100 million (8.4 billion KGS) that Moscow previously promised to Jeenbekov's government.