BISHKEK -- Kyrgyzstan is being forced to contend with increasing pressure from Moscow and Beijing as it attempts to undertake a legitimate transfer of power through elections scheduled in January.
Kyrgyzstan is in a very vulnerable position and the Russian and Chinese regimes will leverage economic and political pressure to achieve what they want, warn observers.
Moscow has been attempting to regain control over Bishkek's political climate after controversial October elections erupted in public protests and forced the resignation of President Sooronbay Jeenbekov, who was seen as close to the Kremlin.
The Russian regime is interested in regaining control over the Kyrgyz political process, and to do so, it has sufficient leverage, mainly economic, over the new government in Bishkek, said Elmira Suranchiyeva, a Bishkek-based economist.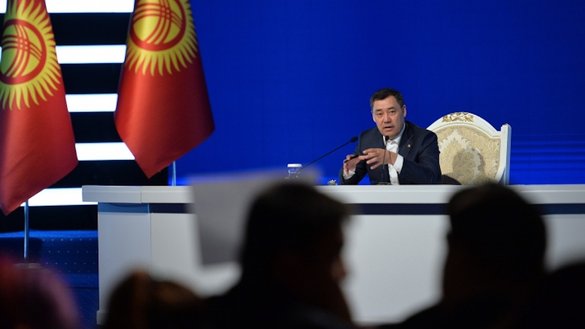 The first signs of pressure appeared last month, at the height of the political crisis in Kyrgyzstan, after demonstrations protesting the official October 4 election results prompted Jeenbekov's ouster.
Moscow will not provide Bishkek financial support until the "political situation stabilises" in Kyrgyzstan, the Russian news site RBC, citing its own sources in the Russian government, reported October 14.
The Russian regime suspended its financial assistance to Kyrgyzstan just when Kyrgyzstan needed it most.
On November 14, the Kremlin announced it was reinstating its financial aid to Kyrgyzstan after a meeting in Moscow between then-Kyrgyz First Deputy Prime Minister Artem Novikov, an ethnic Russian, and Dmitry Kozak, Russian President Vladimir Putin's deputy chief of staff.
Novikov became acting prime minister November 15 when Sadyr Japarov gave up his posts as acting prime minister and president pending the results of the January presidential election.
The appointment to a top government position of an ethnic Russian who then conducted key talks with Kremlin officials demonstrates what Bishkek is doing under Moscow's pressure, Suranchiyeva said.
Ethnic Russians like Novikov comprise only about 5.5% of the Kyrgyz population.
"Right now Kyrgyzstan is in a difficult financial position that developed after the lockdown that [the government] imposed because of the pandemic, while the revolutionary events have only exacerbated the situation there," said Suranchiyeva, referring to COVID-19. "On top of that are the upcoming elections."
The Kremlin is also trying to influence Kyrgyz leaders directly.
Observers are confident that Japarov is all but assured of winning, which explains why Russian officials -- and even Putin himself -- have stepped up their communications with him.
Japarov had been serving a prison sentence for a 2017 kidnapping conviction until demonstrators freed him October 6, catapulting him to the top of the Kyrgyz leadership.
On November 12, when Japarov spoke on the phone with Russian President Vladimir Putin. Two days later, Japarov resigned his two leadership posts so he could run for president.
The Kyrgyz government issued a press release tersely summarising the phone call.
"They discussed co-operation, including as part of integration-minded associations," a press release said, a reference to Russian-dominated organisations meant to keep former Soviet states under the Kremlin's thumb.
Kyrgyzstan belongs to several, such as the Shanghai Co-operation Organisation (SCO) and the Eurasian Economic Union.
However, the telephone conversation more likely focused on plans pertaining to the political events in Kyrgyzstan, including constitutional reform and the presidential (January 2021) and parliamentary (December) elections set to take place in the coming months, say observers.
The blame game
The Russian regime is hedging its bets by bolstering its role in the political events in Kyrgyzstan, said Elmira Nogoibayeva, director of the Bishkek-based think-tank Polis Asia.
However, Jeenbekov's downfall occurred precisely because of public protests against the ascension of pro-Russian political parties to parliament, she said.
Those circumstances do not faze Moscow, she said.
"Russia views all protests as being instigated by Western countries," she said.
Amid the revolutionary upheaval in Kyrgyzstan, as well as in other countries whose populations have grown weary of authoritarian regimes friendly to the Kremlin, it has been applying tried-and-true tactics: seeking an outside enemy to blame.
As soon as the Kyrgyz people began protests demanding annulment of the October 4 election results, Russian officials and Kremlin-controlled media outlets started promoting a conspiracy theory about "scheming by outside forces against Russia".
The Kremlin is taking a more aggressive stance when it comes to "allied countries", say foreign analysts.
The Kremlin has shifted from wielding soft power and enforcing other countries' economic dependence to overtly extorting other members of the Commonwealth of Independent States, Viktor Nebozhenko of Kyiv, a political scientist and director of the Ukrainian Barometer polling agency, wrote November 13 on Glavred.info.
"The Kremlin arrogantly orders all states within Russia's area of pressure and influence to understand once and for all that they must not oppose Russia and should be friends only with it," Nebozhenko said.
China leveraging Kyrgyzstan's debt
Meanwhile, Kyrgyzstan's desperate economic situation has compelled Bishkek to ask for help even with day-to-day, vital problems like combating the COVID-19 pandemic.
The number of infections and deaths from the virus and other sicknesses has been growing steadily in the past few weeks, and public health specialists see only worse days ahead.
In light of the growing crisis, the Kyrgyz Foreign Ministry Monday (November 16) asked the Chinese government to ease Kyrgyzstan's massive foreign debt and in return pledged to protect Chinese companies and enterprises operating in Kyrgyzstan.
Beijing has yet to respond.
This is not the first time the Chinese regime has refused to ease the burden on Kyrgyzstan. Kyrgyz leaders on multiple occasions this year have asked Beijing for relief but to no avail.
"China has made it clear that it does not intend to defer, let alone forgive, Kyrgyzstan's debt, even in light of the country's catastrophic situation," wrote Aiderbek Kusagaliyev, a Bishkek analyst, in a blog post published September 26 by the Ekho Kyrgyzstana (Echo of Kyrgyzstan) website.
The political turmoil, in combination with the country's economic straights, offers Beijing considerable leverage over what may happen in January and beyond, say observers.
"If Central Asian countries can't pay off an accrued debt, mineral assets and territory will in all likelihood be transferred to China, which a few countries in the region have already done," said Iskender Sharsheyev, an economist and director of Global Technology Solutions Co. in Bishkek.
For example, Tajikistan transferred a gold mine to Chinese hands to settle a debt in spring 2018.
Beijing offers massive loans to Central Asian countries not for the sake of profiting in the future but in order to lock up hydrocarbons and other minerals, which it demands as collateral, said Ayan Ryskulov, a Bishkek entrepreneur.