MOSCOW -- Russia's military has started a mass campaign to inject more than 400,000 service members with its unproven COVID-19 vaccine Sputnik V.
More than 2,500 soldiers had already been vaccinated, Defence Minister Sergei Shoigu said last Friday (November 27), adding that by the end of the year the number is expected to reach 80,000.
More than 400,000 members of Russia's armed forces will be vaccinated against COVID-19 following an order from President Vladimir Putin, said Shoigu.
The minister did not specify whether vaccination will be voluntary for soldiers, many of whom are drafted into the army for compulsory service.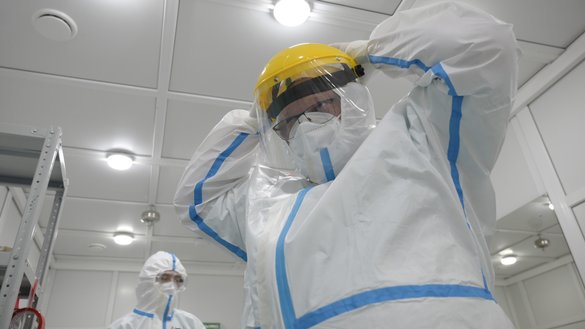 In 2019, the Russian army had 260,000 draftees and 370,000 contracted soldiers, according to the Warsaw Institute, a Polish think-tank.
About 500 vaccinated service members with high levels of antibodies are involved in research of plasma treatment which has proven "effective in severe cases of the infection", he added.
The Russian Defence Ministry was involved in the initial stages of developing Sputnik V, and its service members were among the first volunteers to receive the jab during early stage trials.
Shoigu, 65, was allegedly himself among a number of top Russian officials who received the vaccine earlier this year, but doubts have grown that such high-profile figures -- including Putin's daughter -- actually went through with it.
Unproven vaccine
Russian efforts to promote Sputnik V as equally effective as or more effective than other international alternatives -- without providing accurate, verified data -- have shaken public confidence in the candidate vaccine.
The Russian regime on November 24 announced its Sputnik V coronavirus candidate vaccine was 95% effective, continuing a pattern in which Moscow simply adds percentage-point increases following announcements from manufacturers of rival international vaccines.
Scientists and observers around the world first shook their heads in consternation when the Kremlin on November 11 said Sputnik V was 92% effective, two days after Pfizer and BioNTech announced their vaccine had greater than 90% efficacy.
Less than a week later, American biotechnology company Moderna, which developed its COVID-19 vaccine with the US National Institutes of Health, said that early results showed its candidate was 94.5% effective.
In a seeming bit of one-upmanship, the Russians raised the reported effectiveness of Sputnik V to 95%.
Outside scientists, in response to the Kremlin's claims, are expressing their concerns.
The announcement of 95% efficacy 42 days after the first dose included a claim of 91.4% efficacy 28 days after the first dose.
The 91.4% figure aroused objections from Enrico Bucci, a biologist at Temple University in Philadelphia.
"The sample is too low to claim any percentage of efficacy," Bucci told CBC News of Canada, noting that the 91.4% figure was based on 39 subjects contracting COVID-19 in an 18,000-person sample.
The Russians did not specify the geographic origins of the 39 or their ages and did not explain whether they mixed the results of trials from multiple countries, he said.
Pressuring other members of BRICS
The Kremlin's strenuous attempts to sell the vaccine on the international market are also raising doubts about its credibility.
As plans for COVID-19 vaccination programmes begin taking shape in Europe and the United States following recent breakthroughs, Russian President Vladimir Putin is stridently pushing members of the BRICS alliance of major emerging countries to mass produce Russian-made coronavirus vaccines.
BRICS includes Brazil, Russia, India, China and South Africa.
One of the developers of Russia's Sputnik V coronavirus vaccine announced November 27 that India-based drugmaker Hetero will produce over 100 million doses of the jab.
The Russian Direct Investment Fund (RDIF) and "Hetero, one of India's leading generic pharmaceutical companies ... have agreed to produce in India over 100 million doses per year of the world's first registered vaccine against the novel coronavirus infection -– Sputnik V," the RDIF said in a statement, adding that production was expected to start in early 2021.