CHIȘINĂU, Moldova -- Incoming Moldovan President Maia Sandu has called for the withdrawal of Russian troops from a breakaway region at the border with Ukraine.
In her first news conference as president-elect, Sandu said Russian forces never had permission to be in the separatist area of Transnistria.
Sandu was elected November 15 and will take office on December 24.
The ostensible Russian peacekeeping force -- the Operational Group of Russian Forces in Transnistria (OGRF) -- should be replaced by civilian monitors under the Organisation for Security and Co-operation in Europe (OSCE), Sandu said Monday (November 30).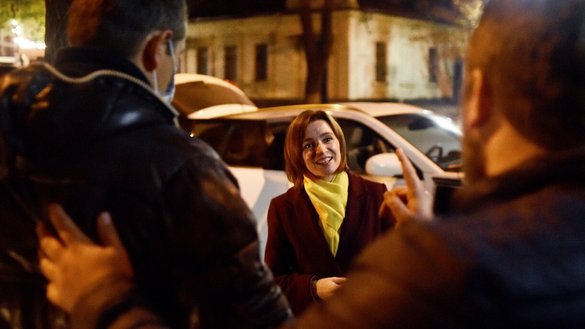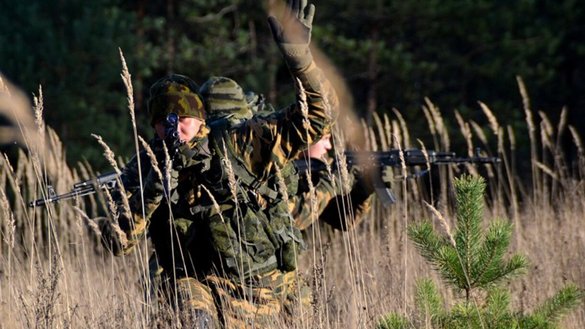 About 1,500 Russian troops have been stationed in Transnistria since the early 1990s, protecting the breakaway region. It is largely populated by ethnic Russians who fought Moldovan forces in 1992, fearing that Moldova would reunify with Romania.
Sandu told a news conference she wanted dialogue, but said: "We are an independent country that does not want foreign troops to stay on its territory."
"This is not just a declaration -- this is a necessity," she added.
Sandu is not alone in calling for Russian troops to leave Moldova.
The United Nations has backed a number of resolutions calling on Russian troops to withdraw "unconditionally" from the territory, along with the weapons stockpile they are guarding there.
The continued Russian troop presence hobbles Moldova's chances of joining the European Union (EU). Other conflicts fanned by Moscow have had the same effect on the EU aspirations of Ukraine and Georgia.
The Kremlin, in response to Sandu's call, issued a veiled threat.
"A change in some status quo ... could lead to serious destabilisation," Kremlin spokesman Dmitry Peskov told reporters in Moscow November 30.
Ex-Soviet states look on
The development in Moldova will likely catch the attention of a number of ex-Soviet states that either host Russian troops or worry about the Kremlin's games with Russian minorities.
From the Russian invasion of eastern Ukraine and illegal annexation of Crimea in 2014 -- using masked mercenary "volunteers" to create instability -- the Kremlin has employed regular troops and mercenaries to do Vladimir Putin's dirty work in numerous conflict zones.
In Georgia, citizens face overt Russian interference. On August 8, 2008, the Russian army swept into Georgia, and has since occupied a fifth of that country. The Kremlin recognised South Ossetia and another separatist enclave, Abkhazia, which was seized by Russian forces in 1993, as independent states and has continued to station permanent military bases on their territory.
In Azerbaijan, citizens celebrating their country's victory over Armenia in the 2020 Nagorno-Karabakh conflict have expressed concern about one key provision of the November cease-fire ending the war: the arrival of 2,000 Russian "peacekeepers" for a renewable five-year mandate. They are the first Russian troops deployed in Azerbaijan since 1994.
This ongoing activity by the Russian military has aroused great concern in Central Asia, where leaders and citizens alike are increasingly worried about Russian interference.
Those concerns have been steadily growing, probably most of all in Kazakhstan, which has vast resource riches and the largest proportion of ethnic Russians in the region.
Pretext for invasion
The Kremlin in the past has cited the protection of ethnic Russian minorities abroad as a pretext for invasion, as it did in Ukraine.
Nur-Sultan, in turn, has taken steps to dilute the concentration of ethnic Russians in the north of Kazakhstan, including the voluntary resettlement of ethnic Kazakhs from the south to the north of the country.
Co-operation between Kazakhstan and the United States is increasingly drawing the ire of Russia, according to Russian news reports.
Tajikistan also has proven vulnerable to Moscow's military projection. It hosts the largest Russian military base outside Russia, the 201st Military Base.
The Kremlin's pretext for its massive troop presence in Tajikistan is neighbouring Afghanistan. Moscow frequently cites the supposed threat of 10,000 militants in Afghanistan massing to swarm into Central Asia, even though Afghan officials reject that figure.
Russia and Tajikistan in mid-July kicked off joint exercises ostensibly to prepare for militant attacks emanating from Afghanistan. However, the real reason, observers say, is Russia's reluctance to allow others, such as China, into its "back yard".
Russian troops also are stationed in Kyrgyzstan, where the Kremlin is attempting to regain a foothold after losing sway following the country's recent presidential elections.