ASHGABAT -- A pro-Kremlin pundit is facing criticism in Turkmenistan for warning that the Turkmen government will suffer economic and other problems without Russia's patronage.
Worse days lie ahead for Turkmenistan if it does not pivot toward Russia, said Alexander Razuvaev, a Russian analyst and director of the Alpari think tank in Moscow.
Turkmen internet users and political analysts took issue with Razuvaev's proclamations, which he made in an interview with the editorial board of PolitExpert on November 20.
Reflecting on Turkmenistan's hardships amid the economic crisis precipitated by the COVID-19 pandemic, Razuvaev emphasised that the country could avoid a collapse into poverty if it turned to Russia.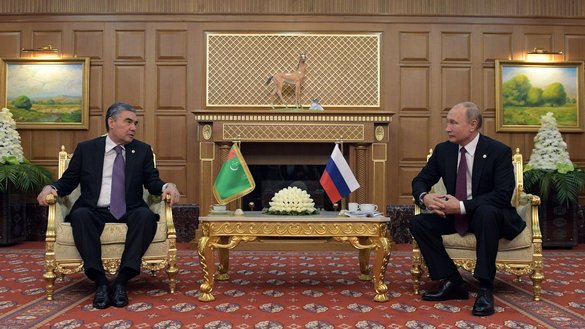 "Decent relations with Russia unlock money, investment and cultural exchange," he said.
As a self-proclaimed neutral state, Turkmenistan has stayed out of Russo-centric blocs like the Collective Security Treaty Organisation (CSTO), the Eurasian Economic Union and the Shanghai Co-operation Organisation.
Familiar warnings
Razuvaev is not the first or last Russian analyst to preach that without Russia, former Soviet states will have a hard time making it in today's world, said Dovlet Muradov, an Ashgabat-based political analyst.
"Every one of these experts tries to attribute Turkmenistan's existing socio-economic problems to our country's leadership not forging closer ties with Russia and the regional institutions that it dominates," he said.
To argue their side convincingly, those pessimists cite examples of when co-operation produces a clear benefit for those who cling to Russia, he said.
"So for instance, Mr. Razuvaev talks about Kazakhstan's market successes and the achievements of Uzbekistan, where the Russian companies Gazprom and Lukoil operate. They do not operate in Turkmenistan, though," Muradov said.
Muradov and other analysts do not deny Turkmenistan faces many economic ills.
The government is having financial troubles, the country is short of goods because it cannot afford its usual level of imports, unemployment is high and a lack of investment is stifling growth.
But these problems are not a result of Turkmenistan's refusal to imitate its neighbours in their relationship with Russia, they say.
Turkmenistan's problems result partly from the fallout from the global economic crisis and coronavirus pandemic, and partly from economic misjudgments by the country's leaders, said Maisa Nuryagdyyeva, an official at the Ministry of Finance and Economy's Agency for Protection from Economic Risks who requested to use an alias.
"Global energy prices have collapsed, less hard currency is flowing into the public coffers and the borders have been shut [in reaction to the pandemic], but unfortunately, to this day, the government still spends money to install grandiose monuments to the bicycle or alabai [a Turkmen dog breed]," she said.
Turkmenistan supports friendly trade and economic relations with all countries, including smaller entities within the Russian Federation, particularly Astrakhan Province, Tatarstan and St. Petersburg, Nuryagdyyeva said.
"It's not clear what Mr. Razuvaev had in mind when he was insisting on 'decent relations' with Russia -- probably obedience and total subordination to Moscow's will, and concessions on certain issues," she added.
Toying with Turkmenistan's neutral status
Russian pundits are deliberately inflaming the situation with Turkmenistan, toying with its cherished neutral status, which the United Nations General Assembly confirmed in a resolution 25 years ago, said Nuragdyyeva.
"Here you have this Russian expert, Razuvaev, taking the principles of neutrality, which Turkmenistan unfailingly upholds ... and replacing them with different concepts and accusing the leadership of a sovereign state of being closed off to the outside world," she said.
"According to Razuvaev, if Turkmenistan institutes appropriate economic relations with Russia, it will then become open to the world," she said.
Turkmenistan's neutrality prevents it from joining military blocs, but Moscow continues to push for closer co-operation with regional institutions, such as the CSTO, Muradov said.
He specifically referred to appeals by high-ranking officials from the CSTO, a military bloc led by Russia.
"The interesting thing is that calls for co-operation are generally voiced after announcements of a tense situation on the Turkmen-Afghan border or about a concentration of militants near the Turkmen border," Muradov said, referring to a 2017 report by the CSTO.
Fear-mongering
CSTO officials regularly engage in fear-mongering by citing threats from Afghan militants and exaggerating the actual situation in the Afghan provinces bordering Turkmenistan, observers say.
In November 2018, at a meeting of the Council of Commanders of the Border Troops of the CIS Member States, acting CSTO Secretary General Valery Semerikov warned of the emergence of a "powerful extremist group on the Turkmen-Afghan border" and the aggravation of the situation there, "where threats of armed provocations and of bombardments of Turkmenistan have appeared".
Only a few days ago, on November 18, Moscow issued a similar horror story about a threat from Afghanistan, said Muradov. This time, the speaker was Alexander Venediktov, the deputy secretary of the Russian Security Council.
"All these statements by officials and experts are made to persuade Turkmenistan to join the CSTO, but these efforts are futile," Muradov said.
Turkmenistan, guided by the principles of neutrality, is working to stabilise Afghanistan, said Charymurat Amanov, secretary of the Turkmen State Security Council, at this year's final online meeting of the council on November 18.