ALMATY -- "Peace" in the South Caucasus could translate to ongoing security headaches for years to come in Central Asia, as observers say the possible drawbacks of the renewed Russian military presence in Nagorno-Karabakh (NK) will outweigh the advantages.
The six-week war this fall that pitted Azerbaijan against Armenia and separatist NK ended in early November after Baku recaptured seven districts around the disputed region.
NK, part of Azerbaijan, has been contested territory since ethnic Armenians seized it and the seven surrounding districts in fighting in the mid-1990s. In the 2020 war, Azerbaijan retook the seven districts.
A ceasefire agreement signed by the leaders of Armenia, Azerbaijan and Russia on November 9 left Azerbaijan in control of the areas it took back -- but stipulated that a 2,000-member Russian peacekeeping unit would serve in Azerbaijan for a renewable five-year mandate.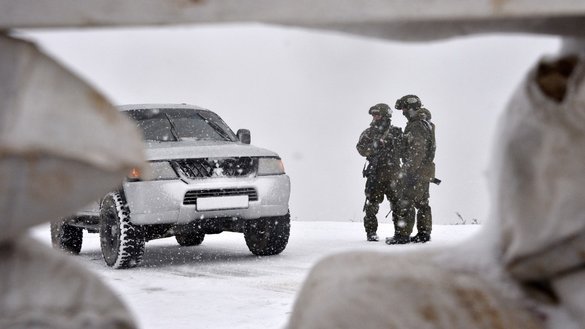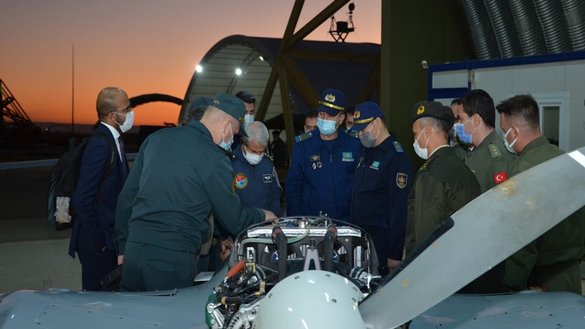 The Russian peacekeepers are the first troops from their country to be deployed in Azerbaijan since 1994, a concern for Azerbaijanis who welcomed the departure of the Russians a generation ago.
Although Moscow declared its desire to ensure peace and stability in the region, observers say the Kremlin has pursued its geopolitical interests in this war and finally achieved its goal -- beefing up its military presence in the South Caucasus.
The Russian regime was involved in the war in NK from the very beginning, negotiating with Ankara and Baku and informally providing military support to Yerevan, said Fyodor Lukyanov, editor-in-chief of the magazine "Russia in Global Affairs".
"In the end, Russia extracted itself from the situation 'elegantly': it preserved relations with both sides," he said in an interview with the BBC. "Russia's military presence grew. Armenia's dependence on Russia also grew."
Russian troops in NK alarm Central Asia
Central Asian countries officially welcomed the end of the war and the return of peace to the Caucasus, however many observers also expressed serious misgivings about the new presence of Russian forces in the region.
By planting a flag in the last country in the South Caucasus that had been free of Russian troops, Russia will strengthen its influence on both Azerbaijan and Armenia, since it has made it clear that it is the mediator between those two countries as well as the guarantor of stability and peace in this area, said Ulan Kojobekov, a former senior officer in the Kyrgyz State Border Service.
Russian forces have occupied one-fifth of Georgia since 2008. They never left Armenia after the breakup of the Soviet Union.
Russia plans to have a long-term presence in the South Caucasus, for as long as Moscow's purposes require, rather than trying to resolve the situation, said Kojobekov. In his opinion, Russian peacekeepers can be useful in NK only in the initial years until "the conflict dies down and wounds heal".
"But later, this process needs to proceed naturally, without an external force," he said. "Azerbaijanis and Armenians need to learn to coexist independently within the new realities. This is impossible as long as the Russian military contingent separates them."
Moscow may covertly resort to tried-and-true methods of managed destabilisation in order to extend its stay in the South Caucasus and its control of this territory, said Kojobekov.
Aygerim Yespayeva, a lecturer at Kyrgyz National Agrarian University in Bishkek, expressed alarm that the Russian regime is expanding its presence in a region near Central Asia.
"Russia, which actually destroyed Georgia's and Ukraine's territorial integrity, is now protecting Armenian-occupied territory [NK] from Azerbaijan," she said. "This is anything but a factor contributing to stability."
The Russian military presence in Azerbaijan's territory is at odds with the geopolitical interests of the Turkic-speaking countries of Central Asia, which in recent years have intensified co-operation with Azerbaijan and Turkey, Yespayeva said.
"Our countries are deepening these ties not only for cultural self-identification but also to balance foreign policy and to counteract dependence on Russia," she said.
Kazakhstan strengthens security measures
Kazakhstan also has been resisting the expansion of Russian military influence along its borders in recent years. The country is rich in resources and has the largest ethnic Russian minority in Central Asia.
In the fall of 2017, Kazakhstan adopted its fifth military doctrine, which accounts for the threat of hybrid war for the first time.
Kazakhstan's new doctrine "is highly likely to be tied to Ukraine", though the country's authorities have not openly made that point, said Deirdre Tynan, former Central Asia project director for the International Crisis Group.
This year, Kazakhstan appears to be showing a more independent military strategy.
A delegation of Kazakh officers visited Batman, Turkey, to study drone production, the Turkish Ministry of Defence announced on November 26.
The product that the Kazakhs were seeking out was the Bayraktar TB2, which Azerbaijan used to destroy Armenia and NK's Russian anti-aircraft missile systems.
Kazakhstan plans to purchase Turkish weapons, despite restrictions applying to members of the Collective Security Treaty Organisation (CSTO), according to various media reports. The CSTO is a Russian-dominated military bloc.
Kazakh authorities have found a way to "bypass CSTO standards on weapons purchases", Almaty-based political analyst Islam Kurayev wrote on Facebook on November 27.
"Anything we acquire from Turkey now will officially be on the balance sheet of the [National Security Committee (KNB)], the National Guard and the [Interior Ministry]," Kurayev said. "But in any military conflict it can also be used by the Ministry of Defence."
Nur-Sultan and Ankara came to an agreement about supplying various weapons, including small arms, Cobra-2 APCs and more, he said.