MOSCOW -- A bill working its way through the Russian parliament is yet another measure to protect President Vladimir Putin from answering for crimes he has committed or encouraged at home and abroad during his 20 years in power, political analysts say.
Russia's lower house of parliament, the State Duma, on November 17 passed its first reading of a bill that would grant former presidents immunity once they leave office.
Bills in Russia undergo three readings before approval or rejection.
The legislation is among constitutional amendments that voters nationwide approved this summer and will allow Putin to run for office again when his fourth term ends in 2024.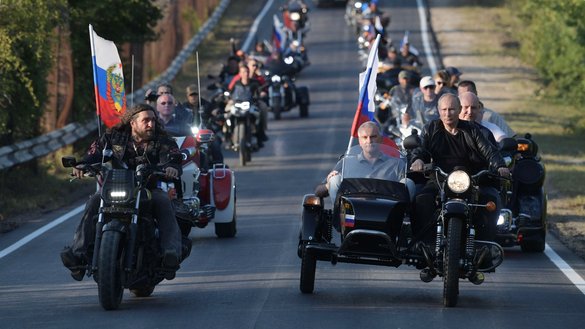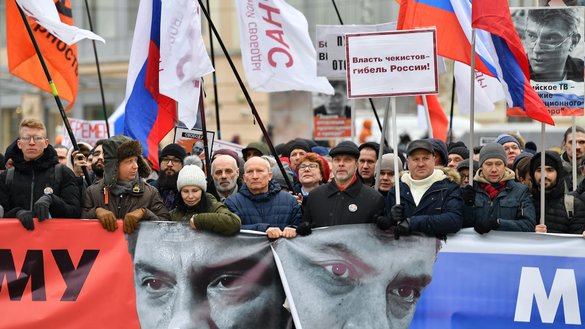 To become law, the bill will need approval from the upper house -- the Federation Council -- and Putin's signature.
Under the bill, a former president could be stripped of immunity only if accused of treason or other grave crimes and if the supreme and constitutional courts approve the charges.
Then both chambers of parliament must support the motion by a two-thirds majority.
As Putin is still in office, Dmitry Medvedev -- who was head of state between 2008 and 2012 -- is Russia's only living former president.
On the same day, the State Duma passed the first reading of another bill that if enacted would grant ex-presidents a lifetime seat on the Federation Council, a position that provides immunity from prosecution as well.
The bills have sparked rumours that Putin, 68, is planning to step down. The Kremlin has denied the rumours.
Immunity for any crime during lifetime
If passed, the bill grants former presidents and their families immunity from prosecution for crimes committed during their lifetime. They also will be exempt from searches, arrests or questioning.
Currently, former presidents are immune from prosecution only for crimes committed while in office.
"The Russian Constitution already stipulates the immunity of former presidents, and this law only expands this mechanism, adding even more complex procedures for rescinding it," said Dimash Aljanov of Amaty, a political analyst and activist in the Oyan, Qazaqstan (Wake up, Kazakhstan) civil rights movement.
The appearance of the bill was "also dictated by events in the post-Soviet space: Ukraine, Belarus and Kyrgyzstan illustrate well the degree of risk for authoritarian rulers trying to hold on to power at all costs", he said.
"You have to view the essence of this law in the context of the accepted changes to the constitution, the zeroing out of [Putin's past presidential] terms, and Vladimir Putin's desire to hold power another eight years," he said.
The bill also comes within the context of the Novichok nerve agent poisoning of Russian opposition leader Alexei Navalny in Siberia in August, Aljanov said. Navalny is recovering in Germany.
However, the effectiveness of such mechanisms in states without the rule of law or authoritarian states, such as Russia "is quite dubious", he said.
"During a shift of political regimes or coups d'etat, as a rule, nobody obeys the law, including the constitution," said Aljanov.
'Confessing to be a criminal'
"Passing such a law amounts to confessing to be a criminal," said Khairullo Mirsaidov, a Tajik journalist living in Europe who has worked for the Tajik news site ASIA-Plus and for Deutsche Welle.
"Putin has committed an enormous number of crimes, and if you don't even mention the political offences, the main one is corruption on a cosmic scale," he said. "Sooner or later, he has to answer to the law. That's why he decided to [introduce] such a law."
However, authoritarian leaders "fail to take one factor into account -- that these laws can be withdrawn just as easily in the future, in order to prosecute them", Mirsaidov said.
"Therefore, [this law] is already a basis for beginning an investigation, demanding his resignation and prosecuting him," he said.
Osmon Kangeldiyev, a resident of Bishkek and member of the Kyrgyz Reform Party, noted past violations of international law by Putin.
"During his years of rule, the Russian president has persecuted his political opponents, violated the territorial integrity of another country [such as in Georgia and Ukraine], and conducted bloody combat operations in the Middle East," he said. "[Putin] has something to answer for before the law, and he knows it well."
Legacy of scandals and crimes
Putin's two decades in power have been characterised by hybrid and traditional wars, the deaths of Kremlin critics in murky circumstances, and the accumulation of staggering personal wealth for him and his associates.
Russian troops who fought a war with Georgia in 2008 still occupy a fifth of Georgian territory. In 2014, Russian forces illegally annexed Crimea and began a war in eastern Ukraine that continues to this day.
The list of Putin critics who have died mysteriously in Russia or abroad grows longer every year.
They include Alexander Litvinenko, who died of polonium poisoning in England in 2006, and former deputy prime minister Boris Nemtsov, who was gunned down near the Kremlin in 2015. In all such cases, either the Kremlin refused to extradite suspects or made arrests that failed to reveal the organisers of the assassinations.
In addition, Putin's inner circle has had a lucrative 20 years, to say nothing of Putin himself. His closest friends and associates have amassed almost $24 billion, according to a 2017 joint report by the Organised Crime and Corruption Reporting Project and the Russian newspaper Novaya Gazeta.
About the law
Earlier this year, Putin oversaw another step to cement the structure of his lifetime rule.
Russia's Constitutional Court on March 16 approved a package of amendments including a "reset" of Putin's previous terms, giving him the possibility to rule into 2036.
Putin's term was set to end in 2024 under the constitution. He began his first presidential term in 2000 and also ruled as prime minister from 1999 to 2000 and from 2008 to 2012.
The approval came just two days after Putin signed the reform bill, which faced fierce criticism from opposition figures who said it would allow the long-time Russian leader to become "president for life".
Putin repeatedly denied he had any intention of staying on, but on March 10 he suddenly backed a last-minute amendment by lawmaker Valentina Tereshkova, restarting the clock on previous presidential terms.
[Kanat Altynbayev from Almaty contributed to this report]