MOSCOW -- Russia began vaccinating its population on a wide-scale this week with its COVID-19 vaccine Sputnik V, but the Kremlin has a problem: most Russians do not trust it.
Health officials said on December 5 they had opened 70 coronavirus vaccine centres in Moscow that would initially offer jabs for workers at high risk of becoming infected with the coronavirus, including health, education and social workers.
During the initial rollout, however, the jab will not be available to workers more than 60 years old, those with chronic diseases, and pregnant or breastfeeding women.
Health officials did not say when the vaccine would be available to the wider public.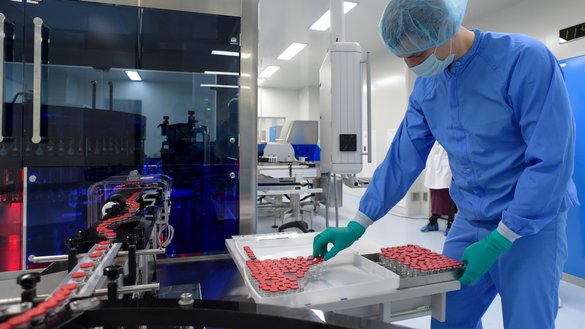 Russia's military in late November started a mass campaign to inject more than 400,000 service members with Sputnik V.
Defence Minister Sergei Shoigu did not specify whether vaccination would be voluntary for soldiers, many of whom are conscripts.
Distrust by default
The mass vaccination rollout began as Russia set a new record for coronavirus infections, amid increasing fear of contracting COVID-19 and growing distrust of information coming out of the Kremlin.
Russia confirmed 26,190 coronavirus cases and 559 deaths on Wednesday (December 9), bringing the total number of COVID-19 cases in the country to more than 2.5 million, The Moscow Times reported.
Only 27% of Russians trust the official data on the coronavirus, according to a survey conducted in late October by the Moscow-based Levada Centre.
Of the 61% of those polled who do not trust the Kremlin's data, 28% say the numbers are too high and 33% say the numbers are too low.
This distrust is in line with Russians' overall disenchantment with President Vladimir Putin after years of economic stagnation, said Denis Volkov, deputy director of the Levada Centre.
"There is a disbelief in official information, by default," he told The New York Times.
Even with the Kremlin's massive propaganda campaign to market Sputnik V to Russians and world leaders, a growing number of Russians polled said they would not take the vaccine if it was free and voluntary.
In August, when Putin announced with much fanfare that Russia was "first" to create a COVID-19 vaccine -- before clinical trials were completed -- 38% of Russians polled said they would take the vaccine and 54% said they would not.
Three months later, rather than increasing trust in Sputnik V, the Levada Centre poll showed the opposite: 36% would take it, 59% would not.
Russian medics also do not trust Sputnik V, with more than 50% saying they have no plans to vaccinate against the coronavirus, according to a Russian Federation Medics Network poll published by VTimes on Monday (December 5).
Moreover, more than 21% of respondents said they prefer to receive a foreign-made vaccine instead of Russia's homegrown jab.
Funny numbers
Russian efforts to promote Sputnik V as equally effective as or more effective than Western alternatives -- without providing accurate, verified data -- have shaken public confidence in the vaccine candidate.
Scientists and observers around the world first shook their heads in consternation when the Kremlin on November 11 said Sputnik V was 92% effective -- two days after Pfizer and BioNTech announced their vaccine had greater than 90% efficacy.
Less than a week later, American biotechnology company Moderna, which developed its COVID-19 vaccine with the US National Institutes of Health, said that early results showed its candidate was 94.5% effective.
In a seeming bit of one-upmanship, the Russians on November 24 raised the reported effectiveness of Sputnik V to 95%.
Outside scientists, in response to the Kremlin's claims, are expressing their concerns.
The announcement of 95% efficacy 42 days after the first dose included a claim of 91.4% efficacy 28 days after the first dose.
"The sample is too low to claim any percentage of efficacy," Enrico Bucci, a biologist at Temple University in Philadelphia, told CBC News of Canada, noting that the 91.4% figure was based on 39 subjects contracting COVID-19 in an 18,000-person sample.
The Russians did not specify the geographic origins of the 39 or their ages and did not explain whether they mixed the results of trials from multiple countries, he said.
The Russian claims do not pass "the smell test", said Wayne Koff, who heads the nonprofit Human Vaccines Project, which is attempting to improve the design of future vaccines.
Production hurdles
Customers have pre-ordered 1.2 billion doses of Sputnik V worldwide, the Kremlin announced earlier this month.
But authorities have indicated that protection will be available for only one million persons in the country by the end of 2020 -- the country will produce two million doses when each recipient requires two doses. The population of Russia is 145 million.
Putin acknowledged in late October that Russia was facing production problems and said the country was "ready to work with our foreign partners".
Denying accusations by Britain of Russian-linked hackers targeting vaccine research, Moscow has said it is open to co-operation with Western countries and has proposed a partnership with the UK-based AstraZeneca and Oxford University which have developed their own inoculation.
But so far it is mainly allies that have volunteered to join forces with the Moscow on the vaccine roll-out.
As doubts increase about the safety of Sputnik V, the Kremlin has been amping up its rhetoric about the product.
Moscow's campaign to promote the vaccine has been heavy on patriotism and dismisses any criticism -- especially claims that the Kremlin is cutting corners on safety -- as anti-Russian smears.
Speaking November 17 during an online summit of the BRICS alliance -- involving Brazil, Russia, India, China and South Africa -- Putin encouraged the other four members to manufacture and distribute coronavirus vaccines developed by Russia.
On September 22, Putin used a speech to the United Nations General Assembly as an opportunity to market the vaccine and cash in on the demand, which could potentially earn billions for state-linked organisations.