MOSCOW -- A squad of chemical weapons specialists from Russia's Federal Security Service (FSB) has been tailing Kremlin critic Alexei Navalny for several years, including on the day of his poisoning, a joint media investigation revealed.
Navalny, 44, was hospitalised in Omsk, Russia, after he collapsed on a flight from Siberia to Moscow in August and then was transported by medical aircraft to Berlin.
Western specialists in the German capital concluded that he was poisoned with the Soviet-era Novichok nerve agent -- a claim that Russian officials have repeatedly denied.
The investigative website Bellingcat -- together with the US network CNN, Russia's The Insider and Germany's Der Spiegel -- on Monday (December 14) published a joint report revealing the names and photos of men who they say specialise in nerve agents and toxins, such as Novichok.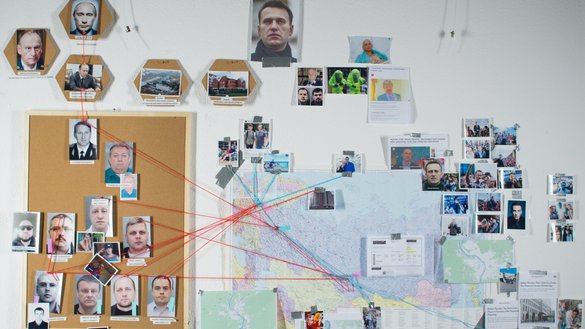 These men had been shadowing Navalny on a regular basis since 2017, Bellingcat concluded based on "volumes of data", including phone logs and travel records.
"These operatives were in the vicinity of the opposition activist in the days and hours of the time-range during which he was poisoned with a military-grade chemical weapon," Bellingcat said after identifying 37 trips when Navalny was followed by one or more of these agents since 2017.
"Given this implausible series of coincidences, the burden of proof for an innocent explanation appears to rest purely with the Russian state," Bellingcat added without specifying whether it reached out to the FSB or the Kremlin for comment.
According to CNN, the Kremlin refused to comment and the FSB did not reply to its request.
"I know who wanted to kill me," Navalny December 14 said in a video on his blog where he describes details of the investigation. "I know where they live. I know where they work. I know their real names. I know their fake names. I have their photos."
Germany, France and Britain have accused Russian authorities of "involvement and responsibility" in the poisoning of Navalny.
But Russian President Vladimir Putin has insisted that Navalny's near-fatal poisoning is not a reason to open a criminal probe.
"If a person nearly dies, this does not mean that it's necessary to open a criminal probe at any given opportunity," Putin said at a meeting of the Presidential Council for Civil Society and Human Rights, an advisory body, according to the Kremlin transcript released on December 11.
Journalist Nikolai Svanidze, who raised the issue with Putin, said, "But the man nearly died."
"I understand," Putin replied.
Putin skirts the law
In recent years Bellingcat has several times identified agents of the Russian security services through data collected online, but these allegations were every time denied by Moscow.
The website notably revealed the names of agents belonging to the Russian military intelligence agency (GRU), who according to Bellingcat were responsible for the 2018 Novichok poisoning of former Russian double agent Sergei Skripal and his daughter in Salisbury, United Kingdom.
The list of Putin critics who have died mysteriously in Russia or abroad grows longer every year.
They include Alexander Litvinenko, who died of polonium poisoning in England in 2006, and former deputy prime minister Boris Nemtsov, who was gunned down near the Kremlin in 2015. In all such cases, either the Kremlin refused to extradite suspects or made arrests that failed to reveal the organisers of the assassinations.
Meanwhile, a bill working its way through the Russian parliament aims to protect Putin from answering for crimes he has committed or encouraged at home and abroad during his 20 years in power, political analysts say.
If passed, the bill grants former presidents and their families immunity from prosecution for crimes committed during their lifetime. They also will be exempt from searches, arrests or questioning.
"Passing such a law amounts to confessing to be a criminal," said Khairullo Mirsaidov, a Tajik journalist living in Europe who has worked for the Tajik news site ASIA-Plus and for Deutsche Welle.
"Putin has committed an enormous number of crimes, and if you don't even mention the political offences, the main one is corruption on a cosmic scale," he said. "Sooner or later, he has to answer to the law. That's why he decided to [introduce] such a law."