ALMATY -- The Kazakh government's plan to build a factory to produce Russia's Sputnik V vaccine and then use it to immunise the public against COVID-19 has sparked widespread criticism in the country.
Kazakh President Kassym-Jomart Tokayev and his Russian counterpart, Vladimir Putin, reached an agreement for Kazakhstan to start manufacturing the Russian vaccine on December 22, Tokayev announced during a December 4 meeting with Kazakh Prime Minister Askar Mamin.
Voluntary mass vaccination of Kazakhstan was projected to begin in early 2021, with the first doses going to the groups most at risk of infection, including doctors, teachers and law enforcement personnel, said Tokayev.
A factory in Karaganda Province will produce Sputnik V, the business newspaper Kursiv reported on December 10, quoting an official in the Kazakh Ministry of Health.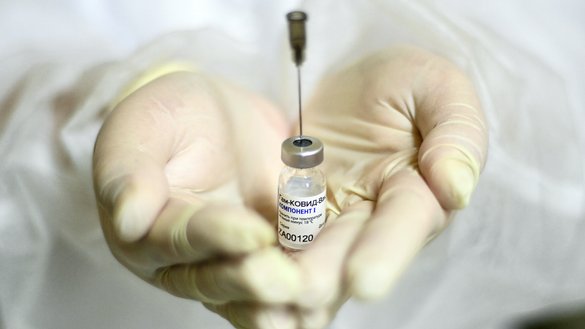 The Russian vaccine will cost Kazakhs more than 11,000 KZT ($27) for two shots, according to Kursiv. That price exceeds the maximum of $10 (4,198 KZT) per shot for foreign markets quoted in a November 24 statement on the Sputnik V website.
Recipients need two shots to be vaccinated.
'No trust'
International observers have expressed doubt over the Russian vaccine since it was first announced in August, raising concerns that the Kremlin's "race" to be the first to develop a vaccine could impact efficacy and safety.
Russian efforts to promote Sputnik V as equally effective as or more effective than Western alternatives -- without providing accurate, verified data -- have shaken public confidence in the vaccine candidate.
Scientists and observers around the world first shook their heads in consternation when the Kremlin on November 11 said Sputnik V was 92% effective -- two days after Pfizer and BioNTech announced their vaccine had greater than 90% efficacy.
Less than a week later, American biotechnology company Moderna, which developed its COVID-19 vaccine with the US National Institutes of Health, said that early results showed its candidate was 94.5% effective.
In a seeming bit of one-upmanship, the Russians on November 24 raised the reported effectiveness of Sputnik V to 95%.
Many Kazakhs are unambiguously voicing their opinions about the Russian vaccine.
"There's no trust in the Russian vaccine," a reader named T. Sultan wrote on the Tengrinews.kz website, adding that Russian internet trolls were "down-voting" critical comments.
"Kazakhstan needs to abstain from the Russian vaccine since Russian doctors who took Sputnik have contracted the virus again. We need to avoid making snap judgments so we don't fall into the same trap," said a reader with the alias Khyuvei, without citing sources about the reinfected doctors.
"Where is our own vaccine? Why do we need a [Russian] product? Let's wait for a vaccine Kazakhstan develops," a reader named Nazgul commented.
Even though researchers have not fully studied the virus or put the Russian vaccine through all the usual trials, the Russian regime speedily registered it as the "first in the world", observed Amris, another reader.
"Who needs this and why?" Amris asked, and then tried to answer his own question: "It's . . . a massive amount of money."
"So you're saying that the vaccine can't be tested on the Russian president but that it can be tested on Kazakh citizens?" Sery, another reader, asked indignantly, referring to how Putin did not receive Sputnik V, even though he is peddling it to the world as a reliable vaccine for COVID-19.
'Russia is hiding the details'
Many doctors in Kazakhstan also are skeptical of the Russian vaccine.
Sputnik V's "efficacy is shrouded in a suspicious secrecy", said Aigerim Jakasheva, a primary care doctor in Almaty.
"Russia is hiding the details about how exactly it tested Sputnik V," Jakasheva said. "It's not sharing the clinical protocol. It has a small sample size and not enough testing volunteers -- we have only press releases put out by the organisation funding the project."
"It's not entirely clear just how Russia assessed the efficacy of its vaccine," she added.
Pharmaceutical firms have aggressively developed vaccines amid an international rivalry, said Asel Saliyeva, a doctor at the designated COVID hospital in Nur-Sultan.
"Russia needed to demonstrate its leadership to other powers, so it's entirely possible that a criterion such as efficacy might have been put on the back burner during the development of Sputnik V," Saliyeva said.
Recurring reports have noted side effects among Russian doctors, some of whom were among the first recipients of Sputnik V, she said.
Even Russians are wary of Sputnik V.
Only 27% of Russians trust the official data on the coronavirus, according to a survey conducted in late October by the Moscow-based Levada Centre.
Of the 61% of those polled who do not trust the Kremlin's data, 28% say the numbers are too high and 33% say the numbers are too low.
That distrust aligns with Russian disenchantment with Putin after years of economic stagnation, Denis Volkov, a deputy director of the Levada Centre, told the New York Times in December.