NUR-SULTAN -- A number of recent territorial claims by pro-Kremlin politicians and journalists have provoked anxiety and outrage in Kazakhstan.
On December 10, for example, speaking on Russia's government-backed Channel One TV, Vyacheslav Nikonov, chairman of the Committee on Education and Science of the Russian State Duma, directly undermined Kazakhstan's sovereignty.
"Kazakhstan simply did not exist. Northern Kazakhstan was not settled at all [before the arrival of Russians]. The territory of Kazakhstan is a big gift from Russia and the Soviet Union," Nikonov, who hosts "Bolshaya Igra" (The Great Game), said on his show.
"Half of Ukraine is also a gift from Russia," said Aleksey Pushkov, a Russian senator and TV host, who was a guest on the show.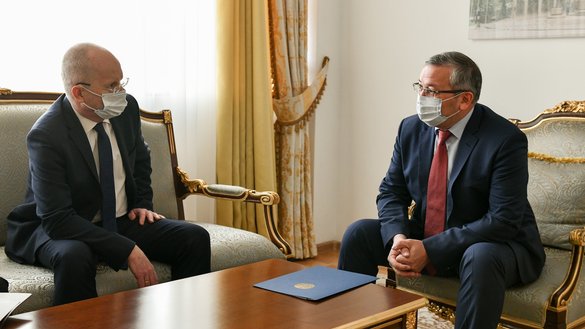 "The Soviet Union was the Russian Empire, which was made up of various conquered and annexed territories," said another guest, TV personality Vladimir Pozner.
This was not the first time Russian figures make such statements about Kazakhstan, which is rich in natural resources and has the largest ethnic Russian minority in Central Asia.
On December 13, Yevgeny Fyodorov, another deputy in the Russian State Duma, said on the Belrusinfo YouTube channel that Kazakhstan "should be grateful for the gift", referring to the country's territory.
"Russia needs to say if you are not acknowledging this as a gift, give it back because you took it unlawfully," Fyodorov said.
Russian 'gifts'
Recent statements by Russian officials echo Russian President Vladimir Putin's earlier statement that former Soviet republics "owe" Russia for leaving the Soviet Union.
Post-Soviet states should return the "gifts from the Russian people", namely land, Putin said in an interview on June 21, which was broadcasted on Russia-1 State TV.
The treaty establishing the Soviet Union in 1922 articulated the right to exit it but did not outline the procedure for doing so, he said.
"So the question arises: what if a republic joined the Soviet Union but received a massive amount of Russian land that was ancestral, historic Russian territory and then decided to exit the Soviet Union? In that case, it should have left with what it brought -- not take along the gifts from the Russian people," Putin said.
On the heels of the Channel One programme, the Kazakh Foreign Ministry on December 12 summoned Russian Chargé d'Affaires Alexander Komarov regarding recent territorial claims.
During the meeting, Deputy Foreign Minister Marat Syzdykov said his ministry was bewildered to hear Nikonov's comments about Kazakhstan.
Syzdykov handed Komarov a statement on the Kazakh government's position regarding recent claims.
The ministry's statement read in part, "Increasingly frequent provocative insinuations by some Russian politicians regarding Kazakhstan are seriously harming our states' friendly relations."
The Kazakh ministry expects Russia to appropriately assess making such comments and calls on it to prevent Russian officials from making similar statements in the future, the statement read.
What the tsar is thinking
"Russian politicians have begun to make such statements frequently. It's impossible for them not to provoke anxiety. The reaction in Kazakhstan is understandable, and the principled position taken by the Kazakh Foreign Ministry is the right one," said Yernar Beisaliyev, a political analyst in Nur-Sultan.
"It most likely wasn't a deliberate provocation, but rather the imperial attitude of Russia and its politicians who want to dominate in the region," he said.
"It is a big mistake on the part of the Kazakh leaders . . . that in Kazakhstan all these provocative statements have been interpreted as the noise of political clowns. Clowns actually often say what the tsar and his retinue are thinking," Dosym Satpayev, a political analyst from Almaty, wrote on Facebook.
"Russia's leaders spit on diplomatic notes from high up in their Kremlin tower," he said.
"All individuals who feel entitled to make provocative and insulting attacks on Kazakhstan, its territorial integrity, history and language should be ... banned from visiting our republic," said Satpayev.
"The next step needs to be for Kazakhstan to exit the EEU [Eurasian Economic Union] and then pull out of the CSTO [Collective Security Treaty Organisation], as Uzbekistan did previously," Satpayev wrote, referring to Kremlin-donated economic and military blocs. Uzbekistan never joined the EEU and withdrew from the CSTO in 2012.
Kazakhs have voiced their disapproval online in droves.
"There was no Kazakhstan? So that is the nonsense the deputy chairman [sic] of the State Duma is putting out there. Then they are surprised that anti-Eurasian sentiment is growing in Kazakhstan", "We demand an apology", "The USSR collapsed; serves it right", were among the comments Kazakhs have posted under the Nikonov video on YouTube.
"Russian politicians have lost their minds. Do they really not grasp that anti-Russian sentiment rises in Kazakhstan after they say things like that? We live here, we consider Kazakhstan our homeland, and we don't want to hear those sorts of comments," Yelena Shepeleva, a resident of Shymkent, told Caravanserai.