SHANGHAI -- Beijing's repression of Uighurs is getting a boost by homegrown technology giant Alibaba, even as international condemnation grows and global brands are backing away from doing business in the Xinjiang region.
Several reports in recent weeks have brought to light how authorities are using technology to track, monitor and detain predominantly Muslim minority groups in the Xinjiang region of China.
A face-recognition software feature devised by Alibaba makes it the latest Chinese corporate entity embroiled in the controversy over China's treatment of Uighurs.
Alibaba's website for its cloud computing business showed how clients could use its software to detect the faces of Uighurs and other ethnic minorities within images and videos, the surveillance industry publication IPVM and The New York Times reported December 16.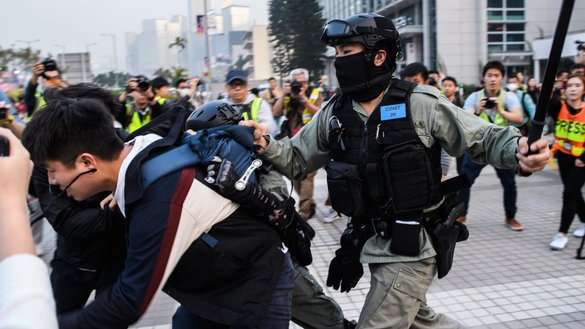 Alibaba Cloud quickly deleted mentions of "Uighurs" and "minority detection" on its website after reporters asked the company for comment.
Alibaba Cloud then said, without evidence or further explanation, that the technology was used only "within a testing environment", IPVM reported.
In a statement posted online December 17, Alibaba -- China's largest e-commerce website with approximately $78 billion in annual sales -- said it was "dismayed to learn" that Alibaba Cloud developed the feature.
The technology was used only in for capability-testing and not deployed by any customer, Alibaba said, adding that it had "eliminated any ethnic tag" in its products.
"We do not and will not permit our technology to be used to target or identify specific ethnic groups," it said.
Another Chinese cloud provider, Kingsoft Cloud, also described on its website software that could use an image of a face to evaluate whether a person's race was "Uighur" or "non-Uighur", The New York Times reported.
After reporters asked the company about the technology, Kingsoft Cloud purged those pages from its website and said the software had never been sold to customers and that it had not been able to distinguish Uighur faces.
'Uighur alarms'
The Uighur issue looms as a concern for Chinese companies as global criticism of Beijing's policies in Xinjiang grows.
Two other Chinese tech giants, Huawei and Megvii, worked together to test and validate "Uighur alarms", IPVM and the Washington Post reported December 8.
Huawei is China's largest technology company, and Megvii is one of the country's biggest facial recognition providers.
IPVM found a confidential Huawei "interoperability report" that outlined how the two companies worked together in 2018 to test an artificial-intelligence camera system that could scan faces in a crowd and estimate each person's age, sex and ethnicity.
"If the system detected the face of a member of the mostly Muslim minority group, the test report said, it could trigger a 'Uighur alarm' -- potentially flagging them for police in China," the Washington Post reported.
Both companies validated the veracity of the report but denied the technology was used to target or label ethnic groups.
"China's surveillance ambition goes way, way, way beyond minority persecution," said Maya Wang, a China senior researcher at Human Rights Watch.
Surveillance spending soars
Beijing has increasingly used artificial intelligence-assisted surveillance to monitor the general public and oppress minorities, protesters and others deemed threats to the state, she said.
Police are arresting Uighurs in Xinjiang after software that identifies "suspicious" behaviour flags those Uighurs, says Human Rights Watch.
Surveillance spending in Xinjiang has risen sharply in recent years, with facial recognition, iris scanners, DNA collection and artificial intelligence deployed across the province in the name of preventing terrorism.
The Chinese regime has come under intense international criticism over its policies in Xinjiang, where rights groups say as many as one million Uighurs and other mostly Muslim minorities have been held in internment camps.
Beijing defends the camps as vocational training centres aimed at stamping out terrorism and improving employment opportunities.
US senators on October 27 brought forth a resolution declaring that the Chinese regime is committing genocide against Uighurs, ethnic Kazakhs, Kyrgyz and members of other Muslim minority groups in Xinjiang.
The United States on November 6 announced that it had removed the East Turkestan Islamic Movement (ETIM) from its list of "terrorist organisations".
The Chinese regime regularly blames ETIM to justify its harsh crackdown on Muslim minorities in Xinjiang.
Beijing for years has undertaken a systematic campaign to root out Islamic culture, destroy mosques, indoctrinate Muslims with Communist propaganda and forcibly sterilise women, independent observers and researchers say.
As part of these efforts, Chinese authorities destroyed or damaged about 16,000 mosques, mostly within a three-year span, according to an Australian Strategic Policy Institute report released in September.
Almost a third of major Islamic sacred sites in Xinjiang -- including shrines, cemeteries and pilgrimage routes -- have been razed, according to the report.
Slave labour
As a result of the coronavirus pandemic, Chinese authorities have forced Muslim minorities in the Xinjiang region to work in personal protective equipment factories, according to The New York Times, which cited evidence found in hundreds of videos, photos and government documents.
Uighurs and other Muslims in Xinjiang are also forced to harvest and work in factories processing cotton, rights groups say.
US Customs and Border Protection on December 2 announced it will block imports of cotton from the Xinjiang region that it says are harvested with "slave labour".
Over 570,000 Uighurs are being forced to pick cotton through a coercive state-run scheme in Xinjiang's so-called "vocational centres", the Centre for Global Policy, a Washington-based think-tank, reported December 14.
All detainees have "graduated" from the centres, claims Beijing, but reports have suggested that it transferred many former inmates to low-skilled factory jobs, often linked to the camps.
Labour transfer scheme participants were heavily surveilled by police, with point-to-point transfers, "military-style management" and ideological training, said the Centre for Global Policy in its study, citing government documents.
"It is clear that labour transfers for cotton-picking involve a very high risk of forced labour," Adrian Zenz, who uncovered the documents, wrote in the report.
"Some minorities may exhibit a degree of consent in relation to this process, and they may benefit financially. However... it is impossible to define where coercion ends and where local consent may begin."