Before his death nearly one year ago, top Iranian military commander Maj. Gen. Qassem Soleimani was considered by some to be the most feared man in the Middle East.
For more than two decades Soleimani led Iran's Islamic Revolutionary Guard Corps Quds Force (IRGC-QF), an elite branch of the Iranian military responsible for exporting terror and for arming the Iranian regime's proxy militias throughout the region, including in Iraq, Syria, Lebanon, Bahrain, Yemen and Afghanistan.
His final plans included assaults on US coalition forces in Iraq, including the day-long attack last December 31 on the US Embassy in Baghdad, where vandals scrawled "Soleimani is our leader" in graffiti on the wall.
A US drone strike in Baghdad on January 3 killed Soleimani, marking a pivotal moment in Tehran's decades-long campaign to sow militancy and discord across the region.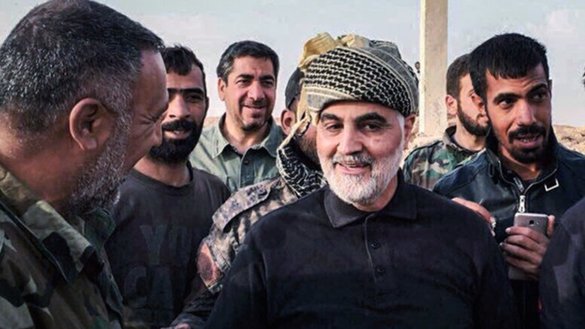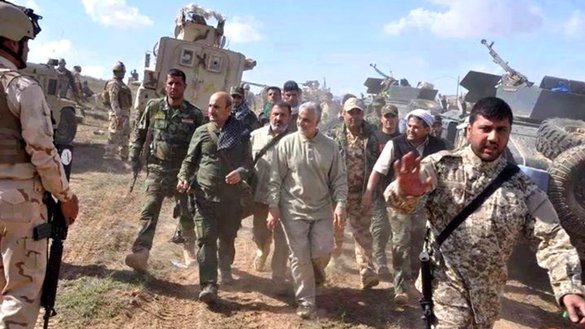 The US government designated Soleimani a global terrorist in 2011 for overseeing the failed plot to assassinate then-Saudi Ambassador to the United States Adel bin Ahmed al-Jubeir, who is now Minister of State for Foreign Affairs, while he was in Washington, DC.
Earlier the same year, Soleimani was sanctioned for his role in providing material support for the regime of Syrian President Bashar al-Assad during its bloody crackdown on civilian protesters.
In April 2019, the US Treasury Department took the unprecedented step of designating the entire IRGC a foreign terrorist organisation in large part because of the actions taken by the Quds Force under Soleimani's leadership.
Exporting terrorism
Under Soleimani's leadership, the IRGC-QF exported terrorism, fuelled sectarianism, undermined the sovereignty of regional governments and was responsible for thousands -- if not tens of thousands -- of deaths and untold misery throughout the Middle East and beyond.
While the Iranian regime continues to undermine security in the region, Tehran's threats would be much more serious if Soleimani were still alive, analysts say.
Soleimani "had a wide network of close relations with state leaders, such as Russian President Vladimir Putin and Syrian President Bashar al-Assad, and was also close to militia fighters and was present on the field during battles", said Ghazi Faisal Hussein, head of the Iraqi Centre for Strategic Studies.
"He worked to spread the Iranian revolution and the doctrine of the Waliyat al-Faqih and to replace legitimate regimes in the region with regimes subservient to Iran," he said, referring to the notion that Iran's Supreme Leader Ayatollah Ali Khamenei should rule over all matters.
"Qassem Soleimani was entrusted with the task of expanding the IRGC's influence in the region," said Yemeni political analyst and journalist Waddah al-Jalil.
During the first years of Soleimani's tenure in 1998-1999, he was devoted to directing the militant group Hizbullah.
For more than 10 years, Soleimani personally directed and provided arms to terrorists in Iraq as part of Iran's efforts to foment instability and undermine the sovereignty of the Iraqi government.
At least 603 US military personnel were killed in Iraq by Iran-backed fighters during the mid-2000s -- representing 17% of all Americans killed in hostile action in Iraq, according to the US Department of Defence.
Since early October 2019, thousands of Iraqi demonstrators have repeatedly taken to the streets to protest Iran's destabilising influence in Iraq.
Luring vulnerable youth
In Syria, Soleimani oversaw a massive operation to shore up al-Assad's depleted troops.
Over several years starting in late 2014, Iranian operatives under Soleimani's guiding hand recruited militia fighters -- many of whom were underaged and/or from economically vulnerable backgrounds -- from Shia communities in Afghanistan, Pakistan, Iraq and other countries.
In exchange for joining the Fatemiyoun Division, the IRGC-led Afghan militia, Afghans were promised Iranian citizenship and monthly salaries; however, the Iranian regime repeatedly failed to live up to such promises.
By orchestrating the civil war in Syria, Soleimani oversaw the recruitment of up to 20,000 impoverished Afghan fighters; at least 2,000 have died and 8,000 were injured, according to Fatemiyoun sources.
Estimates of the total number of deaths in the Syrian civil war vary between 387,100 and about 593,000 as of December 2020, according to opposition activists.
About 6.2 million people have been displaced within Syria, according to World Vision, while more than 5.6 million have fled to neighbouring countries.
Soleimani also played a role in expanding Iran's influence in Yemen, where the IRGC's backing of the Houthi rebels (Ansarallah) intensified in 2015 when Saudi Arabia -- one of Iran's biggest adversaries in the region -- intervened on behalf of the Yemeni government.
"Soleimani's role was to accelerate the implementation of Iran's strategy, which includes seizing Sanaa and Damascus as well as Beirut and Baghdad," said Abdul Salam Mohammed, director of the Abaad Centre for Strategic Studies.
"His killing will not change that strategy," he said.
The crisis in Yemen, fuelled by the Iran-backed Houthis, has led to more than 17,500 civilians killed and injured since 2015, according to the Yemen Data Project. More than 20 million people are experiencing food insecurity and 10 million are at risk of famine, Human Rights Watch reported.
The Houthis regularly illegally arrest and torture students, women, human rights activists, journalists, humanitarian workers and religious minorities, international investigations revealed.
Militias turned mobsters
In 2014 and 2015, pictures of Soleimani wearing military fatigues on the battlefield in Iraq underscored his direct role in that conflict.
Many of the militias that Soleimani helped create over the years have become unruly and veered significantly from their original, purportedly religious goals.
In Iraq, these militias have taken advantage of the power they increasingly gained over the years under Soleimani to crack down on Iraqi protestors, infiltrate and abuse the PMF, and even shoot dozens of Iraqi demonstrators protesting the government's corruption and incompetence.
"The militias became monsters, greedy and too powerful to handle," a senior Iraqi politician who did not wish to be named told Reuters in February.
"They extorted money from businesses; they wanted their share from everything, even forcing the government to give their loyalists jobs and state contracts," he said.
The Iraqi militias have also illegally seized weapons and disrupted investments in a number of Iraqi cities liberated from the "Islamic State" (IS).
[Faris al-Omran and Nabil Abdullah al-Tamimi contributed to this report.]