NUR-SULTAN -- A new Kazakh TV series, "The Polygon", which recently aired on Khabar TV, shone a spotlight on the painful past of uncontrolled Soviet nuclear weapon testing in Semipalatinsk (now Semey).
From 1949 through 1989, the Soviet Union conducted 456 nuclear tests in Semipalatinsk, without regard for the local population or environment.
A joint Japanese-Kazakh study found elevated rates of various cancers, birth defects and cardiovascular ailments among the local population around Semipalatinsk, according to a 2016 EurasiaNet report.
The six-episode drama, which aired December 17-19, relates the history of the testing site and its closure in 1991 by then-Kazakh leader Nursultan Nazarbayev.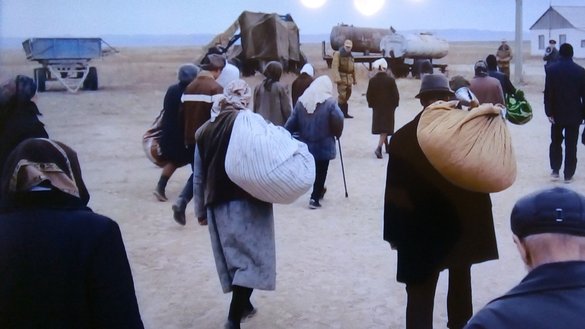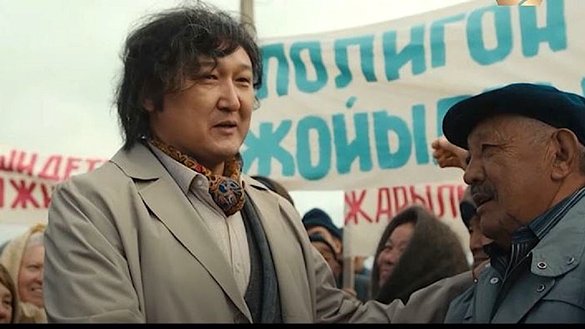 "The show takes place in the late 1980s," TV channel Khabar said in a statement, pointing out that the plot centres on real historical figures, including Mikhail Gorbachev, the last Soviet leader.
Gorbachev's character is central to the series, as his ideas "swept over the entire Soviet Union and served as an impetus for change", the channel said.
'Kazakhstan, if you can, forgive...'
The episodes depict the tragic fates of residents of the affected region, as well as Kazakh activists' struggle with the director of the test site and with KGB agents.
The show opens with historical footage of a summit between Gorbachev and then-US President Ronald Reagan on nuclear disarmament.
Then, step by step, viewers see the suffering and forced evacuation of the local population, local residents' hatred of the authorities and military leaders who are experimenting with them, and Kazakhs' refusal to bend to the omnipotent KGB.
"Kazakhstan, if you can, forgive us. And long live the test ban!" These lines, written by Olzhas Suleimenov, a Kazakh poet, writer and leader of the Nevada-Semipalatinsk anti-nuclear movement, are intoned in the series.
Yerlan Bilyal plays Suleimenov.
"We had about four to five months to create this project," director and producer Akhat Ibrayev told Khabar TV, explaining that it combines historical facts and fiction.
The Soviet military-industrial complex and intelligence agencies concealed information about the testing site's operations, and "to this day, 90% of the data on the Semipalatinsk testing site have not been disclosed", he said.
"Our people and our land were sacrificed," he added in an interview posted on YouTube.
'Everything was decided in Moscow'
"I liked the show for its realism and vivid heroes," said Turkistan resident Guljamal Balayeva.
"Our children need to know how the Soviet government treated those who were 'bargaining chips' for the sake of Moscow's military might," she added. "The historical memory must live."
Balayeva said she was deeply impressed by the younger characters in the series, who, "despite pressure from the KGB, dream of ending nuclear tests and obtaining independence for their country".
"People feared the explosions that shook everything in their houses, the unknown," said Dauren Atabayev, a resident of East Kazakhstan Province and director of the non-governmental organisation Beibit Atom (Peaceful Atom).
"They got sick and died... And truth-seekers and activists were persecuted. You could not say a word against the Soviet regime," he said.
Such TV series are "worth their weight in gold", he said, as are documentaries about the nuclear tests conducted at Semipalatinsk.
"One of the show's heroines says, 'Some people we do not know are deciding everything for us in Moscow'. And indeed, someone did decide that there should be nuclear tests, and one and a half million Kazakhs paid for it with their health, and some with their lives," Atabayev said.
Since Kazakhstan shut down the test site in 1991, it has advocated for nuclear security.
On November 30, Kazakhstan hosted an international online conference, during which politicians and specialists adopted a statement directed at world leaders, calling on the global community to approach nuclear security more responsibly.