Russian troops and mercenaries have been creeping into Africa over the past several years, with the Kremlin signing strategic military co-operation agreements with dozens of countries and entering into conflicts as a way to expand its geopolitical influence, raising concerns among regional analysts.
The growing Russian role in the volatile Central African Republic (CAR) was in the spotlight last week after Moscow dispatched 300 military instructors there following a rebel threat to disrupt legislative and presidential elections held Sunday (December 27).
The Kremlin also has sent arms and is an open supporter of incumbent President Faustin Archange Touadera, who is on course to win a second term in elections marred by legitimacy concerns.
Ahead of the election, in mid-October, armoured vehicles draped in the Russian and CAR flags patrolled the streets of the capital, Bangui.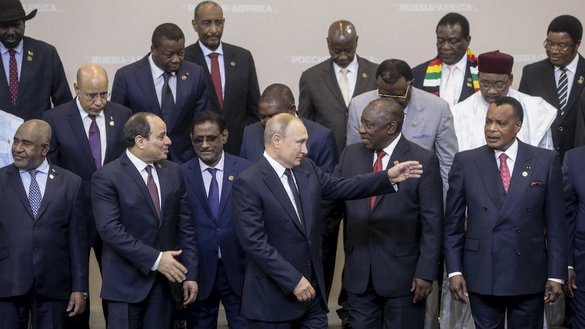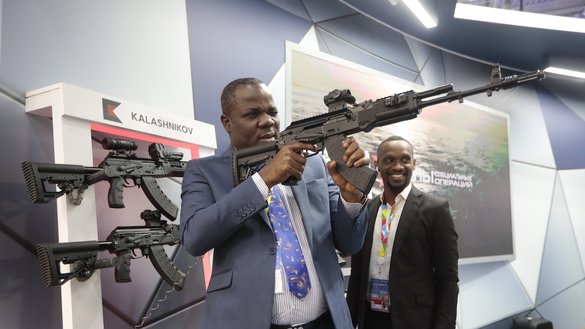 Touadera's government recently signed a military co-operation agreement with Russia, while Moscow opened a military office in the country last year and sent four generals to oversee it.
Wagner mercenaries on the front lines
Moscow has led a diplomatic and financial offensive in CAR since 2018 in return for concessions given to its companies to exploit the country's mineral wealth, especially gold and diamonds.
The mining concessions have been farmed out to companies associated with Yevgeny Prigozhin, who is very close to Russian President Vladimir Putin and the main financer of a private Russian security firm, the Wagner Group.
The Wagner Group is a private military company (PMC) that serves Putin's geopolitical agenda while allowing the Kremlin to advance its interests and carry out its hybrid warfare under a cover of plausible deniability.
Wagner mercenaries have been deployed across CAR, according to analysts, diplomats and non-governmental organisations.
Three Russian journalists investigating Wagner's role in CAR were killed in July 2018. The investigation into their deaths is largely abandoned.
At least 175 Russian "military instructors" have been in CAR since 2018 to train the country's soldiers and ensure Touadera's safety.
But a week ago, when three main rebel groups threatened to march on Bangui in what the government said was a coup attempt, Moscow sent giant Antonov carriers packed with at least 300 military instructors to help the regular forces.
Moscow initially denied such reports but later admitted to dispatching the troops.
The "instructors" were at the front fighting rebels, several witnesses and NGOs have reported.
Propping up dictatorial regimes
During the past six years, the Kremlin has signed military co-operation agreements with at least 21 African states, the German daily newspaper Bild reported August 2, citing a leaked classified German Federal Foreign Office report.
Prior to 2015, Moscow had only four such agreements across the continent.
Under the agreements, the Kremlin is "contractually assured" it will "be allowed to build military bases in six countries" -- CAR, Egypt, Eritrea, Madagascar, Mozambique and Sudan, according to the report.
Co-operation with and support of some of the continent's dictatorial regimes are a key aspect of the Russian military advance in Africa -- and Kremlin mercenaries could also be deployed to help stabilise dictatorial African regimes, it said.
The capabilities of Russia's armed forces and mercenaries are "of great interest for autocratic regimes in possible use against their own people", the report added.
Since 2000, the Russian regime has been steadily increasing its arms exports to Africa and now accounts for 49% of total arms exports to the continent, according to the database of the Stockholm International Peace Research Institute.
The main recipients are Algeria, Egypt, Sudan and Angola.
Strategic access
Earlier this month, the Russian regime signed an agreement with Sudan to build a naval base on the country's Red Sea coast.
The deal, published on the Russian government's website December 8, will see Moscow establish a "logistical support centre" in Port Sudan, where "repairs and resupply operations" can take place.
The agreement signed December 1 is valid for 25 years and will be automatically renewed for 10-year periods if neither side objects.
The purpose of the base will be to "uphold peace and stability in the region", according to the document.
The agreement gives the Kremlin the right to transport via Sudan's airports and ports "weapons, ammunition and equipment" needed for the naval base to function.
Moscow acknowledged in January last year that its military advisers were on the ground in Sudan alongside forces loyal to the government as a political crisis there unfolded.
The location of the base is no accident -- Port Sudan is across the Red Sea from Saudi Arabia, and Sudan shares borders with other countries of strategic importance, including CAR, Egypt and Libya.
To Europe via Africa
Russian involvement in Libya earlier this year, when the country faced its own political crisis, is well documented.
After the Russian regime lost support in the Middle East as a result of its occupation of Syria, the Kremlin turned its attention to Libya -- which has potentially immense geopolitical and economic advantages, said Talgat Ismagambetov, a political analyst from Almaty who formerly worked at the Kazakhstan Institute for Strategic Studies, said in June.
The Russian regime wants to have a share in Libya's oil industry, which, in addition to immense profits, offers geopolitical leverage, he said.
"In controlling Libya, Putin will be able to influence the situation in Europe -- he can influence Italy's decisions or realign Germany's position -- in other words, he can influence the situation of countries that consume Libyan oil," he said.
"Libya is also convenient because it is situated in the middle of the Mediterranean, where Russian naval forces could be based," he said.
"If Russia seizes basing on Libya's coast, the next logical step is they deploy permanent long-range anti-access area denial capabilities," said Gen. Jeff Harrigian, commander of US Air Forces in Europe-Air Forces Africa.
"If that day comes, it will create very real security concerns on Europe's southern flank."
Expanding the use of mercenaries
In addition to fighting in Libya, CAR, Sudan and Syria, Wagner Group mercenaries have popped up in various other front lines and political crises in recent years, including in Belarus, Madagascar, Ukraine and Venezuela, among others.
The Russian-Ukrainian PMC Vega is also coming under the microscope.
In March 2019, the Conflict Intelligence Team (CIT), a group of independent Russian bloggers who use open sources to investigate wars, published data indicating that Vega mercenaries have been operating in Syria since 2018 to support President Bashar al-Assad, just like their counterparts in the Wagner Group.
At first, Vega protected private individuals as well as various companies, banks and ships in high-risk areas.
But in recent years, Vega has expanded its security work to include militia training on behalf of the Russian regime.
Vega is training a predominantly Palestinian militia known as Liwa al-Quds (Jerusalem Brigade), the largest unit in Aleppo supporting the Syrian government.
Russian PMCs carry out intelligence and military missions that Moscow cannot do officially, said Edil Osmonbetov of Bishkek, a political scientist and international relations specialist.
"These are not regular armed forces that fall under international law; the states co-ordinating them do not bear responsibility for their actions," he said earlier in December.