NUR-SULTAN -- Even as the Kremlin promotes the hastily developed Russian vaccine for COVID-19, Kazakhstan is turning toward a scrupulously tested vaccine developed by the US pharmaceutical company Pfizer.
During a briefing at the Kazakh Central Communications Service (CCS) office in Nur-Sultan Monday (December 28), First Vice Minister of Healthcare Marat Shoranov announced that he was ready to buy the Pfizer vaccine.
"We have signed an... agreement today with Pfizer and are ready to supply these vaccines in Kazakhstan," he said according to Kazinform. "Everything will depend on the company's production capacity and ability to supply the drug to the republic."
Negotiations for accelerating the delivery of the Pfizer vaccine to Kazakhstan were scheduled to start Wednesday (December 30), Nurlybek Asylbekov, acting deputy chair of the Kazakh Medical and Pharmaceutical Activity Control Committee, said at the briefing.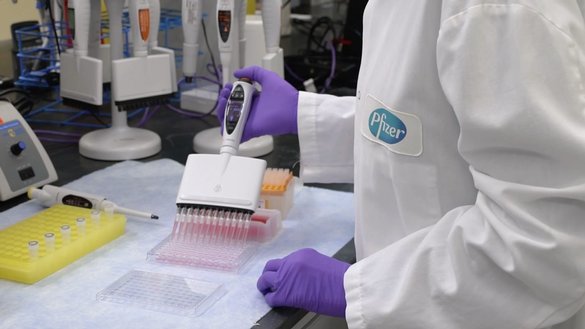 "Pfizer has a successful and long track record of producing and distributing large volumes of complex vaccines that the world can trust -- and we are continuing to extend this track record with our COVID-19 vaccine," according to a statement on the company's website.
The news comes only weeks after Kazakh officials agreed to start manufacturing the Russian vaccine in Kazakhstan.
Kazakhs 'waiting for a real vaccine'
Many Kazakhs are suspicious of Russia's Sputnik V vaccine, which raises many questions in terms of safety and effectiveness.
These doubts are clearly visible in numerous comments made online.
"Sputnik-5 is dangerous to inject," wrote a visitor to the Tengrinews.kz website, referring to Sputnik V. "You never know what complications there might be. With such and such contraindications, you have to be 100% healthy... Russian vaccines are a gift that nobody needs."
"I won't inject myself with this crap [Russian vaccine Sputnik V]," said a reader using the nickname Aitim Malik. "I'm waiting for a real vaccine from Pfizer."
"There are no fools willing to risk their own health," wrote another reader.
The Russian Sputnik V vaccine is not intended for the elderly, while Pfizer's vaccine has no such contraindications, said reader Askar Bolatov.
"One can buy a vaccine from Pfizer. If 78-year-old, US President-elect Joe Biden himself was vaccinated, why should we be afraid? We'll buy and inject ourselves; otherwise, as always, Russia is promoting itself," commented reader Aben.
Specialists are similarly sceptical about the Sputnik V vaccine, which they say Russia has hastily pushed forward.
"A lot of criticism and doubts about the Russian vaccine are expressed in medical scientific journals," said pharmaceutical chemist Elizabeth Kim from Nur-Sultan. "Honestly, I wouldn't risk putting it into myself or to those close to me."
"There is more confidence in the Pfizer vaccine and the Kazakh vaccines, which have successfully passed clinical trials," she said.
December 19 marked the beginning of the third phase of Kazakh vaccine research, involving 3,000 volunteers, the CCS said in a December 28 statement.
Clinical trials show that one Kazakh vaccine is more effective than a Russian competitor, the statement said, at 96% efficacy and slightly below 92% efficacy, respectively. Russia has claimed to develop at least two COVID-19 vaccines.
Caravanserai previously reported on the development of two Kazakh vaccines and the construction of a biopharmaceutical plant in Zhambyl Province.
'No trust' in Sputnik V
International observers have expressed doubt over the Russian vaccine since it was first announced in August, raising concerns that the Kremlin's "race" to be the first to develop a vaccine could impact efficacy and safety.
Russian efforts to promote Sputnik V as equally effective as or more effective than Western alternatives -- without providing accurate, verified data -- have shaken public confidence in the vaccine candidate.
Scientists and observers around the world first shook their heads in consternation when the Kremlin on November 11 said Sputnik V was 92% effective -- two days after Pfizer and BioNTech announced their vaccine had greater than 90% efficacy.
Less than a week later, American biotechnology company Moderna, which developed its COVID-19 vaccine with the US National Institutes of Health, said that early results showed its candidate was 94.5% effective.
In a seeming bit of one-upmanship, the Russians on November 24 raised the reported effectiveness of Sputnik V to 95%.
"There's no trust in the Russian vaccine," a reader named T. Sultan wrote on the Tengrinews.kz website, adding that Russian internet trolls were "down-voting" critical comments.
Even though researchers have not fully studied the virus or put the Russian vaccine through all the usual trials, the Kremlin speedily registered it as the "first in the world", observed Amris, another reader.
"Who needs this and why?" Amris said, and then tried to answer his own question: "It's... a massive amount of money."
Many doctors in Kazakhstan also are sceptical of the Russian vaccine.
Sputnik V's "efficacy is shrouded in suspicious secrecy", said Aigerim Jakasheva, a primary care doctor in Almaty.
"Russia is hiding the details about how exactly it tested Sputnik V," Jakasheva said. "It is not sharing the clinical protocol. It has a small sample size and not enough testing volunteers -- we have only press releases put out by the organisation funding the project."
"It is not entirely clear just how Russia assessed the efficacy of its vaccine," she added.
Meanwhile, phase 3 trials of a Sinopharm coronavirus vaccine found it was 79% effective, the Chinese pharma giant said Wednesday (December 30), lower than rival jabs developed by Pfizer-BioNTech and Moderna.