TAIPEI -- Chinese jets made a record 380 incursions into Taiwan's defence zone last year, a Taiwanese defence official said Tuesday (January 5), heightening concerns about China's increasing willingness to flex its military muscles and violate the sovereign territory of its neighbours.
Democratic and self-ruled Taiwan lives under the constant threat of invasion by authoritarian China, which views the island as its own territory and has vowed to seize it one day -- by force if necessary. Taiwan has had its own government since 1949.
Beijing's animosity has increased dramatically since Taiwanese President Tsai Ing-wen won election in 2016, as she rejects the idea that the island is part of "one China". She was re-elected in 2020, further angering Beijing.
The sabre-rattling reached new peaks last year as Beijing sent jets, bombers and surveillance planes into Taiwan's air defence identification zone (ADIZ) at an unprecedented rate.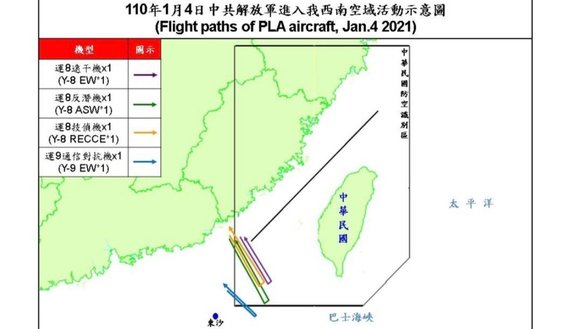 "The 380 incursions into our southwest ADIZ in 2020 are a lot more frequent than the past," said Defence Ministry spokesman Shih Shun-wen.
"This... poses a threat to regional and our national security."
Chinese aircraft targeted the area "to test our military's response, to exert pressure on our aerial defence and to squeeze the aerial space for our activities", he said.
The figures came as the military-affiliated Institute for National Defence and Security Research warned in an annual report on the People's Liberation Army that "the Chinese military threat was the highest since the 1996 missile crisis in Taiwan Strait".
That year Beijing fired missiles into the strait in a bid to deter voters in the island's first democratic presidential election, prompting Washington to send warships to the area.
Chinese jets flew closer to Taiwan and frequently into its defence zone on at least 110 days last year, said Jeremy Hung, a co-author of the report.
This compared with just six long-distance training missions around Taiwan in 2016, and 20 in 2017.
Aggression throughout Asia
Recent Chinese aggression has extended to neighbouring India as well, with Chinese and Indian soldiers engaging in deadly hand-to-hand fighting in June and opening fire in another incident along the border in September.
In the South China Sea, Beijing, at the expense of other nations' territorial claims, has been building artificial islands and establishing a heavy military presence in a brazen pursuit of resources.
Beijing has constructed a series of ports along the Indian Ocean, creating a necklace of refuelling and resupply stations from the South China Sea to the Suez Canal. Ostensibly commercial in nature, the ports would allow its rapidly growing navy to expand its reach.
The Chinese regime is leveraging its financial dominance over countries to exact military use for strategic areas and ports, particularly in Gwadar, Pakistan, and Jask, Iran.