BISHKEK -- Kyrgyzstan is holding presidential polls Sunday (January 10) that are likely to see Sadyr Japarov go from prisoner to president following a crisis over a disputed parliamentary vote.
In 29 years of independence, demonstrations have ousted three Kyrgyz presidents -- in 2005, 2010 and 2020.
October unrest
Unrest began the day after the October 4 vote, as opposition parties took to the streets to decry large-scale vote-buying campaigns benefiting parties close to then-president Sooronbay Jeenbekov.
By night-time the protests had exploded into clashes with police, with one protester killed as several prominent politicians, including Japarov, were freed from jail.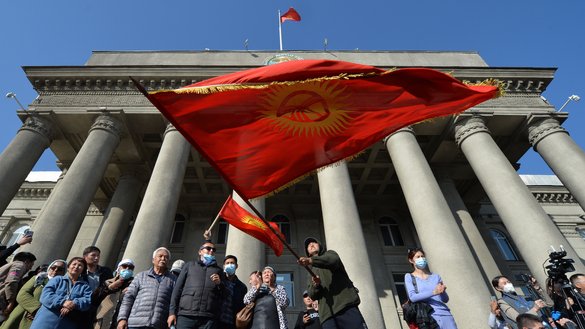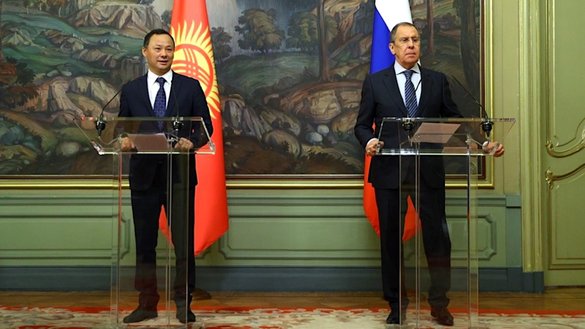 Although authorities swiftly nullified the election results, politicians jostled to fill a power vacuum in the following days, with Japarov's supporters the largest of the groups insisting on Jeenbekov's immediate resignation.
The sudden nature of the crisis appeared to take even key ally Russia by surprise and fuelled speculation over the role that organised crime might have played in the events.
President Vladimir Putin's deputy chief of staff, Dmitry Kozak, flew into Bishkek to confer with both Jeenbekov and Japarov.
Whilst the visit was seen as bolstering Jeenbekov's position, he resigned just days later, citing the need to avoid bloodshed as a pro-Japarov crowd gathered close to his official residence.
For about one month, Japarov was both acting prime minister and president. On November 14, he stepped down to run in the presidential vote.
Japarov presently holds no office, but loyal allies hold key positions and voters are widely expected to grant him a first-round victory on January 10.
On the same day, voters will choose between a presidential form of government championed by Japarov and parliamentary rule.
While work on the new constitution will continue after the vote, it seems likely that the new basic law will do away with unrepeatable terms for sitting presidents -- a stipulation introduced in 2010 to curb authoritarianism.
Japarov -- man of the people?
Japarov, 52, entered Kyrgyzstan's political scene as a lawmaker in 2005, after building up a small oil business in his native Issyk-Kul Province.
He rose under the patronage of then-president Kurmanbek Bakiyev, who appointed him director of the anti-corruption agency in 2008.
But the agency's investigations never touched on the family of Bakiyev -- widely viewed as the main beneficiary of systemic graft at the time.
Bakiyev was overthrown in 2010, in a revolution far more violent than the one that displaced the first post-Soviet president, Askar Akayev, five years before.
Violence erupted between ethnic Kyrgyz and minority Uzbeks two months later, claiming hundreds of lives.
A nationalist opposition party -- which included Japarov among its leaders -- won parliamentary polls later that year, but was shut out of the ruling coalition.
Japarov's political brand then became associated with chaotic rallies against the Canadian operators of Kyrgyzstan's largest gold mine, which contributes up to 10% of GDP annually but has confronted corruption accusations and environmental concerns.
During one rally in his native province in 2013, protesters briefly took the local governor hostage and doused him with petrol.
Authorities opened a criminal case against Japarov, who fled the country.
Japarov used his exile to make connections among the million-strong Kyrgyz diaspora that is active in Russia and Kazakhstan.
When he returned to his homeland from neighbouring Kazakhstan in 2017, Japarov was arrested on hostage-taking charges and later sentenced to 11.5 years in prison.
Challenges ahead
If Japarov is victorious on January 10, he will face an uphill battle to revamp the pandemic-battered economy and make good on his pledges to battle corruption and organised crime -- both systemic problems.
Winning the trust of Russia could be another challenge.
Relations between Moscow and Bishkek are cooling because Kyrgyz authorities are increasingly refusing to follow the Kremlin's instructions, observers say.
By some accounts, Putin's regime even wanted the departure of Jeenbekov, who in recent years began to actively improve relations with the United States.
Still, subsequent events did not go according to Russia's plan, said Kairat Osmonaliyev of Bishkek, a professor and scholar of international law.
The Kremlin dispatched Kozak to Bishkek to urge a transfer of power from Jeenbekov to Japarov in accordance with Kyrgyz rules, Osmonaliyev said last October.
"Moscow wanted Jeenbekov to step down after completing his presidential term, which on the surface would look like a natural political process, but Jeenbekov resigned unexpectedly," he said.
Jeenbekov's flouting of the preferred Russian narrative could have been "related to the suspension of financial aid from Russia", Osmonaliyev said.
October events angered Moscow
Moscow openly demonstrated its disdainful attitude towards Bishkek after Jeenbekov's resignation in October, the abruptness of which observers say is indicative of the waning influence of the Kremlin in the Central Asian republic.
While speaking to the media, Russian Foreign Minister Sergey Lavrov appeared irritated after talks aimed to restore Russian-Kyrgyz relations with his Kyrgyz counterpart, Ruslan Kazakbayev.
Lavrov responded rudely after several questions from Kyrgyz journalists at a news conference in Moscow on October 23.
Financial assistance from Russia to Kyrgyzstan will stay suspended "until the political situation in Kyrgyzstan stabilises", Lavrov told Kazakbayev.
Moscow has since refused to work with Kyrgyz officials.
Putin himself expressed his fears the day before the turbulent news conference in Moscow.
"What is happening there is a disaster for the Kyrgyz people," he said at a meeting of the Valdai Discussion Club in Moscow on October 22. "We cannot look upon what is happening there without pity and alarm."