BISHKEK -- Claiming almost 80% of the vote, newly elected Kyrgyz President Sadyr Japarov has pledged to fight corruption and prioritise transparency in government operations.
Japarov's victory marks a meteoric rise from prison. He had been serving a sentence for kidnapping since 2017, but demonstrators outraged by rigging of parliamentary elections freed him from his cell last October.
"During the past 30 years, corruption has taken root in every sphere of our lives," he told reporters in Bishkek late Sunday (January 10), after the vote. "But from now on, we won't allow it to continue that way. We won't repeat the mistakes of previous governments."
He vowed to bring "openness" and "transparency" to government operations in the future.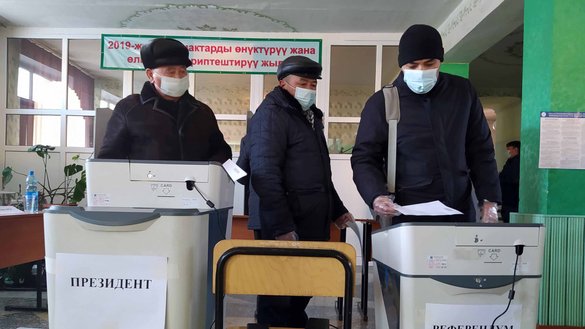 He also called on fellow presidential candidates to set their "personal interests" aside and work together "for the sake of the country's future".
"There will be no dictatorship as some scaremongers say. There will be a dictatorship of law and justice," he said Monday, referring to critics who fear his main aim is to concentrate power.
Seventeen candidates vied in the presidential race, but Japarov was favoured to win from the outset.
Japarov's closest rival and fellow nationalist candidate, Adakhan Madumarov, received 6.7% of the vote, Radio Free Europe/Radio Liberty reported.
The election lacked "a level playing field" as Japarov had far greater funding allowing him to dominate his rivals' campaigns, international observers said on Monday (January 11).
"If Kyrgyzstan is going to live up to the aspirations of its people for a functioning democracy, fully fair competition on a level playing field is critical. This was not the case here," the Organisation for Security and Co-operation in Europe (OSCE) said.
However, the election and a parallel referendum on government reform were "generally well organised", said the OSCE.
Voters favour presidential rule
The results of the referendum showed that voters strongly preferred presidential rule, which would grant Japarov sweeping powers.
More than 80% of voters backed a return to presidential rule, according to the official results, while only 10.8% supported the current parliamentary system. Almost 5% voted for the third option, "against all".
Last week Japarov criticised small demonstrations in Bishkek against the referendum.
"From now on, we must learn to reckon with the people," Japarov wrote on Facebook. "If someone does not want this, we will teach them."
Voter turnout was low -- less than 40% -- which officials blamed on extreme cold weather and a change that prevented citizens from voting where they currently reside if they are still registered in their birthplace.
There is no legally imposed threshold for the presidential vote, while the minimum threshold of voter turnout for the referendum to be considered valid is 30%.
October turmoil
The vote comes after disputed parliamentary elections in October that devolved into violent protests.
Unrest began the day after the October 4 vote, as opposition parties took to the streets to decry large-scale vote-buying campaigns benefiting parties close to then-president Sooronbay Jeenbekov.
By night-time the protests had exploded into clashes with police, with one protester killed as several prominent politicians, including Japarov, were freed from jail.
Although authorities swiftly nullified the election results, politicians jostled to fill a power vacuum in the following days, with Japarov's supporters the largest of the groups insisting on Jeenbekov's immediate resignation. Jeenbekov resigned October 15.
The sudden nature of the crisis appeared to take even key ally Russia by surprise and fuelled speculation over the role that organised crime might have played in the events.
Japarov faces an uphill battle to revamp the COVID-19 pandemic-battered economy and make good on his pledges.
Winning the trust of the Russian regime could be another challenge.
Relations between Moscow and Bishkek are cooling because Kyrgyz authorities are increasingly refusing to follow the Kremlin's instructions, observers say.
Russian President Vladimir Putin was among the first leaders to congratulate Japarov on his victory, noting that further co-operation between the two countries "meets the fundamental interests of our friendly peoples" in a telegram January 11.