MOSCOW -- Russian President Vladimir Putin may have underestimated the political ramifications both at home and abroad of arresting opposition leader Alexei Navalny upon his return to Russia.
Police seized Navalny, 44, at a border control post at Sheremetyevo airport in Moscow less than an hour after he returned to Russia from Germany for the first time since he was poisoned with the Novichok nerve agent in August in Tomsk, Siberia.
Russia's FSIN prison service said Sunday (January 17) that it had detained Navalny for violating the terms of a suspended sentence he received in 2014, on fraud charges he says were politically motivated.
'Mockery of justice'
With global calls growing for Navalny's release, he was brought into a courtroom set up at a police station in Khimki on the outskirts of Moscow where he was taken following his detention.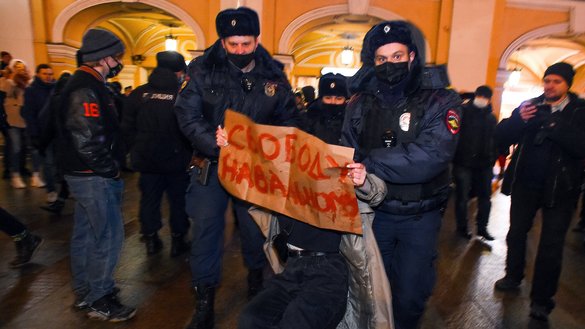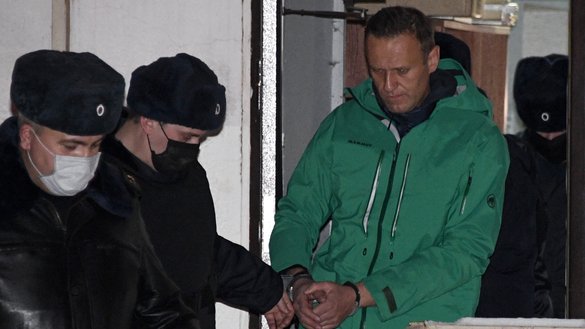 In a video posted by his team from inside the hearing on Monday (January 18), an incredulous Navalny said he did not understand how a court session could take place at a police station and why no one had been notified until the last minute.
"I've seen a lot of mockery of justice, but the old man in the bunker [Putin] is so afraid that they have blatantly torn up and thrown away" Russia's criminal code, Navalny said.
"This is ultimate lawlessness."
The makeshift court agreed to a request from prosecutors for Navalny to be kept in custody until February 15, while a court hearing about a longer prison term will take place on February 2.
'Resist'
In a video released by Navalny's team shortly after the ruling, he urged his supporters to protest.
"Do not be silent. Resist. Take to the streets -- not for me but for you," Navalny said.
Preparations are under way for protests to be organised across the country this Saturday (January 23), said Leonid Volkov, director of Navalny's regional network.
The Kremlin is "troubled" by Navalny's calls to stage "illegal" protests, Putin spokesman Dmitry Peskov told journalists Tuesday (January 19).
Navalny's supporters are likely to heed his calls in full force.
The leading Kremlin critic has repeatedly led large-scale street protests against Putin, most recently in the summer of 2019, and was gearing up for another challenge to authorities during elections to the lower house, the State Duma, this September.
Already, with temperatures hovering at about -20 degrees Celsius, several dozen supporters gathered outside the police station where Navalny was detained, shouting "Freedom!" and "Let him go!"
Protesters also gathered in St. Petersburg, where OVD Info, which monitors detentions at political protests in Russia, said at least 46 people were detained.
"It's a disgrace. You can't say what you think," 50-year-old protester Natalya Semyonova told AFP at the scene.
'More popular than Putin'
Navalny's arrest January 17 drew widespread condemnation and put Putin's fears on full display for the world.
"Alexei Navalny has become a more popular political figure than President Vladimir Putin," said Sergey Duvanov of Almaty, a journalist and analyst at the Kazakhstan International Bureau for Human Rights and Rule of Law.
"Navalny is a bold politician and leader, and he has a chance to ultimately triumph in a political confrontation with the Russian authorities," he said.
"Now in Russia, the number of people who would like to see Putin leave is growing rapidly, and they will consolidate around Navalny," he predicted.
Sending Navalny to prison "will only increase his political weight", he said.
"The whole world was shocked by the punitive system of the Russian authorities against the opposition leader Navalny," said Tolekan Ismailova of Bishkek, vice president of the International Federation for Human Rights.
"We watched the repressive acts going on at Moscow's Vnukovo airport directed against Navalny's supporters, against peaceful passengers and civilians," she said.
Navalny's plane originally was scheduled to land at Vnukovo, where thousands of his supporters had gathered to greet him January 17.
Russian authorities deployed extra riot police and erected metal barriers inside the airport, and detained a number of activists.
The authorities redirected Navalny's plane to Sheremetyevo, depriving his supporters of the chance to greet him.
"It is not only a tragedy for the citizens of Russia; it is a signal to all countries that work within the the Shanghai Co-operation Organisation (SCO) and the Collective Security Treaty Organisation (CSTO)," she said.
"During [the coronavirus] pandemic ... the Russian authorities showed the face of an aggressor, intolerance towards dissidents and a desire to intimidate everyone who has the right to freedom of thought and of expression," Ismailova said.
"We demand freedom for the opposition leader," she said, calling on international observers to "facilitate and help the investigation into his poisoning [and] fight the impunity of those officials who are infringing on [Navalny's] life and safety".
'Who needs him?'
As Putin's popularity wanes amid a spiralling economy and surging public discontent, the Russian president has taken increasingly desperate measures to protect himself and his allies.
Putin has acquired the power to be "president for life", and new legislation grants Putin and his family immunity from prosecution for any crime committed during their lifetimes, and exemptions from searches, arrests or questioning.
"Passing such a law amounts to confessing to be a criminal," said Khairullo Mirsaidov, a Tajik journalist living in Europe who has worked for the Tajik news site ASIA-Plus and for Deutsche Welle, in December.
The law should be looked at within the context of the poisoning of Navalny.
Navalny blamed Putin for ordering the attack, while world leaders have accused Russian authorities of "involvement and responsibility" in his poisoning.
Back in September, United Nations human rights chief Michelle Bachelet called on Moscow to conduct or co-operate with a "thorough, transparent, independent and impartial investigation".
"It is not good enough to simply deny he was poisoned," she said, as Russian police have refused to open a criminal probe.
Putin has rarely mentioned Navalny by name, at one point sarcastically calling him a "famous blogger".
"Who needs him?" Putin said December 17 at his annual year-end news conference. "If somebody had wanted to poison him, they would have finished him off."
A squad of chemical weapons specialists from Russia's Federal Security Service (FSB) has been tailing Navalny for several years, including on the day of his poisoning, a joint media investigation revealed December 14.
Navalny was poisoned with the same chemical said to have been used in the attempted murder of former Russian double agent Sergei Skripal and his daughter in Salisbury, England, in 2018.
[Kanat Altynbayev contributed to this report from Almaty]