WUHAN, China -- As Wuhan prepares to mark one year since the start of a 76-day lockdown following the COVID-19 coronavirus outbreak, Beijing is eager to shape the narrative on the country's success in wresting the virus under control.
Barriers still enclose Wuhan's notorious seafood market -- one of the few immediate reminders the city was once the epicentre of the coronavirus pandemic that has killed more than two million people and decimated global economies.
On Saturday (January 23), the city where COVID-19 was first detected in late 2019 marks one year since it was locked down to crush the outbreak.
With China's official death toll from the virus under 5,000, Beijing is on a prolonged victory lap to promote its narrative of how it contained COVID-19, engineered vaccines and rebooted its economy.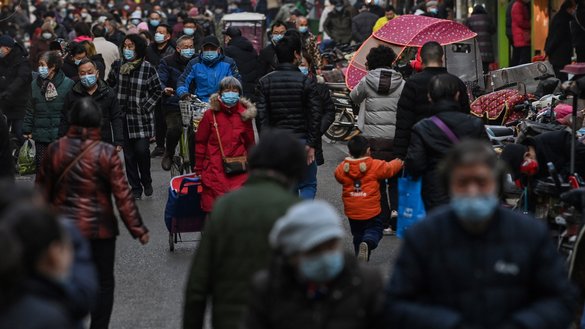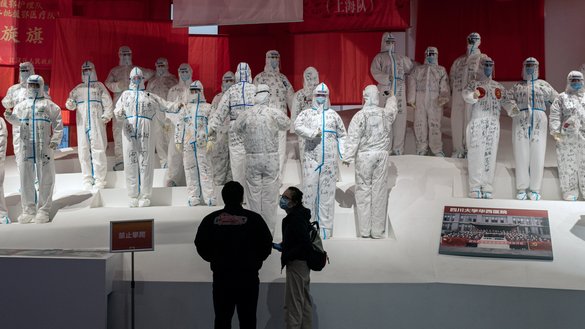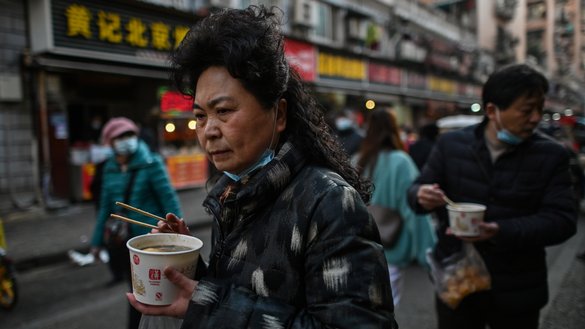 China this week reported 2.3% GDP growth in 2020 -- the slowest in decades but still the only major economy to post positive figures during the pandemic.
As the official data were released, state media trumpeted the "resilience and vitality" of the Chinese economy, but was mum about the details.
To profit off the pandemic, China launched a huge effort to produce PPE to meet shortages. More than 73,000 companies registered as mask makers in the first half of 2020 -- including more than 36,000 new companies in April alone -- as prices and demand soared.
As part of this effort, Chinese authorities forced Muslim minorities in the Xinjiang region to work in PPE factories, The New York Times reported last July. As of June 30, the report said, 51 PPE factories, up from the pre-pandemic four, were operating in Xinjiang.
New lockdowns
But China's 'triumph" over the virus comes amid a new surge in cases and another wave of lockdowns.
Some 1.6 million residents are banned from leaving Beijing starting Wednesday (January 20) after several new COVID-19 cases were reported, including two linked to a new virus variant first discovered in the United Kingdom.
On Thursday (January 21), authorities began evacuating a residential neighbourhood in Shanghai after Chinese officials discovered at least three new coronavirus cases.
Officials did not say how many residents they were moving out of the area, but an AFP reporter on the scene said that buses were on standby and being disinfected before whisking away their passengers to a hotel.
At the same time, construction crews have been working around the clock to erect a large quarantine facility in Shijiazhuang city, where 11 million inhabitants were placed under strict lockdown following hundreds of new infections in recent weeks.
Over 20,000 residents of villages in surrounding Hebei Province have gone into quarantine in centralised facilities, state media reported last week.
Meanwhile, officials placed nearly three million people in Jilin Province on lockdown on Monday (January 18) after they blamed a travelling salesman for more than 100 infections.
The outbreaks have put China on high alert for a potential wave of cases ahead of the upcoming Lunar New Year holiday.
Officials told reporters they expect about 40 million Chinese a day to travel during the national festival.
Efforts to 'prove Wuhan's innocence'
Scenes of relaxation and travel freedoms in Wuhan this week contrast with the rolling lockdowns, surging death rates and overwhelmed health services in many other countries -- the countries that were unprepared for a pandemic because Chinese authorities said nothing about it for six crucial days in January 2020.
Wuhan's wet markets throng with shoppers, elderly dancers rehearse in the parks and bars sell "Wuhan Stay Strong" craft beer.
"People Supremacy, Life Supremacy" reads the sign at a Wuhan exhibition, where China's virus story gets an extravagant retelling.
Visitors absorb a paean to China's triumph over the pandemic and to the agility of its communist leadership in a crisis.
Rooms are bedecked in communist flags and party messages as videos celebrate health workers and the makeshift hospitals erected in record time.
President Xi Jinping presides benevolently over the hall from life-sized photos, unmistakably the marshal of the virus response.
Many in Wuhan stick closely to the official story, especially with a team of specialists from the World Health Organisation (WHO) poised to begin fieldwork to establish the virus's origins.
Stung by international criticism of cover-ups and bungling in the early weeks of the outbreak, China for months blocked the WHO team from visiting.
Beijing is embracing the team's much-delayed trip as a chance to embellish its storyline.
"It's time to prove Wuhan's innocence," said Wang Chen, a 20-year-old resident, echoing official narratives that have sought to lay the blame for the virus on other countries.
Questions over transparency
Outside China, the view on Beijing's virus response is less glowing.
Last October, a study by the Pew Research Centre found that Western views of China soured during the COVID-19 pandemic and that questions over China's lack of transparency remain unanswered.
The Chinese regime has come under rebuke for its irresponsible handling of the COVID-19 outbreak and subsequent disinformation campaigns aimed at deflecting blame and spreading lies.
It suppressed news of the respiratory disease when it first emerged last year, and its initial advice played down risks of transmission.
On Tuesday (January 19), a panel of independent analysts said both the Chinese regime and the WHO could have done more to avert the catastrophe that followed.
"There was potential for early signs to have been acted on more rapidly," the Independent Panel for Pandemic Preparedness and Response said.
Unable to convince its critics in the Western world, China has reached out to poorer allies from Southeast Asia to Africa, promising to share vaccines at a reasonable price.
But China's so-called "vaccine diplomacy" comes at a political and economic price for countries indebted to Beijing.
Moreover, clinical trials of a Sinopharm coronavirus vaccine found it was only 79% effective, the Chinese pharma giant announced December 30, lower than rival jabs developed by Pfizer-BioNTech and Moderna, both of which report efficacy around 95%.
Whitewashing history
Throughout China, the communist leadership has been busy lacquering its version of events for domestic consumption, using themes that visitors to the Wuhan exhibition on COVID-19 would find familiar.
In September, Xi presented medals to pandemic health workers, hailing China's passing of an "extraordinary and historic test" as much of the world remained mired in high infection rates.
Whistleblowers whom officials silenced as the outbreak unfurled in Wuhan have been rebranded as patriots, as the communist leadership lionises a national effort to squash the virus.
On Friday, a state-sponsored documentary, "Days and Nights in Wuhan", is due to hit cinemas, with hundreds of free screenings planned across the country.
The film is directed by Cai Jinling, whose online CV says she worked in the Beijing Public Security Bureau for almost a decade.
A review published on the film's official page on Weibo, the Chinese social media platform, reassures viewers that it skirts over the death and panic of those first chaotic few weeks of the crisis.
"Instead [it] creates the impression of coping ... through the power of love," the review said.