MOSCOW -- As world leaders mull sanctions in response to Russia's jailing of opposition leader Alexei Navalny and the violent crackdown on protesters on Saturday (January 23), the Kremlin continues to stonewall.
Navalny was arrested in Moscow on January 17 after recovering in Germany from a near-fatal poisoning in Siberia last August.
Rather than acknowledge the demands of hundreds of thousands of Russian demonstrators nationwide, the Kremlin lashed out against its own citizens and against the West.
More than 3,700 protesters were detained in more than 120 cities, according to OVD Info, which monitors opposition rallies.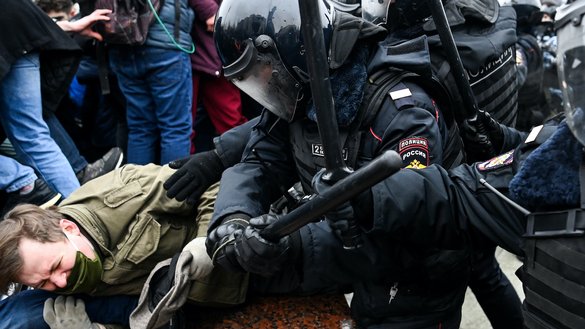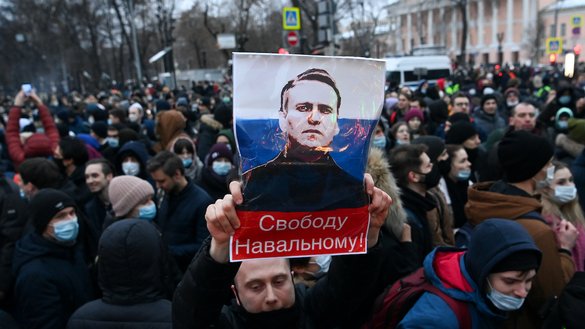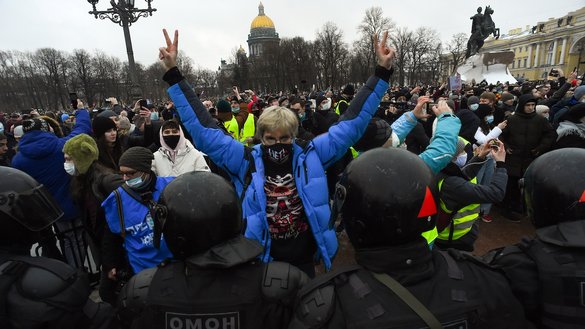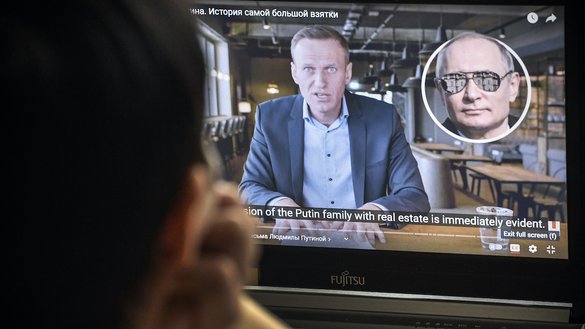 Several injuries were reported in clashes with police in Moscow and St. Petersburg, including at least one woman in critical condition after being kicked by riot police, following Navalny's call to rally against President Vladimir Putin's 20-year rule.
About 20,000 participants protested in Moscow and more than 10,000 in St. Petersburg, according to estimates from AFP journalists, with rallies also taking place in the Czech Republic, Estonia, France, Finland, Lithuania, the Netherlands, Spain and Sweden.
Previous large-scale opposition demonstrations in 2012 and 2019 were largely centralised in Moscow.
As many as 300,000 people joined the "unprecedented" nationwide protests, said Leonid Volkov, director of Navalny's regional network. He called for fresh rallies next weekend.
"I am certainly proud, very impressed and inspired," he told AFP.
Volkov called on Twitter for Russians across the country to take to the streets next Sunday "for Navalny's freedom, for freedom for all, and for justice".
'Criminals protecting criminals'
Many at the protests expressed outrage at the findings of a Navalny investigation into an opulent Black Sea property allegedly owned by Putin and purchased "with the largest bribe ever".
Putin on Monday denied owning the mansion.
In Moscow, protesters marched towards the Kremlin before dispersing and at one point massed on the steps of Moscow's circus, pummelling a police van with snowballs.
Police made arrests in large numbers.
"Criminals dressed in uniforms are protecting criminals at the helm," Vera Spivakova, a 71-year-old pensioner, told AFP in Moscow.
"Putin and the oligarchs are afraid of losing their trough," she said.
"People in Russia protested not just for Navalny; they are tired of living in poverty when Russia is a rich country," said Zebo Tajibayeva, editor-in-chief of the Your.tj news site based in Dushanbe, Tajikistan.
Residents of "the megalopolises like Moscow and St. Petersburg live in relative prosperity, while most of the population lives no better than we do in Tajikistan", she told Caravanserai. St.
"Russia even now has a hardy system of governance that rests on the world-view of the past," said Guljan Yergaliyeva, a journalist and political activist in Almaty, Kazakhstan. "However, today the younger generation is confronting it."
"[The younger generation] knows what the system is missing -- the strong intelligentsia," she told Caravanserai. "The intelligentsia ... is speaking up for Navalny because it is furious at the obscurantism that rules in Russia and at the amorality and immorality of Putin's regime."
"The meaning of this peaceful demonstration is completely simple: to stand up for our understanding of what's normal, having rejected [the Kremlin's] corrupt understanding," Russian writer and satirist Viktor Shenderovich wrote on Facebook.
"The thieves and murderers should go to prison, not someone whom they tried to kill for his attempt to stop lawlessness."
Sanctions on the table
European Union (EU) foreign ministers met on Monday to debate their response to Navalny's arrest and the Russian crackdown, as pressure grows to impose sanctions on the Kremlin.
For the diplomats from the 27 nations assembling in Brussels, the weekend's events in Russia will be one of the thorniest issues.
"I think the EU needs to send a very clear and decisive message that this is not acceptable," Lithuanian Foreign Minister Gabrielius Landsbergis said as he arrived for the meeting.
Polish President Andrzej Duda has called for the EU to step up sanctions against Russia.
"The only way to [avoid conflict] is to force international law to be observed," he told the Financial Times. "The only way to do this without rifles, cannons and bombs is via sanctions. So we are ready to help build consensus on that issue."
EU Minister for Foreign Affairs Josep Borrell labelled the arrests a "disproportionate use of force". Monday's meeting will discuss the EU's "next steps", he wrote on Twitter.
Foreign ministers of Estonia, Latvia and Lithuania on Saturday said they wanted "restrictive measures against Russian officials responsible for arrests".
French Foreign Minister Jean-Yves Le Drian on Sunday said the "collective and preventive" arrests of Russian demonstrators posed an "intolerable" affront to the rule of law.
"I find this slide towards authoritarianism very worrying," he told French media.
"The success of the demonstrations across Russia is impressive," he said, adding that Navalny deserved "a lot of respect".
Navalny, an anti-corruption campaigner, is facing three-and-a-half years in jail for breaching the conditions of an earlier suspended sentence during his recovery in Germany from a poisoning with a Novichok nerve agent.
Navalny blamed Putin for ordering the attack, while world leaders have accused Russian authorities of "involvement and responsibility" in his poisoning.
Brussels has already hit Russia with sanctions for annexing Crimea and fuelling the Ukraine conflict.
In October, the bloc ordered an asset freeze on six senior Russian officials and placed them on a travel blacklist over the "assassination attempt" on Navalny.
The United States condemned "the use of harsh tactics against protesters and journalists" during the protests, US State Department spokesman Ned Price said in a statement Saturday.
"We call on Russian authorities to release all those detained for exercising their universal rights and for the immediate and unconditional release of Aleksey Navalny," he said, using an alternative spelling.
"We urge Russia to ... credibly explain the use of a chemical weapon on its soil," he added, referring to Navalny's poisoning.
[Kanat Altynbayev in Almaty contributed to this report.]