TASHKENT -- Film studios are helping Uzbekistan and other Central Asian countries battle extremist ideology by portraying the unenviable fate of those who join terrorist groups.
Uzbekistan hosted National Cinema Week January 11-17, which included screenings on January 13 and 14 of the film "I'm Not a Terrorist: the Story of My Death".
The film, based on real events, was shot as a gripping military drama by Uzbekkino (Uzbek cinema agency) in co-operation with the Mir Ali Cinema and Iskandariy Visual film studios, as well as with the Uzbek State Security Service (SGB), according to Uzdaily.uz.
The main character becomes disillusioned with extremist ideology and dreams of returning to normal life, but that is no longer a possibility.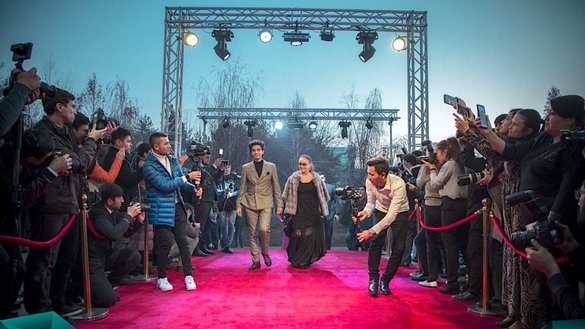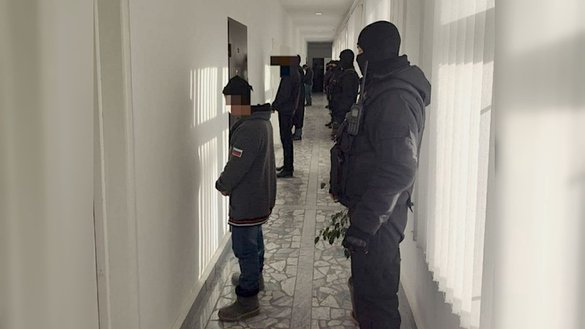 "The main goal of our project is to convey to the audience, especially to the youth, the monstrous essence of terrorism, its criminal acts against humanity," Muhammad Ali Iskandarov, the film's director, said at the screening.
The film is an attempt to "show the greedy and treacherous face of terrorism, as well as the groundlessness of the ideas of terrorism and the irreversibility of punishment for such actions", he said.
Employees of Uzbekistan's SGB, armed forces and police departments attended the January 14 screening and posed for photographs with the film's creators, Uzbekkino said on Telegram.
The January 13 premiere began with a "film about the film", with the creative team describing the cinematic process.
"Filming was supposed to happen in other countries, but because of the pandemic, we built a special studio in our country ... and tried to reflect militants' life in it," said Iskandarov.
Murod Garipov of Tashkent watched the film with his wife, Lola Garipova, during National Cinema Week.
He called it "a very powerful film showing all the horrors of terrorism".
"Young people should know what extremism and war are, and value our peaceful life," he said.
"At home, we told our children about the film," said Garipova. "They still don't understand much, but they already know very well -- you need to love your country, not break the law and not trust those who call for violence."
Hard and soft power
One of the important measures in Uzbekistan's development strategy for 2017-2021 is to bolster efforts to combat extremism and terrorism.
On January 21, the SGB and the Interior Ministry (MVD) detained suspected members of the Jihadists extremist group in Syrdaryo. Two of the group's leaders were radicalised in Russia, where they previously worked, according to the Uzbek MVD.
Last year, Uzbek authorities arrested dozens of accused recruiters for terrorist organisations.
In 2019 and 2020, Uzbek authorities conducted three operations code-named "Virtue" to bring their compatriots belonging to the "Islamic State" (IS) back from Syria.
These operations facilitated the return of 317 women and children to their homeland, while male members of the terrorist group were not repatriated, according to Gazeta.uz.
Other Central Asian countries are also using films and documentaries to expose the treachery of extremism and the horrors of terrorism.
In 2019, Kazakhstan's National Security Committee (KNB) released a series of documentary films that raise issues of terrorist recruiting and security in the region, while providing information for the public to help fight this threat.
Another documentary, "Jusan Isi", tells the story of four Kazakh women who moved with their families to Syria, where their spouses had joined IS.
Last December, Khabar TV aired the new 15-episode Kazakh series "Resistance", which intertwines a love story with security agencies' fight against terrorism.
And in October, Tajikistan showed the documentary "Betrayal", which relates the activities of a terrorist organisation, according to Tajik newspaper Narodnaya Gazeta.
Exposing the 'absurdity' of extremism
"We have learned to make very interesting films that expose extremist proselytisers' tricks and demonstrate the absurdity of their ideology and deception," said Nur-Sultan resident Askar Mukashev. "These films warn our youth and protect them from this calamity."
He suggested showing Kazakh films in other Central Asian countries, and bringing other Central Asian productions to Kazakhstan.
"We have a common history and common problems now, including the threat of terrorism," Mukashev said. "It seems to me that these films should be shown in neighbouring countries."
"You can never do too much preventive work," said Nurbek Mukhametov, a theologian from Turkistan province, Kazakhstan.
"Today's young men and women are not interested in listening to boring lectures, so you need to use the entire arsenal of methods and formats to convey the necessary information, to open their eyes to issues of faith, extremism and a secular state," he said. "We need to help young people to find their bearings and distinguish evil from good."
Mukhametov recalled a young man who had argued with him during lectures, but cried when he saw a film about women in Syria embroiled in IS along with their terrorist husbands.
"Through the film, through this story, his heart opened," Mukhametov said. "And there was no need to say anything. He himself told us how disillusioned he is with the people sowing war in a peaceful land."