ALMATY -- Protests in Russia aroused by opposition leader Alexei Navalny's investigation into official corruption have undermined Russian President Vladimir Putin's influence and authority significantly in the eyes of Central Asians, political observers say.
Navalny, who last week began serving a prison sentence of almost three years, has been waging an unequal struggle against Putin for several years.
Shortly after his return to Russia from Germany, where he had been recovering from a near-fatal Novichok nerve agent poisoning in Siberia last August, Navalny again poked the bear.
Navalny's team on January 19 published an investigation and a two-hour video on YouTube alleging Putin had been gifted a $1.3 billion Black Sea palace paid for "with the largest bribe ever".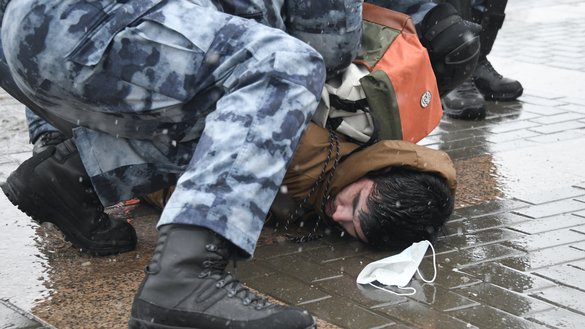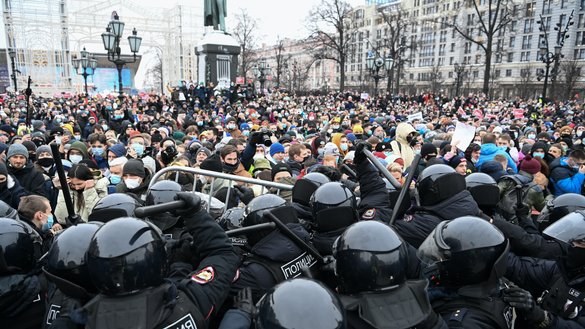 Putin ally and former judo partner Arkady Rotenberg on January 30 said he owns the property, telling Russian news agencies, "There were many creditors. I became the beneficiary [of this site]."
But many Russians, already dispirited by a plummeting economy and outraged by the Kremlin's treatment of Navalny, are not buying the party line.
Central Asians are taking note.
Changing political reality in Russia
"Many years ago, Putin seemed to us to be a strong leader," said Mars Abayev, a Bishkek-based political columnist for the Orbita.kg news site. "He enjoyed respect and authority among his people, and such a wide-scale protest movement was not previously seen in Russia."
However, the recent events in Russia show the opposite, he said.
"The leaders of Kyrgyzstan and its neighbours are seriously rethinking whether they should bet on Putin in the foreseeable future, because he seems to be a political corpse," said Abayev.
Navalny's jailing has brought widespread condemnation from world leaders keeping a close watch on the Kremlin's violent crackdown on tens of thousands of protesters in two weeks of demonstrations across the country.
His sentencing February 2 was described by many observers as a "mockery of the law".
Navlany himself described it as "one man's hatred and fear".
"I mortally offended [Putin] by surviving," he said in a speech from court blocked by state television but viewed by millions on YouTube. "And then I committed an even more serious offense: I didn't hide."
Democracy an 'existential threat' for Russia
"The Russian authorities held quite a farce of a trial for Navalny, which is very reminiscent of Stalinist repressions," said Nadejda Atayeva, president of the Association for Human Rights in Central Asia based in Le Mans, France.
As long as Putin is in charge of Russia, one need not expect real democratic reforms in Central Asia either, she said.
The European Union (EU) should impose new sanctions against the persons and organisations responsible for persecuting Navalny, Atayeva added.
Sanctions might be on the table after Moscow on February 5 expelled diplomats from Poland, Germany and Sweden just hours after EU Minister for Foreign Affairs Josep Borrell met with Russian Foreign Minister Sergei Lavrov to discuss ties.
The declaration of the three foreign diplomats as personae non gratae was a "consequence of the actions of some diplomatic missions in Moscow against the backdrop of illegal riots", Kremlin spokesman Dmitry Peskov told journalists on Monday (February 8), referring to the opposition protests.
Borrell "strongly condemned" the decision and initially said there were no immediate plans for new European sanctions against Russia.
After his return to Brussels, however, he said that Russia was rejecting constructive dialogue with the EU and that Europe must "draw the consequences", including possible new sanctions.
"It seems that Russia is progressively disconnecting itself from Europe and looking at democratic values as an existential threat," he said.
Navalny's prosecution and potential new sanctions against the Russian Federation may produce negative consequences for Central Asian states, said Dosym Satpayev of Almaty, a political scientist and director of the Risk Assessment Group.
Kazakhstan is at risk, for example, because it is tied to Russia by the Eurasian Economic Union, a trade bloc that brings more problems than benefits to the Central Asian republic, he said.
Disillusioned with Putin regime
The ongoing demonstrations in Russia suggest that the new generation of Russians, who form the core of the protest movement, will not put up with the corruption and authoritarian regime to which their parents turned a blind eye.
This shift is fostering greater political consciousness among youth in Central Asia, Satpayev said.
In Russia, as in other countries, the TikTok movement is gaining momentum, drawing in youths who have never taken an interest in politics before, he said.
"Navalny's video about Putin's palace and his corrupt schemes went viral among young people and even young users of social networks, and they learned a lot about the political system in their native country and what is wrong with it," Satpayev said.
Navalny's investigation was a revelation for many Russians, causing them to be disillusioned with the Putin regime, he said.
"It is likely that in the future, new opposition leaders and critics of Putin's government will appear among young Russians," he said.
In recent years, young Kazakhs also are much more actively interested in and engaged in politics, criticising the government's actions and promoting their own ideas about urgent reforms, Satpayev said.
Modern generation of opposition
Navalny represents a new, modern generation of opposition, which is closer to the people and openly voices the thoughts of ordinary citizens, said Sergey Duvanov of Almaty, a journalist and human rights activist with the Kazakh International Bureau for Human Rights and the Rule of Law.
"Navalny does not use complex political terms that are incomprehensible to the public," he said. "In simple, understandable language, he says what people are talking about among themselves. That's why he enjoys wide support in the country."
Young residents of Kyrgyzstan, which has the most robust freedom of speech in Central Asia, are optimistic about the intensifying protests in Russia.
Protests in Russia may become more frequent as youth begin to recognise that politics affects their lives and that they in turn can affect politics, said Nurmat Janybayev, a student at the Jusup Balasagyn Kyrgyz National University in Bishkek and a resident of Kara-Balta, Chui province.
"If we remain silent, the authoritarian government will continue to violate our rights, pilfer the state and persecute those who are not afraid to talk about it," he said.
"More than the older generation, young people are striving to enact reforms," he said. "It is we who will influence changes in the country in the future."