BEIJING -- Chinese authorities refused to give World Health Organisation (WHO) investigators raw data on early COVID-19 cases, frustrating the international team of experts probing the pandemic's origins.
Beijing's lack of transparency is not surprising after months of denials, lies, foot-dragging and obfuscation about the origins of the coronavirus.
The Chinese regime's re-writing of history, and subsequent whitewashing of the role its lies played in spreading the deadly disease, occurs first and foremost in Wuhan -- ground zero of the pandemic.
The WHO team last week wrapped up a month-long mission to Wuhan with no conclusive findings.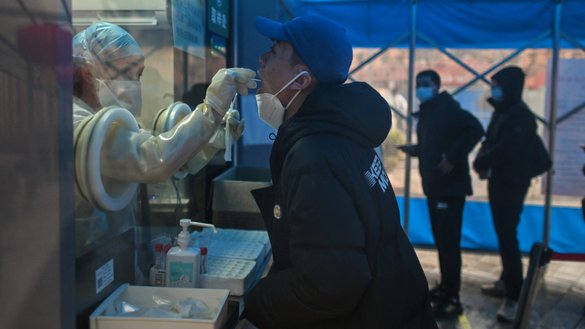 "We want more data. We have asked for more data," Peter Ben Embarek, who headed WHO's expert mission to Wuhan, told AFP.
"There is a mix of frustration but also a mix of realistic expectations in terms of what is feasible under which time frame," he said.
The team would have liked access to raw data about earlier cases of illnesses, including pneumonia, flu and fever, that could conceivably have been COVID, Ben Embarek said.
Prior to the mission, Chinese scientists had scanned their systems and identified 72,000 such cases between October and December.
They had applied sets of criteria to determine if the cases could possibly be COVID, whittling down the list to just 92 cases they deemed worth examining.
But the team had asked in vain for the specific criteria used, said Ben Embarek.
"We are trying to understand that process of getting from 72,000 down to 92," he said, saying access to the raw data requested would make it possible to apply "less stringent criteria so we have a larger number to work with".
About a third of those patients either died or refused to participate in the study, while Chinese authorities performed antibody serology tests on 67 in recent months. They all came back negative for COVID-19.
Several of the WHO specialists questioned the reliability of the tests so long after a potential infection. Antibodies could have subsided to undetectable levels during the delay, they said.
Diplomatic tightrope
The team members have had to walk a diplomatic tightrope.
The United States, United Kingdom and others have been fiercely critical of delays in sending the WHO team to Wuhan, with the mission taking place more than a year after the first cases surfaced.
On Saturday (February 13), US national security adviser Jake Sullivan voiced "deep concerns" over the Chinese regime's investigation into COVID-19 and urged it to "make available its data from the earliest days of the outbreak".
WHO investigators have tried to tamp down expectations of their fact finding mission, saying the initial probe was just that -- a start.
But a year of waiting and finally four weeks in China on what some viewed as a tightly controlled public relations tour has only raised more questions and further stoked tensions between China and the rest of the world.
Rather than assist in finding the truth, Chinese authorities have instead focused on deflecting blame and calling attention to the "heroic" Chinese response and economic recovery.
Beijing has repeatedly floated theories that the virus was brought to China through packaging on products such as frozen seafood -- which the WHO did not rule out -- or suggesting without proof that the virus originated in Italy or the United States.
The disease originated in bats and could have been transmitted to humans via another mammal, say specialists.
At a news conference in Geneva alongside Ben Embarek on February 12, WHO director-general Tedros Adhanom Ghebreyesus praised the team for conducting a "very important scientific exercise in very difficult circumstances".
"Some questions have been raised as to whether some hypotheses have been discarded," he said, adding, "All hypotheses remain open."
"Some of that work may lie outside the remit and scope of this mission," Tedros said. "We have always said that this mission would not find all the answers, but it has added important information that takes us closer to understanding the origins of the virus."
'Don't trust anyone'
But Chinese authorities are hampering the investigation by refusing WHO requests to provide data on 174 cases of COVID-19 that the Chinese identified from the early phase of the outbreak in Wuhan, The Wall Street Journal reported February 12.
Chinese officials and scientists provided extensive summaries and analysis of data on the cases and supplied aggregated data and analysis on retrospective searches through medical records in the months before the Wuhan outbreak was identified.
The WHO team, however, was not allowed to view the raw underlying data, which would allow it to conduct its own independent analysis, team members said.
"They showed us a couple of examples, but that's not the same as doing all of them, which is standard epidemiological investigation," said Dominic Dwyer, an Australian microbiologist on the WHO team.
Providing such data -- anonymised but disaggregated -- is standard practise as part of WHO investigations, team members said.
Some WHO investigators described heated exchanges over the lack of detail.
"Sometimes emotions have run really high," Thea Fischer, a Danish epidemiologist among the WHO investigators, said on February 9. "I am a scientist, and I trust data. I trust documented evidence based on data; I don't just trust what anyone tells me."
"The virus has definitely circulated in the population before the first clinically serious cases became known," she said.
"There's a lot of pressure on the hypothesis that it began here in Wuhan, with sporadic cases that have been documented around the world, but so far, I think the scientific evidence I have seen from other places around the world doesn't yet compare in any way," Fischer said.