BISHKEK -- Russia's move towards simplifying entry requirements for migrant workers is a self-serving step to shore up industries experiencing major labour shortages, rights activists say, adding that no one believes Moscow's renewed pledge to address long-standing rights abuse issues.
Russian authorities on February 10 said they would simplify entry procedures for migrant workers to support industries experiencing pandemic-induced labour shortages, such as construction and agriculture, the Moscow Times reported.
Kyrgyz rights activists who spoke to Caravanserai said the move is purely designed to support Russia amid an acute labour shortage, and pointed to its past history of mistreating migrant workers.
Last year, as the global coronavirus pandemic gained force, Russian authorities left migrant workers to fend for themselves, closing international transport links as part of strict quarantine measures that forced many to leave their jobs.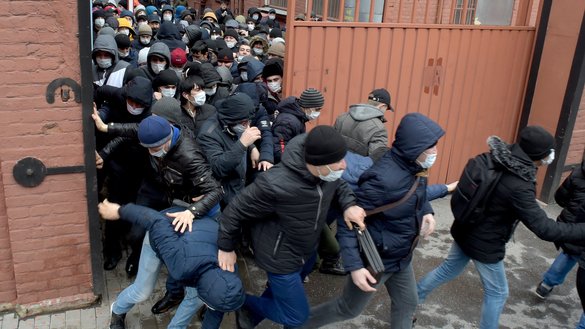 Almost half of the migrant workers present in Russia before the pandemic left the country last year, according to the Russian government.
It is likely that many faced threats of deportation or other punishment by law enforcement, activists said, noting that fewer than one in six of those who remain in the country have official authorisation to live there.
Of the 6.3 million migrants who were still residing in Russia in December, only about a million have a residence visa or a residence permit, according to the Russian Interior Ministry (MVD).
Many migrant workers were stranded in Russia for days or even weeks last year, unable to return to their home countries after the government suspended all international flights arriving in or departing from Russia in late March.
Flights eventually resumed, but haphazardly.
Russian airlines also refused to reimburse passengers for their suddenly worthless tickets, leaving migrants from Central Asia quite literally out on the street -- without work or any source of income.
Those who were able to leave the country were later blocked from returning to Russia to work because of tightened restrictions on entry.
Russian "hospitality" towards these same migrant workers returned only when various industries stagnated, with nobody left to do the work, activists said.
Acute labour shortage
The labour shortage is especially acute in Moscow and the Moscow Region, where Moscow's city administration and the MVD have begun to recruit migrants from Tajikistan and Uzbekistan to work on construction sites.
The authorities now promise to expedite the required paperwork for the long-suffering migrants, assuring them they will receive treatment, should they become infected with COVID-19, and three meals a day.
But human rights activists in Central Asian countries, and the migrant workers themselves, have no illusions about improved working conditions in Russia.
Russia treats migrant workers from Uzbekistan and Tajikistan more harshly than it treats those from Kazakhstan and Kyrgyzstan, which are members of the Russian-dominated Eurasian Economic Union, said Kyrgyz native Ulan Omorov.
Workers from Uzbekistan and Tajikistan who arrived in Russia via Belarus endure persecution by law enforcement, said Omorov, who hails from Tokmok but now works in a supermarket in Moscow.
"Local policemen catch Uzbeks and Tajiks, put them in pre-trial detention centres, extort their money and release them after they pay bribes," he said.
Some of his Uzbek migrant worker acquaintances have left Russia to go to Ukraine for work, he said, where "the wages are slightly lower but where corruption does not exist on such a horrific scale".
"It is odd that law enforcement continues to persecute migrants in Russia, even though it does not have enough workers," he said.
Tashkent resident Norbek Akhmedov, who works at a local porcelain factory, returned home from Novosibirsk, Russia, in November 2019, after several months of unsuccessful attempts to find construction work.
"Now they [Russian construction companies] need us again, though through their disrespect towards us, they have always let us feel the opposite," Akhmedov said. "I will not return to Russia as long as I have a job here."
Self-serving policy
The National Policy Strategy of the Russian Federation, through 2025, which President Vladimir Putin updated in December 2018, purely serves Russian interests, said Oynikhol Bobonazarova, director of the Tajik NGO Perspektiva+.
"As for labour migration, Russia is more interested in highly skilled workers, not in ordinary workers from Central Asia," said Bobonazarova, a resident of Dushanbe.
Tajik migrants in Russia regularly face bureaucratic difficulties when registering at their place of residence, as well as unfavorable working conditions, she said.
Bobonazarova's Kyrgyz colleague, Aziza Abdrasulova, who heads the human rights NGO Kylym Shamy (Eternal Candle) in Bishkek, offered a similar assessment of the situation.
Russia, having ruined its relationships with many countries in recent years, is trying to increase its influence in Central Asia, she said.
"The Russian economy itself, which has been shaken by the pandemic, needs foreign workers," she said. "Russia will be the main beneficiary of its own initiative."
Despite its ongoing need for migrant workers, however, it is unlikely that Russia will stop its widespread violation of these workers' rights, she added.