MOSCOW -- Russian President Vladimir Putin's recent "closed door" meeting with journalists shows that the growing number of dissatisfied voters has spooked the Kremlin into re-booting its propaganda machine, analysts say.
Facing parliamentary elections in September, Putin is nervous about opposition protests that have rocked Russia since January, so he wants to maintain a firm grip on the news that pro-Kremlin journalists are reporting, they say.
Putin's closed video conference with leaders of media outlets, most under Kremlin control, took place February 10.
Putin's press office called it an ordinary annual meeting. But last year, the conference did not take place, while this year it coincided with mass protests.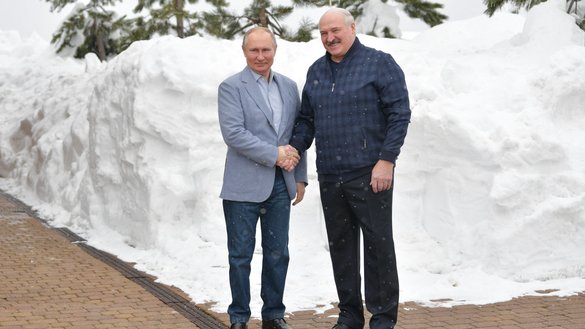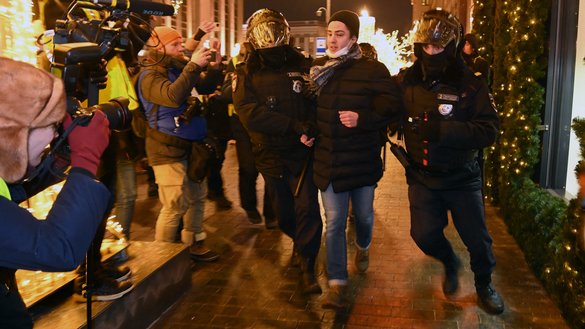 "This is a non-public meeting," Putin spokesman Dmitry Peskov explained.
Despite Peskov's description of the event, various sources leaked excerpts within an hour and a half, according to the BBC's Russian service.
On the Kremlin's agenda
Looking at the questions posed by the participating journalists, analysts discerned four main messages on the Kremlin agenda: anti-Western propaganda, Ukraine, re-integration of Belarus with Russia, and censorship and curbing of foreign internet giants in Russia.
Attendees included Alexei Venediktov, editor-in-chief of the opposition radio station Ekho Moskvy.
Since February 11, he has been blogging on his station's website and posting on Telegram about the discussion -- with Putin's permission, he said.
Venediktov shared Putin's answer to queries about the near-fatal poisoning of opposition leader Alexei Navalny last August in Siberia.
Navalny recovered in Germany and was arrested in January upon his return to Russia. He is serving an almost three-year-long prison sentence on dubious charges.
His arrest set off the continuing demonstrations across Russia that seem to have unnerved Putin.
Venediktov posted his recollection of Putin's answers, calling them "close to the text".
Even though the German government determined that Navalny had been poisoned by Novichok, a toxin that only the Russian government can access, Putin balked at the accusations.
Russian doctors found no traces of toxic substances when they examined Navalny, said Putin, characteristically not mentioning his top adversary by name.
French President Emmanuel Macron refused to share French laboratory evidence agreeing with the German findings, Putin added, a remark likely meant to divide Western leaders and undermine the widely accepted international investigations.
Kommersant correspondent Andrei Kolesnikov provided a similar recollection of Putin's comments on Macron.
Putin "believes that this story can be used and that he ... can be personally quoted", Kolesnikov wrote.
Kremlin propaganda losing sway
Russian officials have repeatedly accused the West of being behind the Navalny affair.
The most frequent accuser is Russian Foreign Minister Sergey Lavrov, who said in February that the West "staged" the poisoning.
Russian officials also accuse the West of organising the opposition protests that followed Navalny's arrest.
In response to criticism over the Kremlin's violent crackdown on protesters, Lavrov said European leaders are "advancing an anti-Russian political agenda" that is not grounded in fact.
"The problems that arose for Russian authorities in connection with Alexei Navalny's return ... cannot be solved merely by propaganda," said Alexander Ryklin of Moscow, editor of the opposition website Daily Journal.
News consumers who watch more than just Russian TV channels One and Two, but who consult the internet as well, already understand everything, he said.
"We see the audience that Navalny's film about the palace in Gelendzhik drew," said Ryklin, referring to an investigative documentary in which Navalny claims Putin was the beneficiary of a $1.35 billion property paid for "with the largest bribe ever".
The video on YouTube has received hundreds of millions of views since its release January 19.
The participation of tens of thousands of Russians in protests across the country shows that "there are fewer and fewer people who believe in [the Kremlin's] propaganda", Ryklin said.
Putin needs 'a new story line'
During the February 10 meeting, pro-Kremlin journalists also asked about other topics Putin has regularly exploited to keep up his popularity.
Margarita Simonyan, editor-in-chief of the Kremlin-controlled Russia Today (RT) TV channel, brought up the issue of Ukraine, specifically Donbas, where Ukrainian troops have been fighting Russian-backed separatists and Russian paramilitaries since 2014.
"We will not abandon Donbas," Putin apparently promised.
Igor Chernyak, editor-in-chief of the Kremlin-owned newspaper Arguments and Facts, raised the question of reincorporating Belarus into Russia.
That idea is not under discussion now, said Putin, according to the BBC.
But Ryklin cautioned against taking Putin's answers at face value.
"I am afraid that in a losing, difficult situation for itself, the Russian government may resort to a different method," he said. "It could be some kind of new power play in Donbas or subsequent story involving the integration of Belarus."
The Kremlin "needs a new story line the way it needs air", Ryklin said.
Restricting foreign internet giants
Another topic that came up is whether Russia should create an internet more to its own liking, following the example of the Chinese regime.
Foreign websites encroach on the interests of Russian media outlets and users and a fitting response would be ideal, said Vladimir Todorov, editor-in-chief of the Kremlin-controlled site Lenta.ru.
"I have no desire to screw together and tighten something artificially there. But ... I do not rule it out," Putin responded. "Hostile actions against our country are unacceptable."
Sber, Sberbank's mobile banking app, and Yandex, a Russian search engine, are working well, said Putin.
Their evolution highlights Russian concerns over the power wielded by the likes of MasterCard, Visa and Google.
US sanctions in response to the illegal Russian annexation of Crimea in 2014 included a halt to credit card processing for Bank Rossiya and to bank card servicing in Crimea.
Another drawback to the Western-built internet in the Kremlin's eyes is that it has no ability to censor Google's search results.
The Kremlin is unlikely to target the entire internet soon for whatever punishment it deems necessary, said Ryklin.
However, he said, "restrictions on the operation of some platforms, especially social networks, such as Facebook, Twitter and YouTube, are possible".
Putin 'tightening the screws' to keep control
Russia's creation of a parallel "sovereign internet" would enable it to shut down the Western-built internet "in the event of an emergency", Kolesnikov wrote in his article, quoting Putin.
The phrase "sovereign internet" smacks of the Putin catchphrase "sovereign democracy".
"Sovereign democracy, as conceived by Vladislav Surkov [Putin's long-time adviser] in his day, was supposed to become the Russian model of democracy," said Giorgi Rukhadze, founder of the Georgian Strategic Analysis Centre. "But under Vladimir Putin's rule, it has become the Russian model of dictatorship."
The wave of protests this year is frightening Putin, so he wants to control the news environment and Russians' access to the internet, Rukhadze said.
"We see that the temperature of the protests is rising," he said. "For the regime, this is a kind of signal that action is necessary. That's why Putin is trying to 'tighten the screws' all the way in the media, giving first-person instructions in order not to lose control of the situation."
"These meetings [with journalists and other public figures] are primarily necessary for the authorities to instil confidence that everything is seemingly in order," said Ryklin. "This is a more or less established format. If you suddenly abandon it, questions will immediately arise."