ALMATY -- Residents of Central Asia are saying that the standoff between Russian President Vladimir Putin and opposition leader Aleksei Navalny has shown them a different Putin: not a strong, charismatic politician but an insecure coward.
They said they have been particularly surprised at the steps the Kremlin has taken to demonstrate Putin's "popular support".
Pro-Putin flash mobs and demonstrations that occurred in Russia and spread across social networks in early February were apparently the work of government officials, a point confirmed by numerous "participants" who expressed outrage at being deceived about the reasons for the gatherings.
Staged rallies cause outcry
On February 9, the BBC reported on a "Putin Is Our President" flash mob that formed in more than 10 Russian cities and drew local university students and employees of state-funded organisations and different businesses.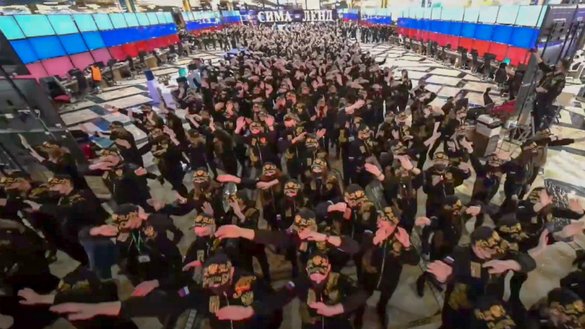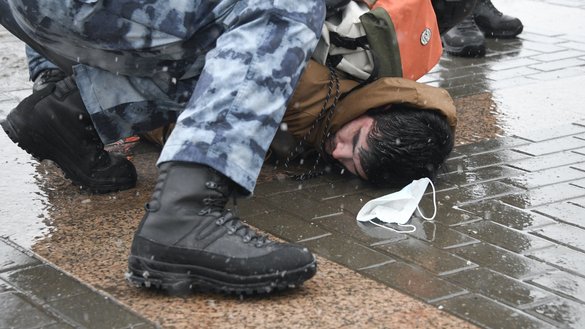 "In these cookie-cutter videos, a few dozen to hundreds of people are waving Russian flags as patriotic music plays in the background, or they're chanting slogans in support of [the president]," the BBC wrote, describing the flash mob.
The videos aired on social networks in early February, following mass protests denouncing the arrest of Navalny, the opposition leader, who conducted a hard-hitting investigation of pervasive corruption in Putin's government.
The sources of the "pro-Putin" videos were the web pages of members of parliament from the governing United Russia party.
Navalny was arrested on January 17 after arriving from Berlin and is now serving a 32-month prison sentence despite the international community's calls for his release.
Since his detention, pro-Navalny demonstrations have taken place throughout Russia, with thousands of arrests ensuing.
After seeing videos of themselves in flash mobs, students, teachers, physicians and other civil servants said the organisers had recruited them under other pretexts, such as combating COVID-19 or commemorating Defender of the Fatherland Day (celebrated across Russia on February 23), said the BBC report.
Some participants said they had no idea why they were asked to assemble.
While the Russian police forcibly suppressed pro-Navalny demonstrations, saying they violated public order, they did not block the flash mob participants. Government and Kremlin-controlled media outlets vigorously covered the pro-Putin rallies.
But after an outcry erupted over the staged pro-Putin events in several cities, members of parliament began removing the videos from their web pages.
'A different Putin'
Observers and average Central Asian citizens are surprised at the political steps the Kremlin has taken to demonstrate Putin's "popular support".
No matter what, the Russian authorities will not be able to conceal the reality on the ground, they say.
Events unfolding in Russia suggest that Putin is not concerned about damage to his reputation abroad, said Vadim Boreiko of Almaty, a political analyst and writer.
"This lawlessness [by authorities] in Russia shows that the Kremlin's policies right now have nothing in common with the law, human rights or even basic humanity," Boreiko said.
The latest political events in Russia have unmasked the regime, revealing its true essence, said Dimash Aljanov of Almaty, a political analyst and activist in the Oyan, Qazaqstan (Wake up, Kazakhstan) youth movement.
"The confrontation between the Kremlin and Navalny has uncovered Putin's psychological complex and destroyed his image as a strong politician. Russians saw a different Putin, one who is experiencing raw fear," he said. "His political future is now uncertain."
Aljanov expressed hope that the new protest movement in Russia will build momentum and topple the country's authoritarian regime in the foreseeable future.
Progressive civil society in Central Asia must support impending changes in Russia, he said.
Putin 'lost the people's trust'
Russian authorities are afraid of their own people, so citizens need to protest on the streets in order to prevail, said Bektour Iskender of Bishkek, co-founder of the Kloop.kg news site.
He called Russia's ruling regime lawless. It is why prospects for democratic reform in Kyrgyzstan remain murky, he said.
"The criminals in charge of Russia are constantly influencing the political processes in my country: they're fostering an authoritarian model of governance," Iskender said.
Putin's government is trying to exert the same sort of destructive influence on other former Soviet republics, he said.
The Kremlin is taking Russian citizens for fools if it is staging events to simulate support for Putin, said Abdurakhmon Khasanov, a Dushanbe resident who works at Avitsena, a construction company.
"People must be free to express support on their own -- you shouldn't incite them, let alone use dirty tricks to mislead them," Khasanov said. "If Putin's regime has to do that, it means he's lost the people's trust and it's unlikely he'll be able to hold on to power for long."