ALMATY -- Moscow's attempt to foist a nuclear power plant on Kazakhstan has met with popular resistance in the Central Asian country, where the memory of environmental damage resulting from previous Russian ventures is still fresh.
Kazakh President Kassym Jomart-Tokayev rejected the idea for the plant -- to be situated near Ulken, Almaty province -- in October. Yet Russian ambitions persist.
Russia is interested in building a nuclear power plant in Kazakhstan, Russian ambassador to Kazakhstan Alexey Borodavkin said in a February 10 interview with pro-Kremlin Kazakh newspaper Komsomolskaya Pravda v Kazakhstane.
Kazakhstan "needs clean energy" and "an efficient energy solution is nuclear power plants", he said, pointing to a potential future power shortage.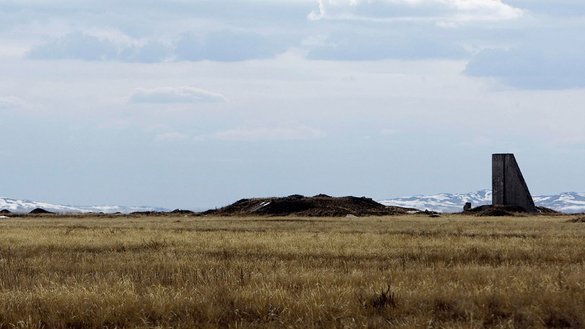 Russian state-owned nuclear power producer Rosatom "is willing to undertake this project, and it has guaranteed that the plant will be safe and environmentally friendly", he added, stressing that there are "no risks".
The media outlets opposing the construction of a Russian plant in Kazakhstan are "biased", he said, describing their criticism as a phobia "with no basis in reality".
The Russian regime first floated this initiative in April 2019, when President Vladimir Putin conferred with Kazakh President Kassym-Jomart Tokayev on energy matters, later saying Moscow had offered to build a nuclear power plant.
Proposal draws sharp criticism
The Russian proposal drew sharp criticism at the time in Kazakhstan, with the public voicing concern about the environmental safety of the undertaking.
The power plant could endanger the environment, public health and even put lives at risk, activists said, pointing to the Baikonur cosmodrome that the Russian space programme rents in Kyzylorda province.
The soil and water around Baikonur are contaminated with heptyl, a highly poisonous component of rocket fuel, which spreads into the water when Russian rocket parts fall to earth, local residents have complained.
Russian claims of safe and reliable technology have little credibility among Kazakhs, who remember the 1986 accident at the Chernobyl, Ukraine, nuclear power plant and the effects of the nuclear tests at the Semipalatinsk (now Semey) test site on Kazakh public health.
From 1949 to 1989, the Soviet Union conducted 456 nuclear explosions at Semipalatinsk, with little regard for public health or the environment.
Cancer and birth defects were widespread in the region, said Nazira Ormonbayeva, who moved from Semey to Almaty 16 years ago.
Her grandfather died of cancer when she was a small child.
"The authorities always tried to keep the problem under wraps, and they hid how many local residents were victims of the nuclear test site," she said.
"The Soviet Union created a powerful weapon that it prioritised over public health. Moscow pursued only its own interests."
Russia seeks 'geopolitical assets'
Russia needs this power plant more than anyone else, said Ormanbayeva -- expressing a view that international analysts share.
The Russian regime has political motives for building nuclear power plants, according to Margarita Kalinina-Pohl, senior programme manager at the US-based James Martin Centre for Nonproliferation Studies.
This is especially the case in Central Asian countries such as Uzbekistan and Kazakhstan, she said in a June interview with the Central Asian Analytical Network.
"After Russia annexed Crimea in 2014, the West isolated Russia politically," Kalinina-Pohl said. "In response, it stepped up efforts to revive its interests in its historical sphere of influence, specifically, Central Asia."
Nuclear power plants can be "geopolitical assets", since the relationship between the supplier and buyer lasts between 30 and 40 years, on average, she noted, and as such, can help strengthen their countries' relations.
"Nuclear co-operation is one of Russia's tools to further buttress its position in this Central Asian country and expand its influence in the region," she said.
Backlash to plant
Moscow's "nuclear" strategy has a powerful counterweight in Kazakhstan, however: local civil society. On social media, Kazakhs are speaking out against the plant and calling for the government to focus on renewable energy sources.
"There should never, ever be a nuclear power plant in Kazakhstan. NEVER. I don't know what we Kazakhs need to do to accomplish that, but we need to do it," film director Zhanna Issabayeva said in a June 2019 Facebook post.
The Almaty native was reacting to the TV series "Chernobyl", which was based on actual events.
Under the drumbeat of protest, Tokayev in October refused to authorise construction of the Russian plant -- a decision that many officials said they support.
Aidos Sarym, a deputy in the Mazhilis, the lower house of parliament, said he is skeptical about the construction of a Russian nuclear plant in Kazakhstan.
"Our country shouldn't get mixed up in such a scheme. We don't need it, based on our objective economic situation," he said.
Sarym pointed to the environmental impact of the Russian space programme's leasing of Baikonur, which has afflicted residents of the neighbouring districts and territories, where pieces of Russian rockets have fallen.
He accused Russia of ignoring Kazakhstan's environmental requirements.
Although Nur-Sultan rebuffed Moscow's initiative to build the nuclear power plant last year, Russian state-controlled news media with Central Asian audiences never stopped promoting the venture.
The ramped-up propaganda offensive is only providing fodder for arguments about who truly needs the power plant.