BEIJING -- In a glitzy ceremony in Beijing last week, Chinese President Xi Jinping declared his country had achieved the "miracle" of eliminating extreme poverty.
"No other country can lift hundreds of millions of people out of poverty in such a short time," Xi said February 25. "A human miracle has been created that will go down in history."
While acknowledging China has made progress over the past 50 years, analysts question the barometer by which Beijing is measuring its success.
Critics say it smacks of the authoritarian regime's typical self-aggrandising propaganda and is part of Beijing's campaign to undermine Western democracies.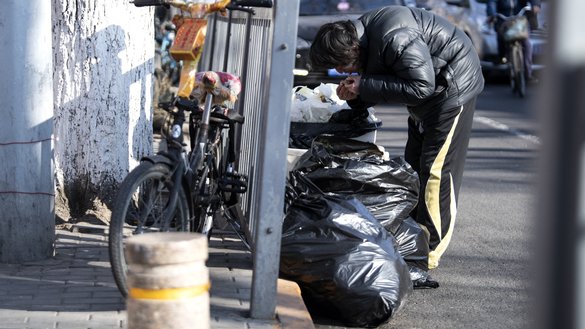 Playing with the numbers
In 2015, Xi vowed to eradicate extreme poverty by 2020, a pillar of the Communist Party's goal to build a "moderately prosperous society" by the 100th anniversary of its founding later this year.
China last year claimed it had achieved its long-trumpeted goal of lifting all of its inhabitants above a poverty line of $2.30 in daily income.
However, Beijing's official statistics are often approached with scepticism, and economists say poverty figures do not tell the whole story and that rising incomes have made China's poverty line outdated.
Ahead of the 2020 deadline, party cadres sprang into action: identifying poor households, distributing funds and building infrastructure in order to get the numbers to where the Communist Party wanted them.
This drive cost at least $1 trillion in loans, a burden falling increasingly to underfunded local governments.
Another consequence of the campaign has been hundreds of thousands of corruption cases linked to poverty work, said University of Western Ontario economist Terry Sicular.
Many of these cases involve local officials who falsely classified friends and family as poor to receive funding.
China's official poverty line also is low when compared to average household income in the country, Sicular added.
"The current low, uni-dimensional, rural poverty line no longer reflects what it means to be poor in China's rapidly evolving society," she said.
The World Bank recommends the higher benchmark of $5.50 a day to gauge poverty in upper-middle income economies.
If Beijing were to use these recommended numbers, about 13% of China's population still lives in poverty, estimates World Bank country director Martin Raiser.
As the poverty line rises, many city dwellers will fall below it too, he cautioned.
Communist Party's billionaires
In contrast, more than 200 Chinese became billionaires last year, according to a global tally released Tuesday (March 3).
The Hurun Global Rich List showed 259 Chinese breaking into the billion-dollar bracket -- more than the rest of the world combined -- taking China to 1,058 and making it the first country to break the 1,000 mark.
Such growth at the higher end of incomes does nothing for the Chinese still living in poverty.
China was one of the few economies to grow in 2020, despite the global economic ravages of the COVID-19 coronavirus pandemic.
Rather than assist in finding the truth about the COVID-19 outbreak -- or admit any role in the pandemic's spread -- Chinese authorities have instead focused on deflecting blame and calling attention to the "heroic" Chinese response and economic recovery.
Xi has used this narrative in an attempt to undermine Western democracies and promote the Chinese authoritarian model.
In his remarks last week, Xi pointed out that China is now "providing help to developing countries" still struggling with poverty.
But Beijing's aid often comes with strings attached, such as contracts for resource development and trade agreements favourable to China, observers say.
China's trillion-dollar Belt and Road Initiative (BRI) is a global infrastructure development strategy adopted by the Chinese regime in 2013 to invest in almost 70 countries and international organisations.
A closer look at the BRI reveals Beijing's exploitation of resources and military ambitions from the South China Sea to the Gwadar port development project in Pakistan and to other locations in Iran, Central Asia and Africa.
'Likely to return to poverty'
Some Chinese still reliant on aid have "insufficient" means to grow wealthier, Chinese poverty alleviation official Ou Qingping warned in December.
"Once alleviation policies are suspended, they are likely to return to poverty," he said.
Setbacks like illness and unemployment -- or pandemics -- can dunk households straight back into hardship.
"The elimination of poverty at a point in time does not eliminate poverty," Sicular, the Canadian economist, said.