MOSCOW -- Several thousand Russians and Western diplomats last Saturday (February 27) paid tribute to opposition politician Boris Nemtsov on a Moscow bridge where he was fatally shot six years ago, as the United States said it was "deeply troubled" by the Kremlin's growing intolerance of free speech.
"Old and young alike came with children to honour the slain 'moral compass'," Ilya Yashin, Nemtsov's closest friend and associate, said on radio programme "Grani Nedeli" on the opposition radio station Ekho Moskvy in Moscow Saturday. The programme was dedicated to Nemtsov.
"I don't know of any other politician, not just in Russia but in any country, for whom people would bring flowers for so long, every day, to the place where he was killed," he said.
'The regime crossed a red line'
Nemtsov was murdered February 27, 2015, on the Bolshoy Kamenny bridge in the shadow of the Kremlin. A shooting in such a public location, with plenty of security guards and cameras around, clearly was meant to terrify the public.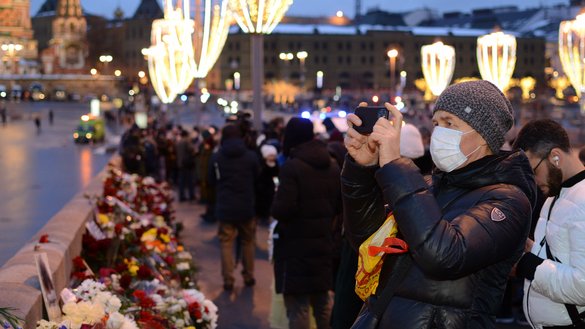 Four bullets struck and killed Nemtsov on the spot.
The Russian Investigative Committee eventually charged five men from the Caucasus with murder: Zaur Dadayev, Khamzat Bakhayev, Anzor and Shadid Gubashev and Temirlan Eserkhanov.
At first the defendants said they had acted out of religious enmity, but ultimately both the investigation and the court concluded that the defendants had killed Nemtsov in return for 15 million RUB ($200,000).
In July 2017, the jurors found the men guilty. However, Nemtsov's friends and other observers consider the investigation incomplete at best.
Two men who might have organised the murder (Ruslan Mukhudinov and Ruslan Geremeev) remain at large six years later. But the orders to kill Nemtsov came from much higher-ranking figures than those two fugitives, say some observers.
The Russian government willfully refused to investigate the case as a political assassination, said Vladimir Kara-Murza, a Russian democracy activist, politician, author and filmmaker, who was a longtime colleague and friend of Nemtsov and chairs the Boris Nemtsov Foundation for Freedom.
Kara-Murza himself has survived two suspicious poisonings.
Nemtsov's associates turned to international organisations to which Russia belongs, the Council of Europe and the Organisation of Security and Co-operation in Europe (OSCE), asking them to implement international oversight procedures.
In February 2020 the OSCE published a report, which Kara-Murza said "contains very precise eyewitness testimony about where, when and under what circumstances Vladimir Putin ordered Ramzan Kadyrov to carry out this murder".
Kadyrov, the strongman ruler of Chechnya, is a long-time associate of Putin.
"It was in early February 2012 that I learnt about reprisals being prepared against the leaders of the Russian opposition," exiled Chechen politician Akhmed Zakayev said, according to the OSCE report. "I got reports directly from Chechnya that the senior officials of Russia had worked out a plan to remove the leaders of the Russian opposition. In particular, they were planning to kill Mr. Boris Nemtsov and Mr. Garry Kasparov."
"The regime crossed a red line on that cursed night," Kara-Murza told Caravanserai. "If you can shoot an opposition leader 200 metres from the Kremlin wall without holding anyone accountable except for the most minor actors, then what can you say about principles, repression or human rights?"
"It's been six years since the highest-profile political assassination in modern Russian history and the organisers and instigators are under the Russian state's full protection."
Why did they hate him so much?
"He was one of the most important figures from the very beginning of the establishment of the Putin dictatorship; that's why they hated him so much," Vladimir Milov, a politician and close friend of Nemtsov's, said on Ekho Moskvy radio. "I'm sure they began hatching plans to kill him and get rid of him long ago. He was someone who never accepted the return of the era of dictatorship in our country."
"Of course this was a major thorn in Putin's side," he said.
Nemtsov's ideology was the exact opposite of Putin's, said Milov.
In 2010, Milov and Nemtsov issued a report, "Putin: What 10 Years of Putin Have Brought". The document, which draws on concrete facts, sharply criticises Putin's actions. Nemtsov personally handed out copies at subway stations.
His friends recall him as "an incorrigible optimist".
Nemtsov supported the Global Magnitsky Act, under which the United States identifies and sanctions corrupt officials and human rights offenders in Russia (and around the world), Kara-Murza said on "Grani Nedeli".
"[US] Senator [John] McCain, one of the authors of the Magnitsky Act, said that it wouldn't have existed without Boris Nemtsov," Kara-Murza remembered.
Beginning of a new, more aggressive policy
"The murder of Boris Nemtsov was like a door closing. The Kremlin just slammed the door and said there was no going back," Petras Auštrevičius, a Lithuanian politician and member of the European Parliament, told Caravanserai.
"Nemtsov's murder was no impulsive act, and it showed that the system had made up its mind and did not see a way back," he said.
"Since 2014–2015, everything has been getting worse. In your face, you have aggression against states bordering Russia and Wagner Group units around the world," Auštrevičius said, referring to the mercenary force that fights proxy wars around the world on behalf of the Kremlin. "[The persecution of Russian opposition leader Alexei] Navalny is part of that chain."
"Putin has no intention of changing anything," he said.
"He's building his palaces with such disregard for public opinion, and he's able to lie blatantly to the whole world. He doesn't even think this will have a terrible impact on Russia's image in the future."
The European Union (EU) does not fully grasp what is happening in the Kremlin, "what kind of people are sitting there, who is governing a country as huge as Russia, and how [such leadership] might threaten the whole world", said Auštrevičius, who comes from a country where the horrors of the Soviet Union are still fresh.
Kremlin repression continues
The sixth anniversary of Nemtsov's murder comes just after Navalny was sent to a notorious penal colony to serve a 32-month prison term that he denounces as politically motivated.
The move has heightened already tense relations with the West, including the EU and the United States.
The United States on Tuesday imposed sanctions on seven senior Russian officials as it said its intelligence concluded that Moscow orchestrated the near-fatal poisoning of Navalny.
In an action co-ordinated with the EU, US President Joe Biden's administration renewed demands that the Russian regime free Navalny, who was imprisoned after spurring massive rallies through his allegations of corruption by Putin.
"The intelligence community assesses with high confidence that officers of Russia's Federal Security Service [FSB] used a nerve agent known as Novichok to poison Russian opposition leader Alexei Navalny on August 20, 2020," a senior US official told reporters.
In Nemtsov's memory
As far back as the early 2000s, Nemtsov warned that Putin had adopted an authoritarian approach and that Russia had turned away from the path of democracy, say Nemtsov's friends.
"We consider Russia a European country," Kara-Murza recalled Nemtsov saying in one of his last interviews.
"Russia's history, culture and mentality indisputably make it a European country," Kara-Murza said. "But everything the current government is doing is pulling us backward, toward authoritarianism and kleptocracy. Yet Boris Nemtsov wanted Russia to become a full-fledged European country, a country where there are free elections, independent media, independent courts and political freedom, and where people are not subjects but citizens. He dedicated his life to this cause, and in the end he gave up his life for [it], paying the most frightful price."
"I think the best commemoration will be when Russia becomes the country he wanted to see it become: free, European, modern, democratic," Kara-Murza said.