ASHGABAT -- Turkmenistan is continuing its efforts to support infrastructure projects in Afghanistan and guarantee their security.
Meetings and talks held in February in Ashgabat between Turkmen officials and leaders of different Afghan political actors and groups indicate the growing role of Ashgabat in deepening Turkmen-Afghan relations, observers say.
On February 22, Turkmen officials conferred with Abdul Rashid Dostum, leader of the National Islamic Movement of Afghanistan and a former Afghan vice president. The discussion followed a February 6 conference between Turkmen officials and an Afghan Taliban delegation.
The February negotiations were aimed at promoting joint projects such as building the Turkmenistan-Afghanistan-Pakistan-India (TAPI) natural-gas pipeline, the Turkmenistan-Afghanistan-Pakistan (TAP) power line and fiber optic communication line, and new railways from Turkmenistan to Afghanistan.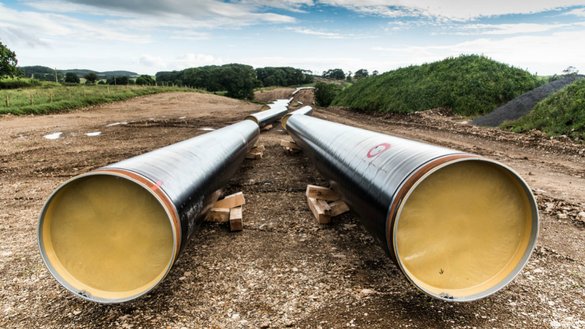 High-level meetings in Ashgabat
Turkmen foreign minister Rashid Meredov's efforts over the past month have helped to shed light on the positions of all relevant Afghan actors and parties on important issues such as the conduct of intra-Afghan peace talks, the establishment of peace in the country and the creation of a safe environment for integrating Afghanistan into the regional economy, said Serdar D., a Turkmen diplomat who requested anonymity.
"For Turkmenistan it was important that [Dostum] expressed support for continuing joint efforts to quickly implement all the projects Turkmenistan is initiating," he added.
These projects received support and security guarantees from both Kabul and the leaders of the Taliban movement who held talks with Turkmen officials February 6, said Serdar D., who was involved in all the stages of the recent Turkmen-Afghan talks in Ashgabat.
The Taliban greatly value the assistance that Turkmenistan gives Afghanistan, according to a statement from the Turkmen Foreign Ministry describing the Meredov-Taliban talks.
"[The] assistance comes from a neutral, Muslim and neighbouring state," said Taliban representative Mohammad Shahin.
Taliban not to be trusted
Despite the Taliban's words of support, security guarantees and assurances, Turkmenistan "still views them with wariness that borders on distrust", say local observers.
As evidence of this stance, Turkmen President Gurbanguly Berdymukhamedov avoided all personal contact with the Taliban delegation in Ashgabat, said Serdar D.
"That's significant, and it reveals a lot," he said.
Experience has shown what the Taliban's guarantees are worth: despite assuming obligations based on the terms of a peace agreement they signed with the United States last year, they have still not renounced violence and they retain relations with al-Qaeda, said Serdar D.
"It's obvious that the Taliban aren't fulfilling their obligations to the United States, and this makes Turkmenistan's leadership somewhat wary," he said.
Other observers cite the unpredictability of Taliban militants.
In the districts that the Taliban control in northern Afghan provinces, they use imported Turkmen electricity and demand payment for it from the local population but neglect to pay Turkmenistan, leaving the matter up to the Afghan government, said Aydogdy Bairamov, a Turkmen Energy Ministry official in Mary province.
"It's impossible to come to an agreement with [Taliban militants] about payment," he added.
Others say the Taliban are carrying out the wishes of other parties, as stated by Afghan journalist Ahmad Durani. The Taliban are participating in discussions on the TAPI pipeline under pressure from Pakistani intelligence, he told Deutsche Welle in February.
"The Taliban aren't independent," Durani said.
Security is key to investment
Turkmenistan, Afghanistan, India and Pakistan first broached the idea of laying the TAPI pipeline, with a capacity of 33 billion cubic metres per year, in the late 1990s.
Construction on Turkmenistan's part of the pipeline (244km) began in December 2015, and work on demining the land being removed under the pipeline began on Afghanistan's section (774km) in February 2018.
Pakistan still has not begun working on its part of the pipeline (826km) because it has not agreed with Turkmenistan on the price of TAPI gas or provided security guarantees for the pipeline.
The lack of security and of investment has been a barrier to executing the planned projects, agree most Turkmen observers.
When all the parties are voicing support and offering security guarantees, potential investors could propose many more options, they say.
"There will be a lot of players who would want to invest in TAPI or TAP and to participate in implementing these promising and undoubtedly profitable ventures," said Rovshen Khallyyev, an official at the state-owned natural-gas-producing enterprise Turkmengaz.
A unique opportunity
Implementation of all the announced energy, transport and communication projects will offer thousands of Afghans the opportunity to change their source of income and start a new life, according to Ashgabat.
As things stand now, many ordinary Afghans are driven to join armed extremist or criminal groups, or to produce and distribute drugs, because they have no alternatives in the form of peaceful, constructive labour, said Serdar D., the diplomat.
"If everything that is now being discussed at the meetings and talks is built, soon thousands of new jobs will be created in Afghanistan for Afghans who are tired of war and instability," Bairamov said.
If the plans are successful, in addition to gaining new jobs, natural gas, electricity, and passenger and freight transport, Afghanistan will gain a unique opportunity to achieve peace and economic development, analysts say.
"If Afghanistan is calm and stable, that will make the whole region just as calm and stable," Serdar D. said.