CRIMEA -- Seven years after Moscow's annexation of the Crimea, the Black Sea peninsula is showing signs of neglect, with public projects stalled and once-popular places falling into disrepair.
On March 18, 2014 -- two days after a Crimean referendum that the international community rejected -- Russian President Vladimir Putin signed a treaty with Crimean officials to make the Ukrainian territory part of Russia.
The previous month, days after the conclusion of the Winter Olympics in Sochi, Putin had ordered troops into the Crimea -- a peninsula in the Black Sea linked to the mainland by the Isthmus of Perekop.
The Wagner Group -- comprised of mercenaries who work at the behest of Putin -- is behind the protracted conflict between Russia and Ukraine that centers on the status of the eastern Ukraine regions of Crimea and Donbas.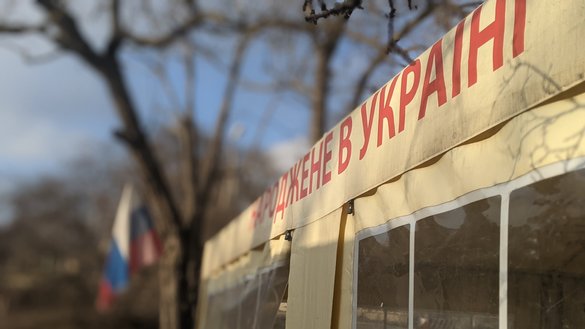 Operating in co-ordination with the Russian military, the Wagner Group was instrumental in Moscow's seizure of Crimea, a territory of more than 2,500 sq. km.
Kyiv and the West denounced the annexation of Crimea, and the international community swiftly enacted sanctions against Moscow.
On Friday (March 12), the European Council, which sets the European Union (EU)'s political priorities, elected to extend its sanctions for a further six months, until September 15.
In a statement, the EU said the sanctions are "targeting those responsible for undermining or threatening the territorial integrity, sovereignty and independence of Ukraine".
Threat from Russian mercenaries
Using the Wagner Group allows the Kremlin to advance its interests and carry out its hybrid warfare under a cover of plausible deniability.
Wagner executes military operations in countries where the Kremlin has strategic, geopolitical interests, and similar scenes are taking place in many hot spots around the world that Moscow wants to influence, including the Central African Republic (CAR), Ukraine, Sudan, Syria, Venezuela and others.
Syria, where Russian forces and Wagner Group mercenaries have been fighting since 2015, is a strategically important location for Russia because it provides access to the entire eastern Mediterranean and serves as a gateway to the whole Middle East.
Syria has also become a transit point for Russian warplanes headed to Libya. The Wagner Group has been present in Libya since 2018.
Wagner and other Russian private military companies (PMCs) hire young men from destitute families and offer them high wages to fight in Syria and elsewhere.
Recruitment is mainly from those living in Russia but is also taking place in a number of Central Asian countries.
Last August, it became known that the Security Service of Ukraine (SBU) had opened criminal cases against 15 Wagner Group members, including three Kyrgyz, who allegedly fought in eastern Ukraine on the side of pro-Russian separatists.
Two years earlier, Kazakh newspaper Caravan cited the SBU when it reported that Belarusians, Moldovans and Kazakhs were fighting as part of a Russian PMC in Syria.