MOSCOW -- A delegation from Lebanon's Hizbullah paid a rare visit to Moscow this week in what observers say is yet another sign of Russia's opportunism and political grandstanding in the Middle East.
The visit by the four-member Hizbullah delegation, headed by Lebanese parliamentarian Mohammed Raad, comes as Lebanon is mired in its worst economic crisis in decades and stuck in political stalemate over the formation of a new government.
Raad was sanctioned by the US in July 2019 for "exploiting Lebanon's political and financial system" to benefit Hizbullah, according to the US Treasury.
The three-day visit, which started Monday (March 15), included meetings at the Foreign Ministry, the Federation Council -- the upper house of parliament -- and the State Duma -- the lower house, Lebanon's al-Manar TV station reported.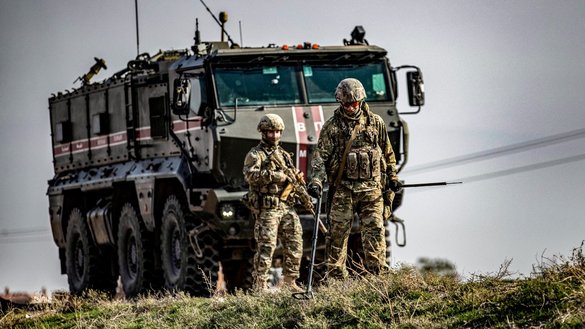 It also included talks at the Iranian embassy in Moscow.
The delegation intends to exchange views on the latest developments in Lebanon and the region, Raad told Sputnik ahead of the visit.
The delegation met Monday with Russian Foreign Minister Sergey Lavrov, followed by another lengthy meeting with Deputy Foreign Minister Mikhail Bogdanov. Both stressed the importance of quickly forming a government in Lebanon.
However, Hizbullah's blatant interference in the state's administration and its insistence on being represented in any new government are the main obstacle to solving the crisis, say observers.
"What Lebanon needs most is an end to the hegemony of Hizbullah and its leader, Hassan Nasrallah," said Lebanese Centre for Research and Consulting director Hassan Qutb.
This "Lebanese demand" is the result of the years of extensive harm that the Iran-backed party has caused the country, he said.
Hizbullah's hegemony over the Lebanese decision-making process has strained diplomatic relations with countries in the region and world, he said, and its obstruction of efforts to form a government has cost Lebanon dearly.
Last week, during his visit to the United Arab Emirates, Lavrov discussed Lebanese matters with Lebanese Prime Minister designate Saad al-Hariri, in a further sign that Russia is trying to spread its influence in Lebanon and the region.
The Russian Foreign Ministry confirmed that Lavrov had held talks with Hizbullah, according to RIA Novosti state-owned news agency.
The ministry talked about Bogdanov's Tuesday discussion with Iranian ambassador to Moscow Kazem Jalali. Topics included the "unfolding situation in the Middle East and North Africa with an emphasis on ... Syria, Yemen, Libya and the Persian Gulf", according to a statement.
Russia's goals in Syria
Also on Monday, the Hizbullah delegation met with Jalali, the Iranian ambassador. The two sides talked about the Middle East situation, including the latest developments in Lebanon and Syria.
Jalali reaffirmed Iran's support for Hizbullah.
Russia, Iran and Hizbullah fight on behalf of the regime of Syrian President Bashar al-Assad in that country's war, which has entered its 11th year on Monday.
Hizbullah has deployed forces to fight in Syria in violation of the policy of dissociation adopted by successive Lebanese governments.
Meanwhile, private security companies -- many of them affiliated with Russia and Iran -- have proliferated in Syria in recent years, to the extent that they are undermining the role of the Syrian army.
The establishment of these companies has "become a gateway for states and actors from inside and outside Syria to carry out military activities and operations in service of implementing their plans", said security expert and military analyst Abdul Karim Ahmed, a retired Egyptian military officer.
Forces affiliated with foreign powers no longer function as a cohesive army but rather form a patchwork of regular forces and allied militias, with foreign powers vying for control of each and using them to pursue their own agendas.
Many Syrians blame Russia for using the war in their country for its own political and economic gains.
For years, one of Russia's undeclared goals is to gain access to Syria's vast natural resources that remain untapped but have been confirmed by studies to exist, especially in eastern Syria, in the Deir Ezzor region.
Other Russian goals include lucrative reconstruction contracts and long-term military presence agreements.