MOSCOW -- Russian construction companies are struggling with an acute labour shortage as cheap foreign workers lost their jobs and fled the country -- and Russia slammed the borders closed -- during the coronavirus pandemic last year.
For years, Russia has relied on migrant labourers to do some of the hardest and worst paying jobs. But now, millions of foreign labourers are stuck in their home countries due to pandemic-induced border closures and are unable or reluctant to return to unfavourable working conditions.
Almost half of all migrants living in Russia before the pandemic left the country last year, according to the Interior Ministry.
Many were blocked from returning to Russia to work by tightened border restrictions, sparking the acute labour shortage, especially in the construction and agriculture sectors.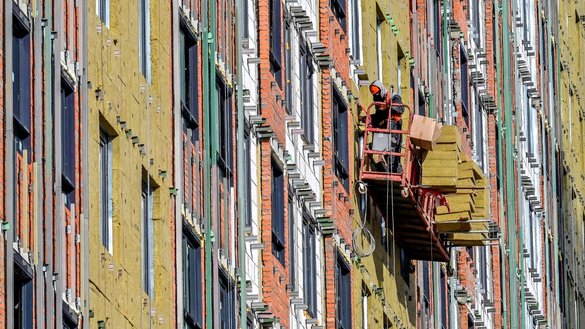 Others were reluctant to return due to the discrimination and abuse migrant workers are typically subjected to in Russia.
Moscow recently simplified entry requirements for migrant workers in a bid to bring them back, but rights activists describe the move as a self-serving step to shore up industries saddled with the higher cost of local labour.
Meanwhile, many companies, including Moscow-based developer Granelle, have had to adapt to doing business without them.
In pre-pandemic days, the company typically employed workers from Armenia, Ukraine, Belarus, Tajikistan and Uzbekistan.
"Migrants worked until the end of the year, then they went home for the holidays, and now it's problematic for them to come back," said Vitaly Lychits, Granelle's deputy director of construction.
"We're hiring workers from Russian provinces even though we have to factor in extra labour costs," he said.
Alarm over labour shortages
Before the COVID-19 outbreak, Russia's labour force comprised about 10 million migrant workers and roughly 70 million Russian employees, according to estimates from migration analysts.
At the height of the pandemic, many migrant workers were stranded in Russia for days or even weeks, unable to return to their home countries after the government suspended all international flights to and from Russia in late March.
Flights eventually resumed, but haphazardly.
Russian airlines also refused to reimburse passengers for their suddenly worthless tickets, leaving migrants from Central Asia quite literally out on the street -- without work or any source of income.
Given that history, activists warn about Russia's renewed "hospitality" towards migrant workers, even after President Vladimir Putin in January ordered the government to simplify entry requirements.
Almost 1.5 million migrants working in construction had not returned after border closures were put in place last March, Deputy Prime Minister for Construction and Regional Development Marat Khusnullin said in late December.
Roughly half of Granelle's workers now come from Russian provinces, but their wages are up to 20% higher than those of foreign labourers, said Lychits.
"The state is actively working to simplify procedures for attracting migrant workers, including issuing electronic permits," he said.
But progress has been slow.
Only about 14,000 foreign workers were able to reach Russian construction sites between the end of 2020 and February even with the simplified procedures.
Difficult conditions, low pay
Groups advancing the rights of migrant workers point to a silver lining in the labour shortage.
"Wages have increased pretty significantly" -- from 20% to 100% depending on the sector, said Vadim Kozhenov, president of the Federation of Migrants of Russia.
Even though there are allegedly fewer instances of abuse of migrant workers, who for years have complained that Russian employers cheat them out of their pay, he said, many remain sceptical that the improved work conditions will hold once borders re-open.
Other hardships for migrants in Russia include discrimination, demands for bribes by police, and beatings by civilians and even by police.
The labour shortages should not be blamed on the pandemic alone, said Yulia Florinskaya, a researcher at the Russian Presidential Academy of National Economy and Public Administration.
"Some workers quit their jobs because of difficult conditions and low pay," she said.
The number of foreign guest workers has been steadily declining since 2015 because of Russia's deteriorating economy and weakening currency, analysts say.
In the long term, Russia risks facing a major lack of manpower as many migrants seek work in Europe, Turkey and Iran, said demographer Yury Krupnov.
"There is a general problem of technological backwardness," he said. "Employers want to endlessly use cheap unskilled workers. And there are no signs that something will change."