BISHKEK -- Moscow's reinvigorated push to implement a number of soft power educational projects in Kyrgyzstan is sounding alarm bells among concerned locals and observers.
This year marks the 30th anniversary of the Soviet Union's collapse, yet Russia continues to implement cultural and educational projects across the region in an effort to promote its interests and influence in the region.
This "soft power" strategy -- using culture and political ideas for influence -- is an essential part of its foreign policy strategy adopted in 2016, which includes popularising Russian language and culture in Central Asia.
Applying pressure
Russia's plans to build new schools in Kyrgyzstan are part of this strategy, say analysts.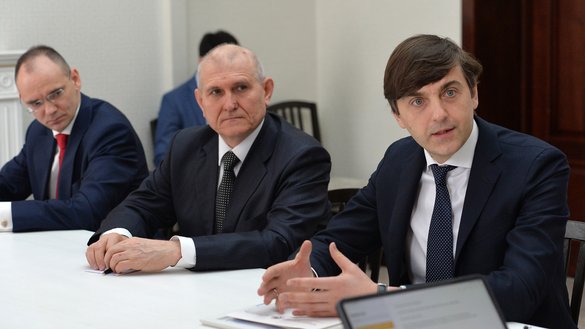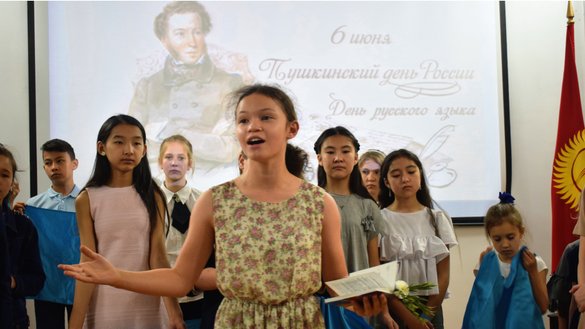 Since 2000, Kyrgyzstan has classified Kyrgyz as the state language and Russian as the official language. That law allows the use of both languages in all public and legal spheres as well as in inter-ethnic communication, though Kyrgyz technically outranks Russian.
Moscow exerts various forms of pressure, including economic, to preserve the status of Russian wherever possible in the former Soviet Union. It made its wishes clear repeatedly to Sadyr Japarov during his meteoric rise from prison inmate to president last year.
Last October, when Japarov was still both prime minister and acting president, he conferred in Bishkek with Nikolay Udovichenko, the Russian ambassador to Kyrgyzstan, and said that Russian would remain an official language of Kyrgyzstan.
In February, he went to Russia on his first foreign trip as president. Unsurprisingly, it led to commitments to boost Russian-language education in Kyrgyzstan.
Subsequently, the two governments agreed to open 44 Russian-language boarding schools across Kyrgyzstan, including the largest cities, Bishkek and Osh, Bishkek media reported in March.
"The schools will be constructed with Russian support. Russian teachers will be hired," stated the newspaper Vechernii Bishkek on March 5.
The Kremlin did not hesitate. On March 15, Russian Minister of Education Sergei Kravtsov had already arrived in Bishkek. Kravtsov held talks with Japarov and proposed to expand the programme of hiring Russian teachers to work at schools in Kyrgyzstan "to bolster the sharing of experience in this area".
Russian teachers in Kyrgyzstan
Today, 29 Russian teachers work at 23 schools in Osh, Kyrgyzstan's second largest city, according to the Kyrgyz government.
A delegation of teachers from the Russian Ministry of Education's "Russian Teacher Abroad" project arrived in Osh on February 16 and 18, said Japarov's press office.
Russian teachers in southern Kyrgyzstan receive part of their compensation from Kyrgyz taxpayers. The country's budget covers the teachers' travel expenses, rent, utilities and health insurance. In addition, teachers from Russia receive a one-time allowance "for relocation reimbursement", but the exact meaning of this item is not publicly known.
This project started in Kyrgyzstan in 2019, when 17 teachers of math and Russian language and literature, as well as primary school teachers, first arrived in Osh from Russia, reported Vechernii Bishkek.
Last October, Rossotrudnichestvo, the Russian agency implementing aid projects in the Commonwealth of Independent States (CIS), distributed textbooks on Russian language, literature and history and Russian grammar guides in schools in Issyk-Kul province.
In addition, local kindergartens received children's literature, study aids for children's speech development and visual aids in Russian.
Rossotrudnichestvo is known as an instrument of soft Russian power in the former Soviet Union. However, the agency does not hide its mission of strengthening Russia's influence in countries of geopolitical interest.
Observers, parents concerned
Russian education in Kyrgyzstan has limitations and does not match the schooling offered by other foreign countries, say observers of Russia's plans to build new schools there.
Although the percentage of fluent Russian speakers in Central Asian countries declines every year, the language's hold is tenacious among the older generation and in big cities.
Russian culture exerts more than enough influence in Kyrgyzstan, said Nazira Kuluyeva, a Bishkek resident.
She cited the inability of many ethnic Kyrgyz residents of Bishkek, even now, to speak Kyrgyz.
"Many Kyrgyz, not just holdovers from the USSR but even young people who did not study in Soviet schools, do not know their native language. They speak only Russian," Kuluyeva said.
"They don't observe [Kyrgyz] traditions or customs. Is that really okay?"
"Our government needs to pursue a policy of ethnic self-identification for our youth, to instill our own values in future generations," she added.
In addition, the schooling that Russia provides does not serve students well, say observers.
Russian education in Kyrgyzstan cannot match Turkish or American education, said Zamira Murataliyeva, a political scientist and analyst at the Bishkek Institute for Strategic Analysis and Forecasting, in a 2015 article for the Central Asian Bureau for Analysis and Reporting.
While Turkish lycees and the American University of Central Asia (AUCA) apply innovative teaching methods, provide real knowledge and hold highly successful scholarly conferences, the leaders of Russian educational institutions are incapable of conducting such events, she said.
"Often, the organisers themselves [of a Russian school's conference] do not understand the event's goals and purposes, being preoccupied with embezzling money," she noted.
The Kyrgyz-Russian Slavic University (KRSU) in Bishkek is not very popular among university applicants, said AUCA student Azamat Asakeyev, who lives in Bishkek.
"My parents said that KRSU was prestigious in the 1990s, but then the university's level of education sank," said Asakeyev. "Corruption among teachers flourished there. Then there was a scandal related to sexual harassment by a teacher."
"I don't think that I would be in much demand at leading international corporations if I had a diploma from that university," he added.
Russian educational projects provide "traditional, long-outdated knowledge that does not help students grow in step with the times and succeed", said Mirlan Kudaibergenov, a lecturer in economic theory at the Academy of Law, Business and Education in Jalal-Abad.
"Nowadays, very few people are interested in such education," he said.