MOSCOW -- People across the world reacted with scorn and ridicule after Russian President Vladimir Putin approved legislation allowing him to hold office for two additional six-year terms, opening the possibility for him to stay in power until 2036.
If elected both times -- and should he live that long -- Putin will turn 84 that year. It would also give him the distinction of surpassing Josef Stalin as the longest-serving leader of Russia since Peter the Great.
Putin, who has already been in power for more than two decades, signed off on the bill on Monday (April 5), according to a copy posted on the government's legal information portal.
He had proposed the change last year as part of constitutional reforms that were voted on last July, and lawmakers approved the bill last month.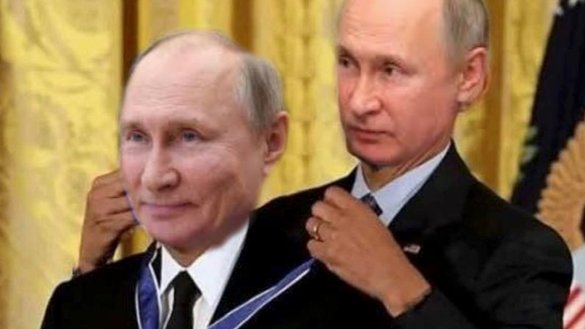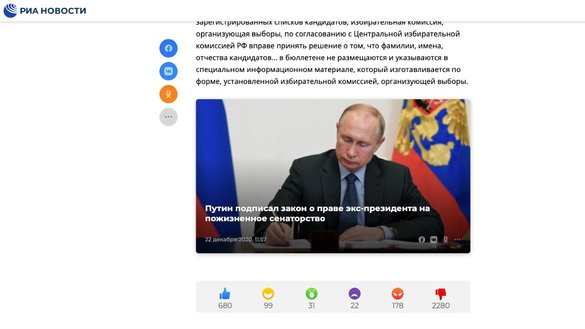 'President for life'
The legislation will "reset" presidential term limits, allowing Putin to run for office again after his current and second consecutive term expires in 2024.
Putin served as president from 2000 to 2008, in two consecutive four-year terms. His ally Dmitry Medvedev took his place in 2008, which critics saw as a way around Russia's limit of two consecutive terms for presidents.
But during the Medvedev presidency, Putin served as prime minister, remaining the power behind the throne.
While in office, Medvedev signed legislation extending terms to six years starting with the next president.
Putin returned to the Kremlin in 2012 and won re-election in 2018.
The term reset was part of constitutional reforms that included populist economic measures and a demagogic ban on gay marriage.
The Kremlin used fear and stoked homophobia to increase voter turnout for the controversial constitutional referendum that took place over a week last summer.
Golos, an independent election monitor, received hundreds of complaints of violations during the vote, including reports of voters casting multiple ballots.
Ultimately, according to official figures, 78% of Russians voted for the changes.
Kremlin opponents say the reforms were a pretext to allow Putin to become "president for life".
"They really think that if they managed to deceive human laws, then they will be able to deceive the laws of nature," opposition politician Yevgeny Roizman wrote on Twitter.
Disgust in Central Asia
Many people around the world, and especially those in neighbouring Central Asia, have little positive to say about the changes unfolding in Russia under Putin and the implications for their region.
"There is no doubt that Putin dreamed up this scheme to maintain his power, and now he is deceiving his people under the guise of democratic changes in the country," Ulan Boronbayev, a former activist of the Bishkek-based youth movement KelKel, said following Putin's annual address to the Federal Assembly (parliament) in January 2020.
One of Putin's key initiatives is to redistribute powers in the government, namely, to transfer the right to appoint the prime minister and members of the cabinet from the president to the State Duma, the lower chamber of parliament.
Constitutional reform providing for the decentralisation of power, ostensibly "for the democratic development of the state", has already been used by leaders of Eurasian countries to maintain de facto power even after leaving the presidency, said Nur-Sultan-based international relations specialist Ruslan Nazarov in January 2020.
Last December, Putin signed a bill giving himself lifetime immunity from prosecution, another effort to protect himself from any accountability.
"Passing such a law amounts to confessing to be a criminal," said Khairullo Mirsaidov, a Tajik journalist living in Europe who has worked for the Tajik news site ASIA-Plus and for Deutsche Welle.
However, authoritarian leaders "fail to take one factor into account -- that these laws can be withdrawn just as easily in the future, in order to prosecute them", he said.
Central Asians resent even more so Russia's effort to export Putin's idea of governance to their countries.
For example, Russia passed a repressive "foreign agents" bill in 2012 to curb freedom of the press.
Kyrgyz lawmakers under pressure from the Kremlin have tried to imitate that example and pushed similar bills since 2014. They have not passed.
These bills on foreign agents resulted from the Kremlin applying its "soft power" policy abroad, Bishkek-based political analyst Anar Musabayeva said in March.
"Our people have repeatedly shown the authorities who is the source of power in Kyrgyzstan," Ulan Kadyrbayev, a blogger in Bishkek, said in March, referring to Kyrgyz lawmakers' inability to pass such a bill.
Even Russian citizens expressed unease at the newly signed law. On an article about the move on state-run Ria Novosti on April 5, 680 users gave the news a thumbs up while 2,280 gave a thumbs down, and 178 an angry face.
May others around the world reacted to the matter with memes and jokes.
Putin 'will not leave on his own'
The "president for life" law comes as Russian authorities clamp down on dissent.
Jailed opposition politician Alexei Navalny last week launched a hunger strike demanding adequate medical treatment in prison, saying he was experiencing severe back pain and numbness in his legs.
The 44-year-old opposition figure was arrested on his return to Russia in January, after spending months in Germany recovering from a near-death poisoning last summer.
Navalny was poisoned in Tomsk, Russia, by Novichok, a toxin developed by a Russian government lab, the German government determined last year.
His arrest set off weeks of protests in Russia.
Dozens of Navalny's allies remain under house arrest on charges of violating epidemiological measures during a Moscow protest demanding his release.
Navalny's team on Monday called upon his supporters to register in an online campaign preparing for protests to demand the Kremlin critic's freedom, saying Putin "will not leave on his own".
Corruption, assassinations, imperialism
Putin's rule stands out for the suspicious deaths of numerous opponents and critics, his vast personal enrichment, and his unceasing attempts to keep former Soviet states under Russia's sway.
His foes have been gunned down, fatally poisoned or killed by suspicious falls from apartment windows.
At the same time, Putin and his inner circle have gained staggering personal wealth.
Putin's closest friends and associates have amassed almost $24 billion, according to a 2017 joint report by the Organised Crime and Corruption Reporting Project and Russian opposition newspaper Novaya Gazeta.
In January, Navalny published a video exposing a $1.35 billion Black Sea palace owned by Putin and paid for "with the largest bribe ever".
Residents of former Soviet republics have found that Putin still considers their countries to be Russian property.
Ukrainian forces have been fighting Russian-backed separatists since 2014, when Putin annexed Crimea and invaded eastern Ukraine. The Kremlin pressured Uzbekistan into ordering a costly Russian-built nuclear power plant and is still urging Kazakhstan to accept a similar plant.
Meanwhile, Russian forces remain present in Central Asia: they operate the missile testing range in Sary Shagan, Kazakhstan; test torpedoes in Kyrgyzstan's cherished Lake Issyk-Kul, as they have done since Soviet times; and still have a major military base in Tajikistan -- Russia's largest base abroad.